Speaking at the 'Livestock: policy, problems and proactive solutions' session, the chairman said sheep meat imports from New Zealand at key times and decreasing margins had been squeezing the industry.
On top of this, farmers had had to deal with challenges including changes to beef carcase specification and harsher weight penalties, all of which could reduce the returns.
"We have got to really work hard in the future to discuss with the processing and retail sector the impact of those changes, to make sure we take steps that reduce the negative effect on the returns that we get," he said.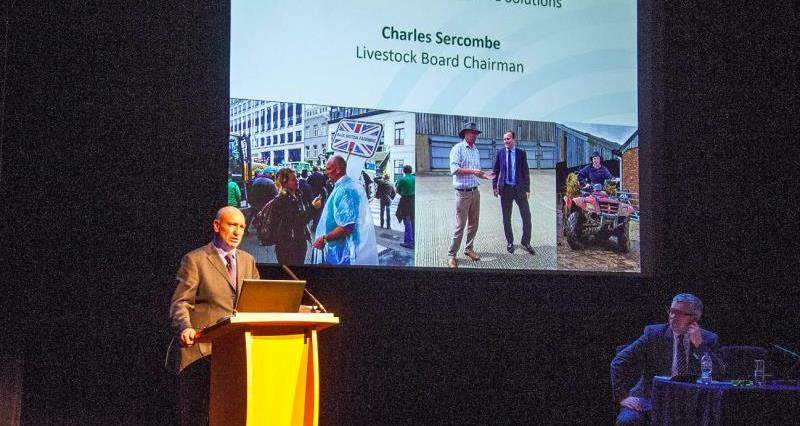 Key to that, he added, would be market transparency, something Defra minister Elizabeth Truss said she wanted to see to take the government's food and farming plan forward.
"I am absolutely convinced that we at the NFU will do everything in our power to impact on that piece of work that Defra is doing to make sure the returns farmers receive are fair and equitable,"
he added.
However he also told delegates that the industry had to respond to market signals, and hope consumers continue to buy red meat even when it was more expensive than other meats.
"It's no good us blindly producing what we think the market wants when actually we need the supply chain to provide us with clear signals on what the market really needs," he continued.
"It is essential that we provide a consistent product, that provides value for money, quality, and leaves the consumer with an enjoyable eating experience that means they come back to the category time and again."
Charles also told delegates that 'lessons had been learned' at AHDB, and that levy payers through the beef and lamb board have a say in how the money is used.
He also called on members to engage with their regional board chairman to feed in ideas to the livestock board, we need to talk more, and get better at sharing information.
However the chairman stressed that he was still optimistic about continuing demand for red meat, despite figures showing per capita consumption of red meat falling this will be offset by rise in global populations.