Mike Hambly, combinable crops board chairman, on the review of wayleaves:
"The next three-year agreement is scheduled for to run from March 2016 to March 2019. Since the mid-1990s there have been no adjustments to take into account the machinery and the work rate now in place on farms which can be impeded by power lines. This is a huge potential win for us. We are aware that there's going to be a period of negotiation."
Guy Gagen on integrated pest management:
"Something we've learned over the past summer when dealing with neonicotinoids is that the government has very good advisers but they are not agronomists so we need to explain integrated pest management – what we do and why we do it. When we refresh our Healthy Harvest message we want to make sure that our message goes out in a meaningful way."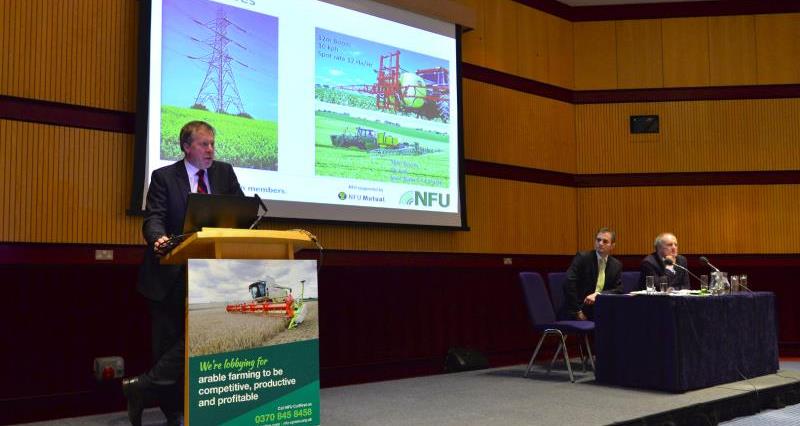 Mike Hambly on tractor and trailers:
"In March 2015 there was an increase in permitted gross trailer weight from 24.39t to 31t. We are now talking to the Department for Transport on future developments on a possible increase to 35t and 39t for two and three-axle trailers. There will be provisos attached to them and it won't be implemented before harvest 2016."
Guy Gagen on communicating the importance of glyphosate to the public:
"We can probably learn from where we've been successful with explaining the problem of TB to the public. Using social media they have shown that they are real people and that they are dealing with real issues. I'm optimistic, but we have to move our organisation closer to the public and for our members to be present in the places the public are picking up their information."