A template letter has been drafted for each sector, which can be accessed below, using your NFU membership details.
Earlier this month the Department of Business, Energy and Industrial Strategy launched calls for industry evidence of unfair trading practices, alongside the statutory review of the GCA role.
The GCA came into force in June 2013 with a remit to enforce the Grocery Supply Code of Practice (GSCOP), covering just the 10 biggest UK retailers.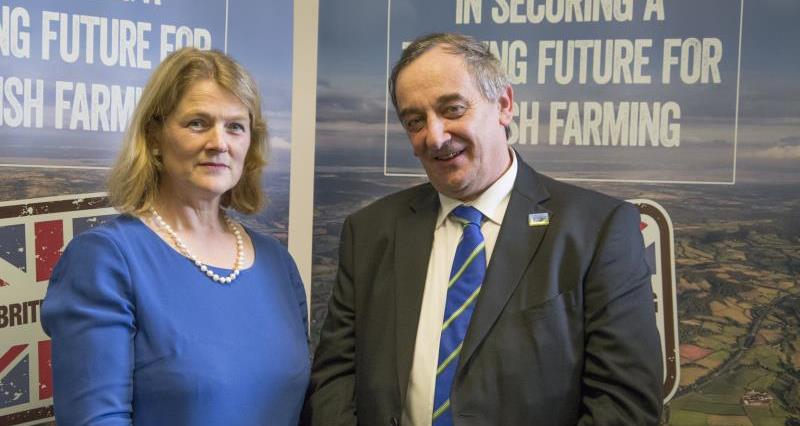 Meurig Raymond and GSCOP adjudicator, Christine Tacon

NFU President, Meurig Raymond said: "The GCA plays an important role within the grocery sector and we must recognise the success Christine Tacon, the GCA, has achieved within the retail sector over the last three years. The NFU believes the power of the GCA's presence has enabled a change in retailer behaviour and therefore this way of working now needs to be replicated throughout the whole supply chain.
"Sustainability, risk management and volatility management must be the food supply chains core principles for British farming businesses to thrive. Unfair trading practices limit these principles of success and leads to smaller parties like our British farmers and grocers, losing out. This must stop."

Our asks…
As part of the call for evidence, the NFU has highlighted four key asks to define what an extended remit should cover. We're calling for:
A reduced turnover bracket of

GSCOP

to include more retailers,

foodservice

and food manufacturing businesses
For the ornamentals sector to be included within the scope of

GSCOP

legislation
The principles of voluntary code made compulsory and for the GCA to oversee these
The GCA to have the ability to take evidence of any breach from primary producers
We will be submitting evidence to the call for evidence. If any NFU member would like to participate, please contact Rm9vZENoYWluRm9jdXNAbmZ1Lm9yZy51aw==. The call for evidence will close on 10 January 2017
Help us:
The NFU needs the help of it's farmer and grower membership to build strong case studies which will form part of the NFU's evidence submission. No names, or business will be identified due to confidentiality reasons.
If you believe that your buyer has treated you unfairly, please do get in touch using FoodChainFocus@nfu.org.uk
We want to hear from as many members as possible in all agricultural sectors, including dairy, livestock, poultry, crops, horticulture, fresh produce, ornamentals.
Lobby your MP:
The following letters have been drafted for members to use as a template to write to your MP. Members are free to copy and amend the text, if they wish to do so. The NFU would appreciate it if members who do write to their MP on this subject let the food chain team know using Rm9vZENoYWluRm9jdXNAbmZ1Lm9yZy51aw==, so we can monitor which MPs have been contacted.