The World Meat Congress (WMC2016) took place in Uruguay this week. Our livestock board chairman Charles Sercombe and chief livestock adviser John Royle were in attendance.
Here, John (inset), gives us the lowdown on what was discussed:
The congress was being hosted by the Uruguayan meat industry body INAC (Instituto Nacional de Carnes) in conjunction with the IMS (International Meat Secretariat). Over 790 delegates from 36 countries were present making it a truly international experience.
First on the agenda was a look at global trade and we heard from Richard Brown of GIRA who gave an overview of the global meat sector. Population and income growth, along with a rising middle class in developing countries was driving consumption despite higher meat prices. And almost every country in the world was showing significant growth in poultry production and consumption.
Justin Sherrard from Rabobank continued on the same theme suggesting the global outlook was extremely positive, if not competitive, with continued challenges between species. No doubt markets will become more complex but supply chains had to find ways of connecting with the consumer and be prepared to adapt to ensure the chain remains profitable.
What was clear is that demand from South East Asia will continue, but the big question mark remains over China and whether they can maintain their growth in demand. If they do then this will give an uplift in returns for those with access to that market. Unfortunately the panel predicted some rationalisation of supply in Europe, whilst the potential for growing productivity for pasture based systems in South America and Australia would take advantage of the demand across Asia.
The afternoon sessions looked at animal health and welfare and how standards of measurement would develop based on the expectations of consumers.
Luis Carazo from the OIE (World Organisation For Animal Health) said the goals they sought to achieve with the 180 member countries were to identify disease and facilitate trade, and provide a reference point to address food safety. He highlighted the benefits of disease control on wider public health, human nutrition and the alleviation of poverty. Issues of animal welfare, anti-microbial resistance, biodiversity and traceability were priorities for the OIE.
Lesley Mitchell from World Animal Protection addressed congress and said that health and welfare presented huge reputational challenges for the meat industry trade and if we didn't address welfare concerns raised by consumers then we risk further issues to livestock production.
Legislation provides a starting reference point but we must recognise that brands and retail businesses do not want to be tarnished by poor welfare standards and animal confinement. What consumers are telling us is that they expect animals to have some freedom and can live more natural lives.
This led into the final session which posed the question: 'Is consumer trust profitable?'.
Laurie Bryant from the Meat Importers Council in the US said that failures by one company can impact on the whole industry and provides ammunition for our antagonists. We needed greater transparency and there should be no place to hide. Companies need to open doors.
Ted Bilyea, an agri-food consultant also from the US, talked of the pillars of trust which included provenance, ethics, sustainability and health, and when we had DNA traceability which is 100% accurate he questioned why industry hadn't taken this up on mass to address food fraud.
The first session focussed on sustainability. I know that many UK producers consider this not to be relevant and that sustainability is something for farmers in parts of the world where livestock production is linked to deforestation to consider. Well apparently not.
Ruaraidh Petre from the Global Roundtable for Sustainable Beef set out the five principles for sustainable production - increase efficiency, enhance livelihoods, protect resources, increase resilience and improve governance.
He highlighted that consumers want to hear positive stories, and that sustainability shouldn't be market niche but should be considered mainstream production systems. However, there are consequences, he highlighted the Dutch program to significantly reduce antibiotic use in livestock production, while use went down calf mortality went up, so reducing inputs in a manageable way is important.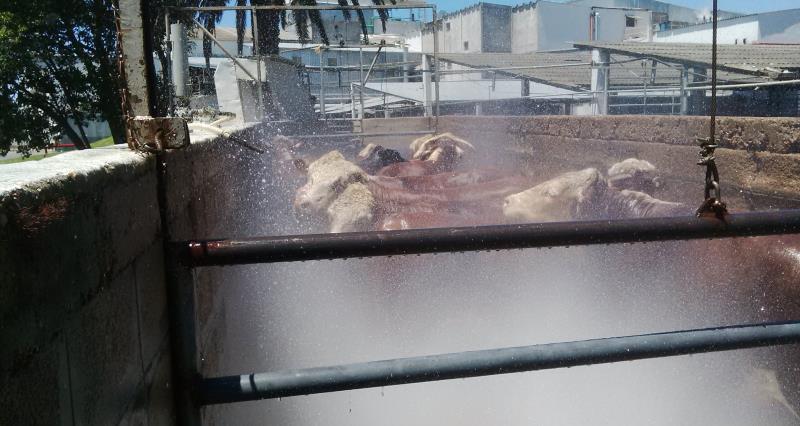 ABOVE: Hereford steers being washed before slaughter
Jeffrey Fitzpatrick from McDonalds Canada talked about how they had begun purchasing a portion of their beef from sustainable sources and had develop indicators along the supply chain. As a result 8,967 animals could be tracked all the way through the supply chain from birth to burger.
The second session of the day looked at human health and nutrition. Speakers presented evidence that supported the crucial role meat had played in the evolution of the species and that it provides many essential vitamins and nutrients the body needs. Stories linking meat consumption to cancer and cardiac problems have confused consumers and the barrage of mis-information by many vegetarian groups has deepened the belief that meat consumption is harmful.
Janet Riley from the North American Meat Institute described how meat provides vitamin B12 and the importance in maintaining muscle tone and brain function. It is rich in iron, zinc, and selenium which helps with weight and blood sugar management, and in many parts of the world there is a risk that under consumption and not over consumption of red meat is a serious issue.
Alison Watson, a specialist in sustainable food systems, highlighted how the meat industry is portrayed in the media and that the consumer is bombarded with negative, mixed and confusing messages about meat.
The fourth and final session looked at the governance of the supply chain and the relationships between breeders, feeders, packers and retail customers. Business models had to provide economic incentives as well as deliver efficiencies throughout the supply chain.
Frederico Stanham, the INAC President, highlighted the success of Uruguayan beef sector and that access to international markets was built on strong brands along with traceable grass-based production systems with high levels of transparency and integrity.
The Uruguayan processing sector has received a large amount of foreign investment over the years and this was borne out by our visit to the NIREA Frigorifico San Jacinto processing plant, which processes over 1,000 cattle and 4,200 sheep per day, with the vast majority of the product going for export.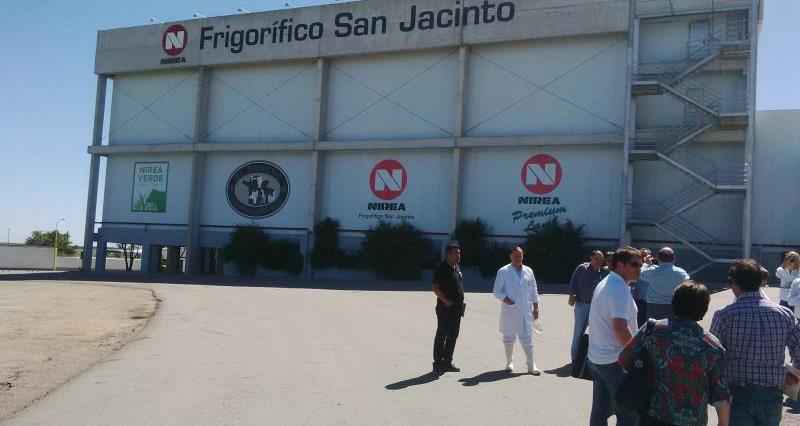 About NIREA Frigorifico San Jacinto:
The site processes around 6% of Uruguayan cattle, 140,000 a year and around 26% of Uruguayan sheep. They are completely focussed on the export market with beef going to other Mercosur countries mainly Brazil, high quality boneless cuts to Europe and commodity cuts to the US, Canada, China and Russia. They are currently exporting 40% of their production to China.
Sheep meat was exported to Brazil, boneless cuts to Europe although this was seen as a declining market but was being replaced by rapid growth in exports to China. They had strong branding, with MAJADA lamb, NIREA premium lamb, NIREA VERDE for beef along with certified EU breed specific schemes, and antibiotic and hormone-free destined for the US market, and known as the 'never ever' range. They also had a number of high quality ranges going to Brazil, Sweden, Finland and Germany.