LATEST - December 23 2016: The UK's Chief Veterinary Officer has confirmed two wild birds in England have tested positive for H5N8 strain of Avian Influenza.
The two confirmed findings in dead wild wigeons from Somerset and Leicestershire follow confirmation of H5N8 in a dead wild peregrine falcon in Scotland today, and the finding of the same strain in a dead wild wigeon in Wales yesterday.
This is the same strain which has been circulating in mainland Europe and which was found at a poultry farm in Lincolnshire last week, although there is no suggestion the disease has spread from that farm.
Chief Veterinary Officer, Nigel Gibbens said:
"Today's confirmed findings mean that avian flu has now been found in wild birds in widely separated parts of England, Wales and Scotland.
"This is far from unexpected and reflects our risk assessments and the measures we have taken including introducing a housing order for poultry and a ban on gatherings. We'll continue to work with ornithological groups to further strengthen surveillance and our understanding of the extent of infection in wild birds.
"The risk to kept birds cannot be eliminated by housing alone. This virus can be carried into buildings on people and things to infect birds. Good biosecurity measures are essential. We also need people to continue to report findings of dead wild birds so that we can investigate".
December 22 2016: The Chief Veterinary Officer for Wales has confirmed a finding of Highly Pathogenic Avian Influenza H5N8 in a wild duck in Llanelli, Carmarthenshire. Read more here.
The Chief Welsh Veterinary Officer, Christianne Glossop, said:
"This finding serves to remind us all of the risk of infection. The Prevention Zone and temporary suspension on gathering of poultry remain in place. It is also important that bird keepers practice the very highest levels of biosecurity. Even when birds are housed, there remains a risk of infection and keepers of poultry and other captive birds should ensure every effort is made to prevent contact with wild birds. The movement of poultry should be minimized, and clothing and equipment should always be disinfected."?

Lincolnshire
December 20 2016
NFU chief poultry adviser Gary Ford said: "The Department for Environment, Food and Rural Affairs (Defra) has confirmed that Avian Influenza (AI) H5N8 has been identified in a commercial flock of turkeys near Louth, in Lincolnshire.
"As part of the swift measures taken to contain and eradicate the disease, a 3km Protection Zone (PZ) and a wider 10km Surveillance Zone is in place, centred on the affected farm. This will have a significant impact on the farms within the zones because movements are restricted on and off farm.

"The NFU remains in close dialogue with both Defra and the Animal and Plant Health Agency on this issue and we are working to support our members within this area.
"It is worth reminding people that the risk to public health from the virus is very low and the Food Standards Agency has also made it clear that bird flu does not pose a food safety risk for people.

"This is a very important time for turkey producers across the country. While this news will have significant impact on those farm businesses within the control zones we anticipate little impact on the Christmas market. People wanting to buy a British turkey for their table will still be able to do so with confidence."
Find the map and the full details of the zones in the

Defra

Zone declaration here.
Dial 03000 200 301 to contact the

APHA

about movement licences, press option 1 for AI and then follow the instructions.
Defra has brought in a temporary suspension on gatherings of birds at higher risk of avian flu across England, Scotland and Wales from 20 December.
The ban on gatherings applies to birds at higher risk of avian flu, this includes the following, and restricts events such as livestock fairs, auctions and bird shows.
birds of the family galliforme (including pheasants, partridge, quail, chickens, turkey)
birds of the family anseriforme (including ducks, geese, swans)
birds that are reared or kept in captivity for the production of meat or eggs for consumption, the production of other commercial products, for restocking supplies of game or for the purposes of any breeding programme for the production of these categories of birds
Bird gatherings involving pigeons, aviary birds and certain other captive pet birds (strictly, columbiformes, passerines and psittaciformes) are only permitted (outside the Protection and Surveillance Zones) subject to strict general licence conditions (read more about the conditions of a general licence in England and Wales).
The collection of wild game birds is not affected by these measures.

Getting help...

Licences
APHA has made the following licence forms available. If you have any queries call APHA on 03000 200 301.
General licences:
General licences allow a movement or activity that would otherwise be prohibited. You need to check that you meet and comply with the conditions of the general licence. If you do so, you don't need to apply - you can rely on the general licence as providing authority for the movement or activity.
The latest General Licences are available on the Gov.uk website, they include:
Movement of samples for salmonella testing from the PZ or SZ - general licence EXD 314(AI)
Movement of table eggs within or out of the PZ or SZ – general licence EXD 243(AI)(E)
Movement of poultry carcases off premises in PZ EXD339(AI)(E)
Movement of poultry litter, manure or slurry off premises in PZ or SZ EXD353(AI)(E)
Meat from the Protection Zone
Movement of meat from poultry originating in a PZ - explanation of the rules
Specific licences:
Specific licences must be applied for and obtained from APHA. If a licence is issued, it will allow a one-off movement and be subject to certain conditions based on disease control risk.
The form is in a word format (download from here), it can be filled in electronically and emailed to b3V0YnJlYWsubGljZW5zaW5nQGFwaGEuZ3NpLmdvdi51aw==
Specific licences which are currently being issued on request include:
Movement of poultry from the PZ or SZ to slaughter
Movements of pullets within the SZ only
If you have any queries then please contact APHA on 03000 200 301.
There is no licence required for the collection of fallen stock, however, good biosecurity practices, such as cleansing and disinfection of vehicles on and off the premises, should be followed.
Are you in a zone?
Find out if your farm is in a zone on the Defra interactive map.
Simply put your farm name into the box left of the map and click enter. Alternatively you can zoom into the map using the buttons at the bottom.
If you're in a zone then your holding will be in a blue (protection zone - PZ) or yellow (surveillance zone - SZ) part of the map.
If you're holding crosses the border between the two zones then the whole holding will be in the PZ. If you're bordering the SZ and no zone then you're holding will be in the SZ.
What does being in a zone mean?
In a Protection Zone the farmer must:
Keep poultry and other captive birds in their buildings or isolated from other poultry, captive birds and wild birds;
Ensure that all carcasses that are not seized or disposed of by a veterinary inspector are disposed of in accordance with their instructions;
Not move poultry meat, carcasses, litter, eggs, other livestock or animals within or outside of the zone; and
Adhere to strict

biosecurity

on and off the farm.
All premises within the PZ are also in the SZ.
In a Surveillance Zone the farmer must:
Not move poultry, other captive birds or mammals (including pigs) to or from premises where poultry or other captive birds are kept (exceptions apply for pet animals);
Record any individuals visiting the premises where poultry or other captive birds are kept. Exceptions: zoos or wildlife parks (providing the public has no access to areas where birds are kept) and on public rights of way;
Keep a record of all poultry or poultry eggs entering or leaving premises within the zone, except where eggs are being moved direct to retail premises or onwards from such premises;
Ensure appropriate

biosecurity

measures are in place for people and vehicles entering or leaving premises where poultry, other captive birds or eggs are kept – disinfectants must be from the approved list;
Poultry litter, manure or slurry should not be moved or spread.
Anyone involved in the transport or marketing of poultry or poultry eggs must also make a record of those that are transported or marketed.
Specifically for licence enquires please contact the APHA 03000 200 301.
For concerns about the health status of your own flock please contact the vet or the APHA on 03000 200 301.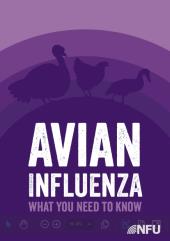 Download the NFU Avian Flu guide - the links producers might need when there is an AI outbreak and other useful information. You'll find a link to the guide, along with contingency planning and useful links here.
Further advice on AI is available via the links below:
- GOV.UK - Avian Influenza page: Latest news, guidance on how to spot AI, what to do if you suspect it and measures to prevent it