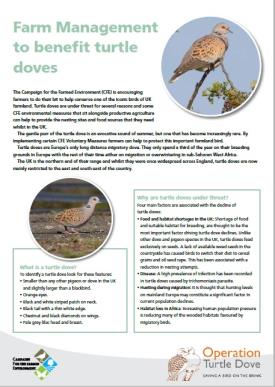 The Campaign for the Farmed Environment has teamed up with Operation Turtle Dove to produce a leaflet to help farmers familiarise themselves with the Turtle Dove and provides useful tips to help conserve the species.
This includes providing suitable nesting sites and food sources during their migratory visit to the country.
Farmers are crucial to the survival of many farmland bird species and they are also encouraged to take part in the annual Big Farmland Bird Count (BFBC), starting in February 2017.
The leaflet introduces the Turtle Dove, distinctive in appearance and sound from other dove and pigeon species and highlights how farmers can help support this farmland bird, an emblem of the festive season.

Farmers can help turtle doves by providing:
- Nesting sites (turtle doves prefer specific hedgerow species
- Native climbers such as ivy or clematis are an added bonus)
- Food (farmers are asked to provide bare, foraging ground and seeds from mid-April onwards)
- Water (should be situated no further than 300 metres from nesting sites).
Sam Durham, NFU chief land management adviser, said: "Many people are more familiar with the turtle dove from the Christmas song than see it out in the countryside, and I know of many farmers who are keen to see and hear it on their farm.
"Farmers already act as important stewards of the British countryside and our leaflet encourages them to look out for and help conserve this icon of the festive season."

Know your turtle doves
The gentle purr of the turtle dove is an evocative sound of summer, but one that has become increasingly rare.
By implementing certain CFE Voluntary Measures farmers can help to protect this important farmland bird.
Turtle doves are Europe's only long distance migratory dove.
They only spend a third of the year on their breeding grounds in Europe with the rest of their time either on migration or over wintering in sub-Saharan West Africa.
The UK is the northern end of their range and whilst they were once widespread across England, turtle doves are now mainly restricted to the east and south east of the country.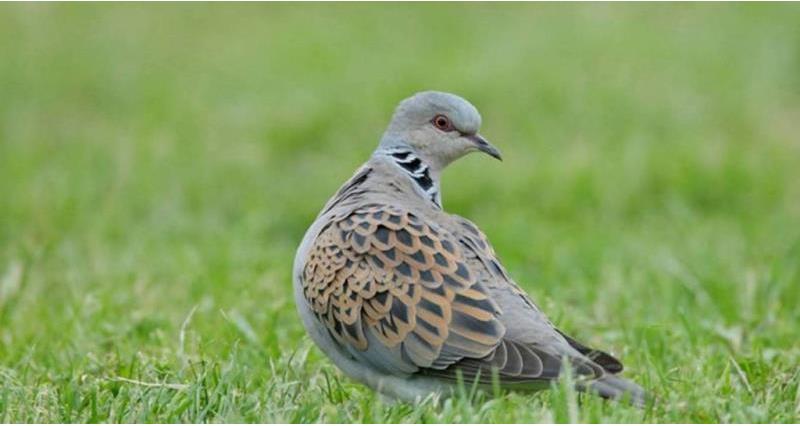 To identify a turtle dove look for these features:
• Smaller than any other pigeon or dove in the UK and slightly larger than a blackbird.
• Orange eyes.
• Black and white striped patch on neck.
• Black tail with a thin white edge.
• Chestnut and black diamonds on wings.
• Pale grey-lilac head and breast.