The call comes as farmers address the Keep Britain Tidy campaign's annual conference held in Leeds today.
The sight of dumped mattresses, carpets, dishwashers, old furniture and black bags of household waste on farmland is becoming widespread with two thirds of all farms affected. Last year there were 900,000 incidents of fly-tipping across England – a 5% increase from the previous year.
With rural tourism contributing £130m to the nation's economy (2015-16) the NFU believes more needs to be done to protect the countryside from fly-tipping and more action taken by local authorities and police to help farmers battling this issue. Under the current rules farmers and landowners are left facing hefty bills to remove vast amounts of rubbish dumped illegally on their land.
The NFU is asking for:
- Local authorities and the police assisting landowners in the clean-up and reporting of fly- tipped waste
- The NFU wants all parties (local authorities / police / land owners / the Environment Agency) to work together on the issue which means prevention, clean up and prosecution.
- It should not be the sole responsibility of the landowner to deal with this crime and landowners are currently saddled with the cost of removing fly tipped waste.
Speaking at the Keep Britain Tidy conference, NFU Environment Forum member Phil Jarvis said: "We have seen a huge increase in the number of incidents in recent years and it really has become a scourge of farmland across the country. The rubbish can be costly and time consuming for farmers to remove, it's dangerous to human health, harmful to wildlife and livestock and in some cases, fly-tipped waste pollutes watercourses and contaminates land.
"What many people don't realise is that when incidents of fly-tipping take place on private land it is the farmers and landowners' responsibility to remove the illegally dumped waste, costing people hundreds of thousands of pounds every year.
"While farmers and landowners do all they can to prevent fly-tippers, such as installing gates, barriers and warning signs and installing security cameras and lighting, in many cases we have found that deterrents do not work. These fly-tippers are people intent on breaking the law and they think nothing of cutting padlocks, breaking gates and smashing cameras.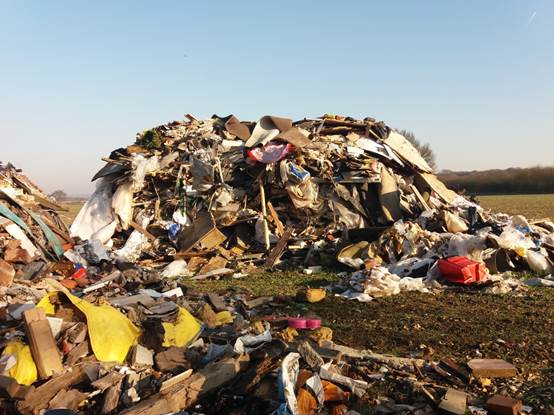 "To really clamp down on this huge and growing problem, we want to see more communication between local authorities, police forces and the Environment Agency to give those impacted more confidence to report, incidents that lead to investigation and prosecution, as well as more stop and search initiatives.
"The NFU is involved in some excellent regional partnership initiatives - the Hertfordshire Fly-tipping Group brings together key organisations to consider debate and act on major issues affecting rural parts of the county. We also have a place on the National Fly-Tipping Prevention Group which encourages groups to work collaboratively by sharing information and intelligence. We will continue to lobby Government to support and enable farmers' and landowners' efforts to deter, remove and clear fly-tipped waste from private land."
The Keep Britain Tidy Annual Conference takes place on Thursday 9 February at the Leeds Hilton.