No-one knows their cows better than a dairy farmer, and hence they are best placed to know the needs and preferences of their own herd. Even in the UK there is a huge variety in our dairy herd and dairy farms, from Guernsey cows to the black and white Holstein Friesian, from small family run mixed units to larger more specialised dairy enterprises.

This is what makes the UK dairy industry unique and there is no one size fits all for dairy farming. It gets even more complicated when you consider dairy farms produce milk for different dairy products, some of which can be stored and others that are sold fresh.

The biggest demand in the UK is for a year round level supply fresh liquid milk which means we have a completely different dairy system to that in Ireland and New Zealand where they have low demand for fresh milk and high demand for milk products that can be stored such as milk powders. This means they can have a more seasonal approach to producing milk and make the most of grass growth in Spring.

Here in the UK many dairy farmers are required to supply as level a supply of milk as possible all year round and the simplest way of doing so is to ensure cows are to an extent looked after the same way all year round, rain or shine. That's why many farmers have looked at systems where their cows are housed for a large part of the year.
On top of this is you look at the weather conditions in Scotland compared to Cornwall, and Pembrokeshire compared to Essex we have huge variability. South Wales receives on average 115cm rain per year while in Essex this is only 51cm.
Clearly a one size fits all grazing policy is not suited for the UK, let alone the EU and further afield. Small, regional milk pools can do this – and we've seen M&S and Waitrose bring in grazing policies for dairy cows on their supplying farms.
This graph from AHDB shows the variability in grass growth in the same week in 2016: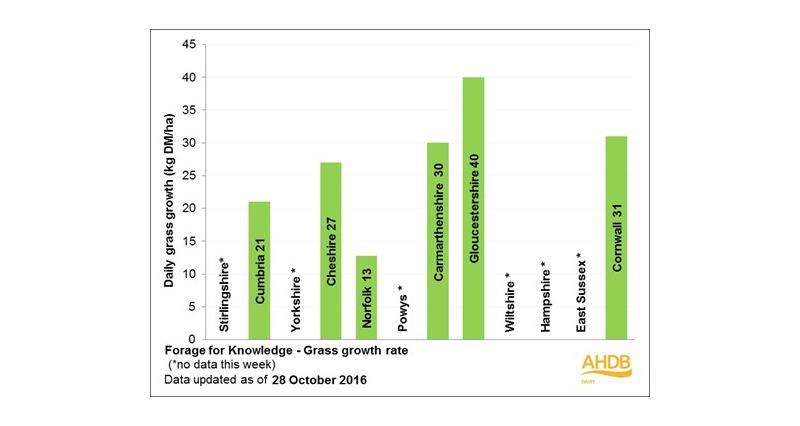 So whilst some may call for a legal definition of free range dairy we'd rather farmers have the option to do the best for their cows using their own intuition and knowledge – if grass is growing well in Spring be all means let your cows out early, is there's been an extremely cold winter and spring grass growth will be stilted and cows won't make the best out of this resource.
If we have torrential rain in summer and fields become muddy it's likely that farmers will opt to keep cows indoors, if a cow is feeling under the weather, she'll be kept indoors for closer surveillance and monitoring and in some cases to reduce disease risk and for farm biosecurity it's best that animals are kept indoors.
So it's not as simple as it seems at first glance. If you are concerned by where you're milk comes from make a trip out to a local dairy farm on Open Farm Sunday on June 11th this year. Farmers will openly tell you how they look after their cows, and how proud they are of their system, regardless of which one they operate.