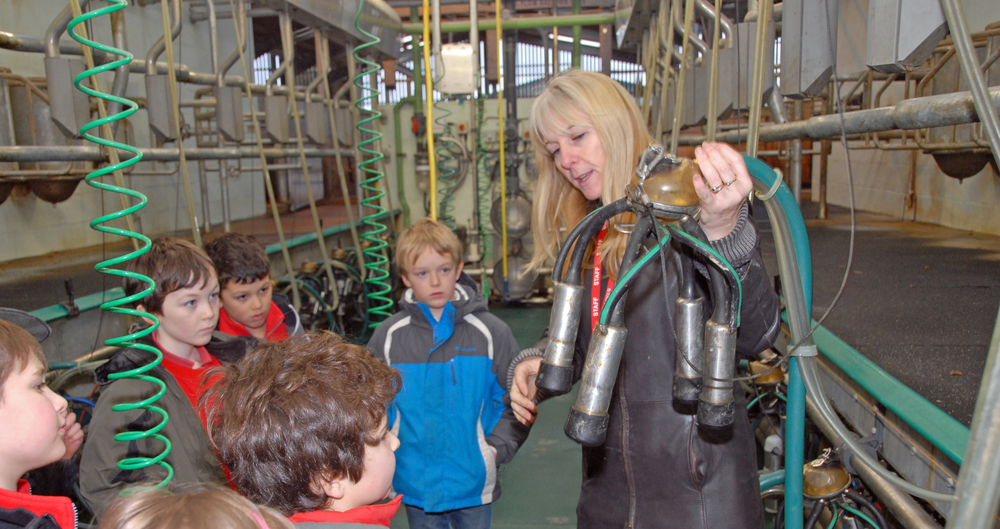 Help tell the world why British food and farming should be taught in classrooms and get children understanding where their food comes from while inspiring them to learn vital skills.
On Monday 24 May the NFU launched a new report to highlight to MPs how agriculture can help pupils learn science, technology, engineering and maths (STEM). The NFU's Inspiring STEM Learning Through Agriculture Report illustrates the benefits of teaching STEM subjects through the context of food and farming.
Why get involved?
By getting involved you are helping to promote the importance of teaching STEM subjects through the context of food and farming. Farmers are role models, and by talking about how you use STEM in your day-to-day work, the NFU can show how agriculture can level up Britain by helping to plug the STEM skills gap.
How you can get involved
You can take part on any social media platform by posting videos, images or messages. If you are not on social media but want to take part, send us your video via WhatsApp to 07436 188702 or email c3R1YXJ0LmRvbmFsZHNvbkBuZnUub3JnLnVr.
Post your content on your social media channel of choice from 24 May using the #BackBritishFarming hashtag.
When posting to social media:
Use the hashtag #BackBritishFarming
Tag @NFUtweets on Twitter and we will retweet your posts.
Post a selfie video about something on your farm that is STEM related that has made kids go "wow", or something that you are proud of and think that kids would be interested in.
Here are some examples:
Answer the most common question you get asked by kids:

What's your favourite piece of technology on your farm and how does it work?
How does a combine harvester work?
How do you keep your animals healthy?
What calculations do you need to make to produce food?
How much food will you produce in a year?
How do you use maths to get everything to work?

Tell us what crops you produce on your farm and the science involved in making them.
Show us how you use science every day on your farm.
You can also tag a teacher to encourage them to sign up to the education newsletter to learn more about the NFU's education work and free classroom resources.
Check out our FREE teaching resources post on Facebook and tag a teacher you know.
Twitter times
On Friday, Brompton Westbrook Primary School from Gillingham in Kent, will be taking over the NFU's main twitter account @NFUtweets. By posting photos and videos, they will be showing how children in every year group have been learning about STEM through NFU programmes such as Farmvention and STEMterprise.