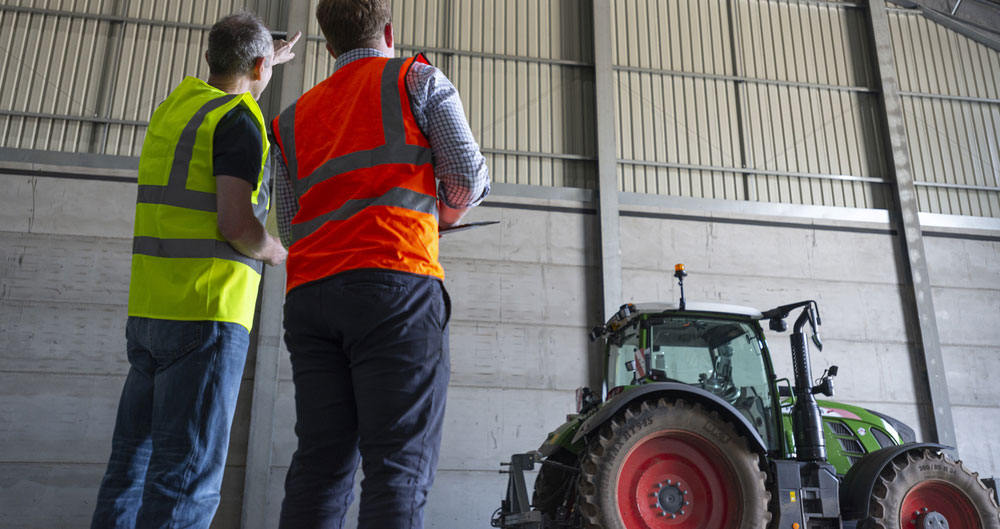 The NFU is working with the Farm Safety Partnership (FSP) and farmers and growers across the country to reduce the number of accidents on farm.
From October to December 2020, the focus is on working at height. The FSP is sharing guidance on how best to approach any work at height, following these key messages:
Avoid roof work or work at height maintaining buildings. Do as much as you can from the ground.
Use a professional contractor with the knowledge, skills, equipment and experience to safely work at height on buildings. Avoid doing the work yourself.
Where maintenance work at height cannot be avoided, plan ahead to make sure you have the right equipment and training.
Don't be tempted to use the wrong equipment.
Read more: Controlling risk when working at height
The NFU has a guide offering practical advice to help prevent accidents when working at height.

Above: NFU Vice President Stuart Roberts pictured at a farming health and safety event in the South West last year.
NFU Vice President and FSP chairman Stuart Roberts said:
"This is the time of year when many farmers look to do general maintenance around the farm. While we farmers like to consider ourselves a jack of all trades, we need to start asking ourselves, what if the shoe was on the other foot? Would we let a builder grow our crops or care for our livestock?
"This is even more important at the moment as many of us are coping with additional pressures from coronavirus, Brexit uncertainty and the challenging weather, and it's easy to overlook the smaller things when we're distracted.
"Whether it's finding a way to do the job from the ground, investing in training staff or hiring a professional contractor, all it takes is a bit of planning to make sure we have the right people, the right training and the right equipment for the job at hand.
"A safe workplace is not only crucial for our welfare and the welfare of our employees, but for the sustainability of our businesses too."
Farm safety campaign
The NFU and partners in the Farm Safety Partnership (FSP) have committed to work towards reducing farm workplace fatal accidents by 50% by 2023, and ultimately to have no farming-related fatalities at all.
This focus on working at height forms part of the FSP's campaigning activity to encourage good practice on farm and comes alongside three other focus areas: transport and machinery, handling livestock, and ensuring the safety of children on farm.
The aim of the campaign is to change farmers' attitudes to health and safety and highlight changes that can be made within the farm workplace at minimal cost. If implemented effectively this has the potential to significantly improve the safety record of agriculture and save lives.
More from NFUonline: