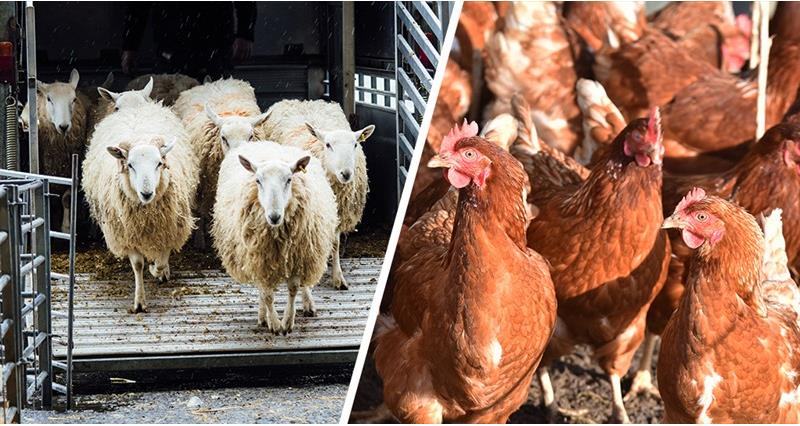 We've created a new set of guidance pages on NFUonline as part of our ongoing commitment to improve animal welfare during travel.
Our cross-sector guidance is aimed at beef, lamb, dairy and poultry producers, but is available to everyone within the industry. It will help support continued animal welfare post-farm gate with guidance for farmers and hauliers on effective animal transport. It also includes downloadable posters to raise awareness of best practice.
We've created these pages following Defra's recent response to its welfare in transport consultation, in which we highlighted that the focus of both government and industry should be to ensure the best possible welfare outcomes. This includes focusing on the types of journeys made, the animal's fitness to travel, loading and unloading animals properly, and driver training.
Livestock
If you're a livestock farmer, you can find all the information on our livestock news pages at NFUonline.
NFU livestock board chair Richard Findlay said:
"Maintaining high animal welfare in transport is a priority for all livestock farmers and we are always receptive to new and improved guidance on this issue.
"This new guidance demonstrates our commitment to prioritising welfare and further improving our already high standards of animal welfare. We will continue to work with Defra to find evidence-based solutions that deliver practical and meaningful welfare improvements."
Poultry
If you're a poultry farmer, you can find all the information on our poultry news pages at NFUonline.
NFU poultry board chair Thomas Wornham said:
"As poultry farmers, our main priority is the health and welfare of our birds, and the poultry sector has invested heavily in improving bird welfare at all stages throughout the supply chain.
"We've always maintained that it is the overall quality of the journey that determines animal welfare during transport and this guidance highlights the important role farmers play in maintaining our high welfare standards."
Dairy
If you're a dairy farmer, you can find all the information on our livestock news pages at NFUonline.
NFU dairy board chair Michael Oakes said:
"I am always extremely proud of our industry's proactive approach in ensuring we remain at the forefront of animal welfare standards.
"This straightforward guidance, in particular the new sector-specific posters, offer real clarity in outlining the expectations of best practice, for all involved in transporting livestock. This can only serve to further safeguard our high standards and exemplify the careful and thoughtful approach to ensuring individual animal and species needs are fully considered."