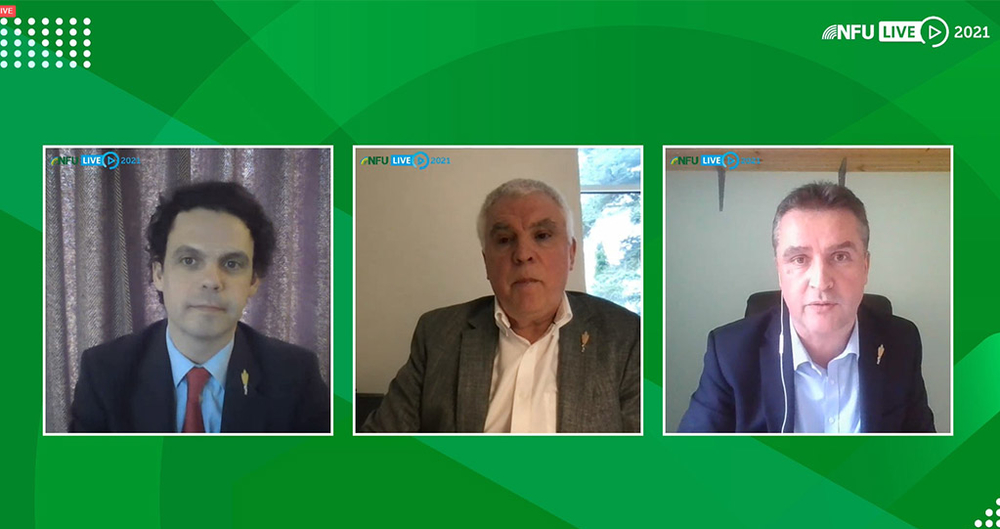 NFU Conference attracted a list of the most important ministers and politicians, across party lines in the UK, but some of the greatest insight might have come from the 'Trade in the future' panel.
Chaired by NFU International Trade Director Nick von Westenholz, it featured the Rt Hon Angus MacNeil MP, who is the Chair of the International Trade Committee, and Tim Smith, Trade and Agricultural Commission (TAC) Chairman.
♦ Click here to watch this session again
Tim Smith shared key findings of the TAC from discussions with 15 parties representing farming, food production, retail, hospitality, trade policy – which the NFU feeds into. The group is set to report on the future of the statutory TAC in the coming weeks, and it spoke to more than 300 businesses and organisations throughout the process.
Smith teased some key findings, and highlighted how farmers and food producers were clearly determined to continue to maintain the highest standards of food production in the world, while also having an appetite for new innovations.
Among the report's recommendations, he said: "It will be ambitious, and offer a clear practical vision for what the UK should do to attract global food trade. Our recommendations will be pragmatic – showing where UK is leading partner."
He also explained that retaining our trade quota to EU was critical.
Angus MacNeil outlined why Brexit is likely to cost 4.9% of GDP:
"An easy way to understand this is," he said, "is to imagine you had £4.90 in your pocket, but that was going away. The best US trade deal will be worth 20p, a deal with Australia might be 1p, New Zealand might be worth somewhere between zero and 1p.
"There are currently no figures for any potential trade deals with the Comprehensive and Progressive Agreement for Trans-Pacific Partnership (CPTPP, a trade agreement between Australia, Brunei, Canada, Chile, Japan, Malaysia, Mexico, New Zealand, Peru, Singapore and Vietnam). It will be politically motivated, so it might be worth 3p, so we have 26p or 27p in the £4.90 we just lost."
Despite this concern, the panel still showed signs of optimism after Secretary of State for International Trade Liz Truss launched the food and drink export campaign earlier in the day, providing different departments in the government can align in their organisation and their administrative resource.
In responding to NFU member Jane Bassett's question about self sufficiency, MacNeil explained that being smart about the product we send abroad offers greater opportunity. He said: "We have 10,000 sheep on the Isle of Barra. If we slaughter the sheep here, we're not going to sell or use all of the animal because of consumer tastes, so we sell some bits of it abroad, because there are consumer patterns that push and pull all of this."
Mr von Westenholz assured members that "the NFU will keep lobbying hard to make sure farming is at the forefront of the UK's negotiators' minds as they discuss trade deals across the world".
More from NFU21:
Watch this session again: