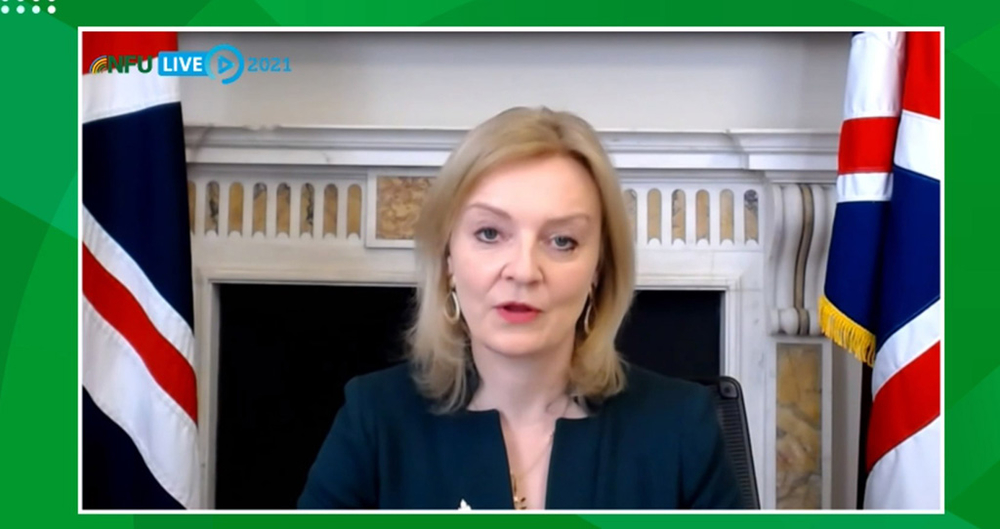 The Secretary of State for International Trade, Liz Truss, told the NFU's virtual annual conference that UK food producers need to look further afield to capitalise on untapped markets and spread the risk for our farmers.
Ms Truss said that the UK was coming out of "50 years of anti-innovation, high tariff wars and 150% tariffs on whisky going to India". She said that we now have the opportunity to build resilience to future economic shocks by setting our own tariffs.
♦ Click here to watch this session back
In his introductory message to delegates at the start of conference, Prime Minister Boris Johnson talked about putting British beef on American plates and sending British trotters to China.
Ms Truss said we should look to global economies:
"By the end of this decade, 66% of the world's middle-class consumers are expected to be found in Asia. They are hungry for top-quality food and drink, where they know – from farm to fork – that high standards have been at the heart. I want more farmers and food producers to grasp these sorts of opportunities."
Ms Truss said the Department for International Trade (DIT) was looking at alternative markets. The DIT is looking to produce for a more diverse range of markets to make UK suppliers less dependent upon certain markets. They are looking into Halal certification to sell UK lamb into the Middle East. Another benefit of market diversity was the opportunity to achieve carcass balance with countries who prefer alternative cuts of meat.
She added that Britain produces some of the best food and drink in the world and she was keen to see it "out there". With that in mind, the DIT has unveiled an 'Open Doors' campaign to encourage UK exports by providing masterclasses, mentoring and funding advice to help food producers get started.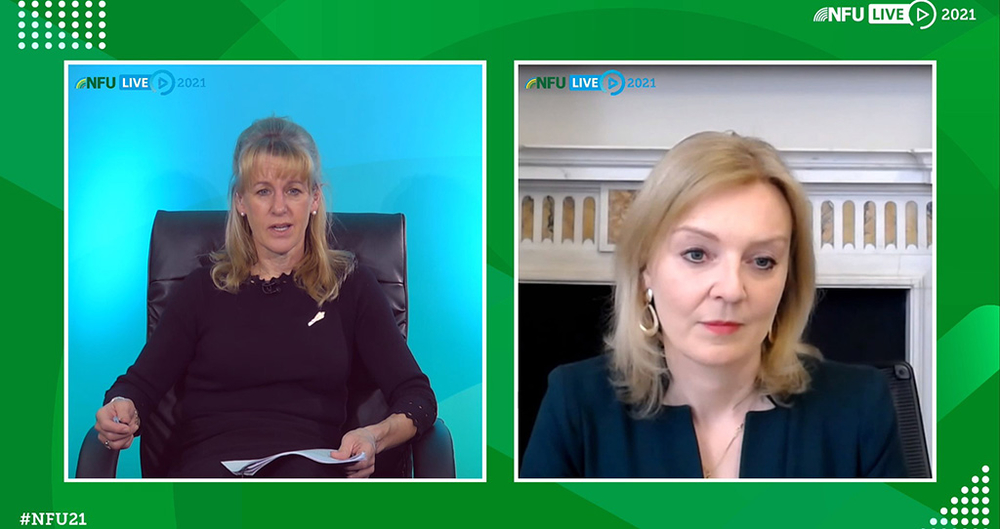 NFU President Minette Batters recalled a visit to Wyke Farms with Ms Truss, where MD Rich Clothier stressed the benefits of Red Tractor as a business-to-business standards signifier when doing business with other countries.
Ms Truss said:
"I want to make it clear that I will never compromise our standards when signing a trade deal, I will never sign a deal that is bad for British farming."
In answer to a question about hormone-injected beef from the US, she added that the UK will never cut its standards for the US.
More from NFU21:
Watch the session back here: