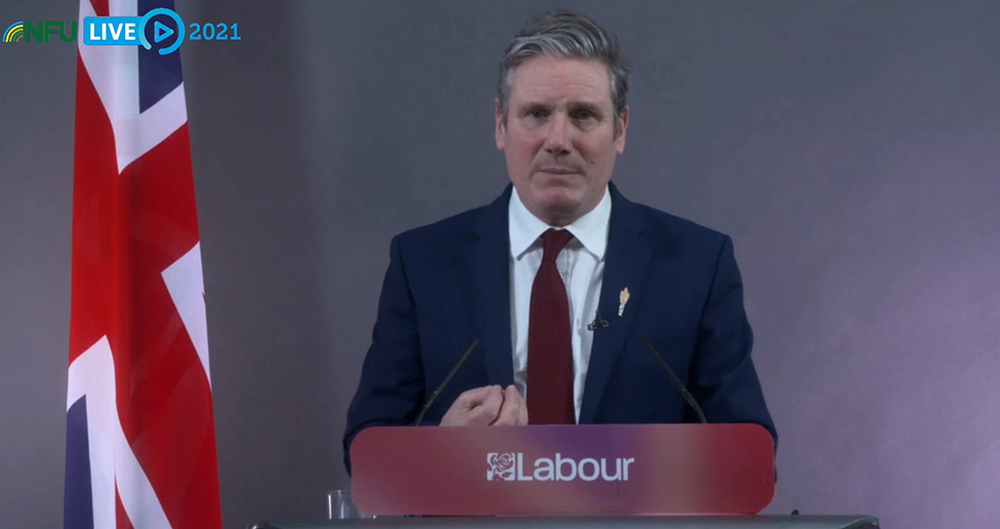 It may have been the first time a Labour Party leader had addressed an NFU Conference since 2008, but Sir Keir Starmer was clear that "farming matters" to his party.
He vowed to move Labour closer to the countryside in the next manifesto and called for a new relationship, under-pinned by a complete review of the party's rural policies carried out by Defra Shadow Secretary Luke Pollard.
♦ VIDEO: Click here to watch this session in full
Admitting a "perceived distance", he said:
"It's more perception than reality, because in the last year Labour stood with British farming and stood up for rural communities, from fighting for high food standards, to protecting family farms.
"But it's a perception that we can't ignore any longer. And we won't ignore any longer."
The new relationship started with a thank you to a sector that he said had "stepped up when Britain needed you most" during the pandemic.
With manifestos some time away, Sir Keir called for the government to encourage more people to buy British food. As part of that, he said that more of the £2.4 billion spend on public sector catering should go to British farmers and producers.
Elsewhere, he said that three-quarters of farmers feared that future, post-CAP farm support measures would prove insufficient. Sir Keir called for action to address "serious and growing problems" there.
The Labour leader said there needed to be a step-change in investment in agricultural skills, with a wage subsidy for apprentices. And he suggested that the party's proposed British Recovery Bonds – a government savings scheme with the cash raised spent on post-Covid projects – might benefit farmers repeatedly hit by flooding.
He said he had been amazed at the resilience of those he visited in South Yorkshire in December. But he added:
"What shocked me most was that many of those families had come to accept that every few years this kind of thing could happen.
"That creates a permanent insecurity. And huge damage to local economies.
"We have to change this. This has to be a recovery that works for all parts of the economy and all parts of our country."
Pressed on bovine TB policy, he recognised the "devastating impacts" and called for "another way forward" with vaccines "a part of that".
Meanwhile, he rebuffed accusations of 'playing politics' with neonicotinoids, but admitted a difference of opinions. Such conversations "would be had", he said, in the review of Labour's rural policies he promised in his speech.
More from NFU21:
Watch this session here: