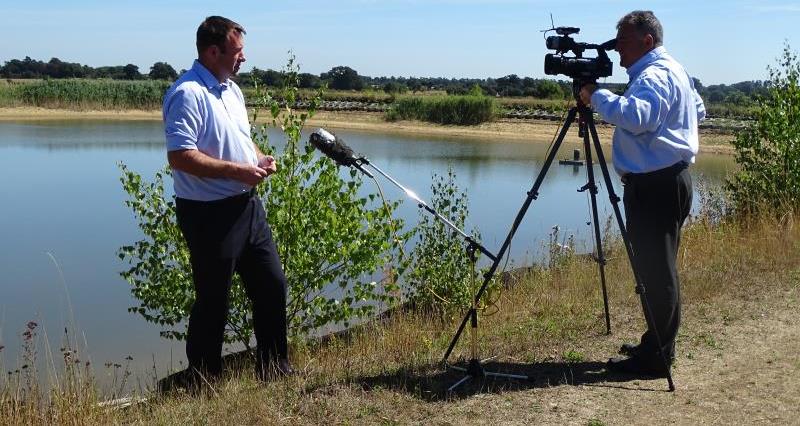 May
Impact of dry weather
NFU Deputy President Stuart Roberts was quoted in The Telegraph, the Daily Mail, and Metro highlighting the impact of dry weather on some cereal crops and reassuring that we will be closely following predictions of further dry weather and what this could mean for water availability, livestock grazing, and bringing in the harvest.
---
See coverage on the flooding earlier in the year...
March
National Water Framework launches
The Daily Telegraph reports the launch of the new National Framework for Water Resources, which warns that the average person needs to reduce their water use from 143 litres to 110 litres per day. NFU Deputy President Stuart Roberts is quoted acknowledging that the Environment Agency has taken on many of our recommendations.
Impact on spring planting
The Daily Telegraph reported that extreme rainfall may pile pressure on farmers' finances as crops are washed out.
NFU flood management and access policy adviser Dr Mhari Barnes is quoted saying we will see a delay to spring planting, which means higher costs.
Bloomberg reported on how recent floods are threatening farmers' spring-planting plans.
The piece featured NFU environment forum member Richard Bramley and NFU member Stephen Watkins who talk about the knock-on effect for seeding spring crops.
---
February
Coverage from NFU Conference
The recent flooding and the need for a better approach to managing water was a big focus at the NFU's conference this year, and for the media in attendance.
NFU President Minette Batters was interviewed for BBC Politics Live where she explained that farmers are struggling to get on to fields to plant their crops.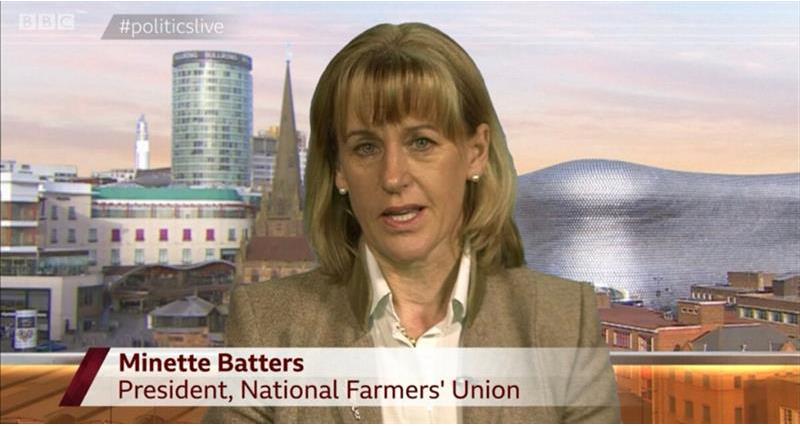 Mrs Batters was also interviewed for BBC Radio 4 Farming Today saying that more investment in flooding prevention is needed to mitigate the damage being done on farmland.
Storm Ciara and Storm Dennis
NFU Vice President Stuart Roberts was interviewed on Sky News explaining how farmers have been impacted by the floods and that they deserve recognition for providing flood solutions.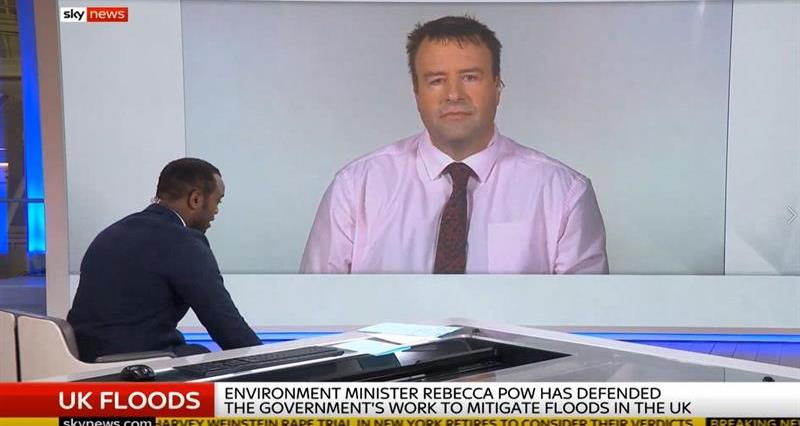 Worcestershire farmer Stephen Watkins discussed the aftermath of Storm Dennis on BBC Radio 4's Today programme, and Herefordshire farmer Ally Hunter-Blair featured on BBC Breakfast talking about the impact on his business.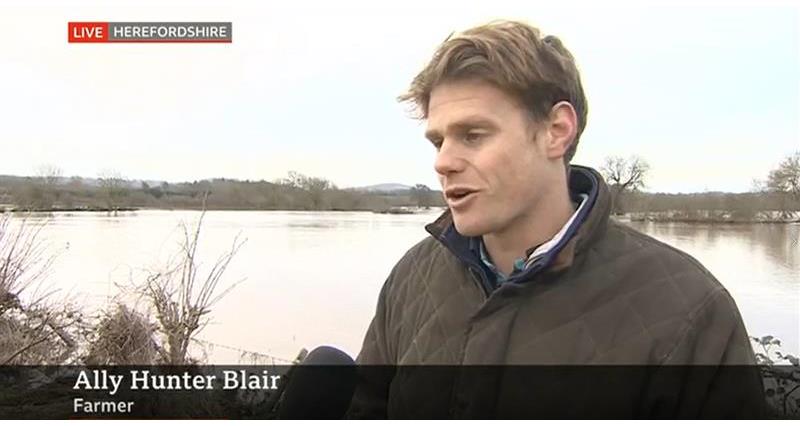 NFU flooding management adviser Mhari Barnes did the rounds on ITV regional news where she called for an expansion of the Farming Recovery Fund to help farmers get back on their feet.
---
2019
December
Flood protection
BBC Countryfile interviewed NFU flood management adviser Mhari Barnes for a feature on the floods where she said more protection is needed for valuable farmland.
NFU member Oliver Shooter also featured in the Countryfile piece where he outlined the long-term impacts of flooding on farming businesses.
---
November
Impact of flooding on farm businesses
NFU combinable crops board chairman Tom Bradshaw was interviewed for BBC Radio 4 Farming Today explaining what the flooding has meant for farmers financially.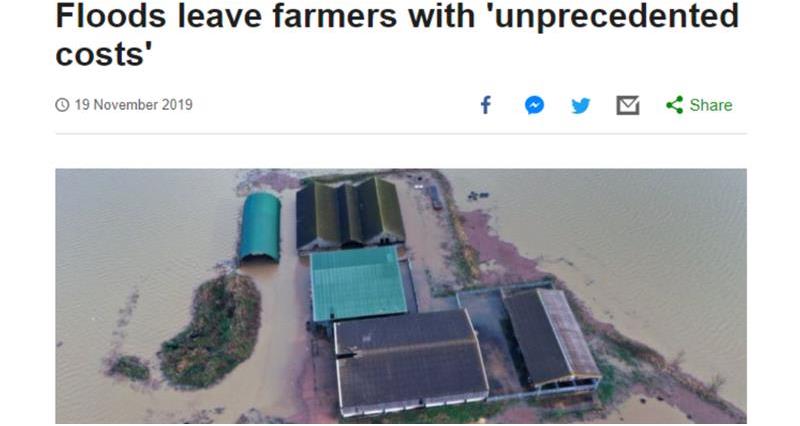 NFU's General Election Manifesto launch
In it's 2019 winter General Election Manifesto, the NFU highlighted the importance of securing farming's access to water and the need for a wider water management strategy.
Channel 4 News interviewed NFU President Minette Batters live where she told viewers about the impact of flooding on farms and called for a complete review of water management in the UK.
Mrs Batters was also interviewed live on BBC News Channel reiterating the need for all political parties to commit to the NFU's asks on water.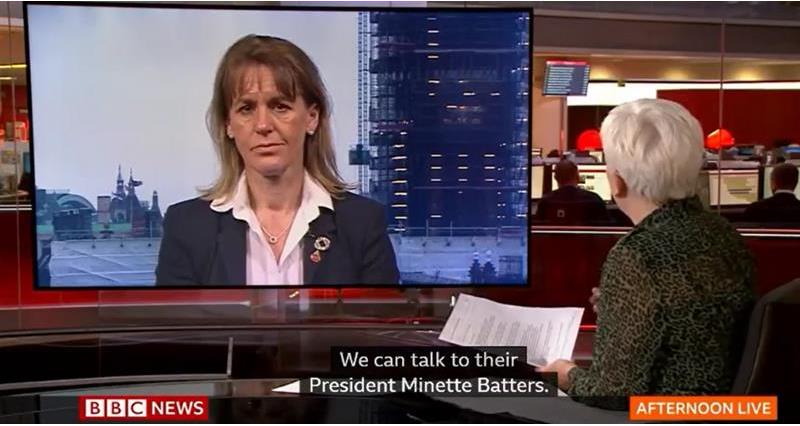 River maintenance
NFU Vice President Stuart Roberts was interviewed by Eamonn Holmes on TalkRadio about the need for rivers to be properly maintained to help prevent flooding.
Kay Burley interviewed NFU member Tom Bayston who's farm is underwater on Sky News. He explained why rivers are under so much pressure and stressed that the government needs to work with rural communities to find a long term solution.