The GB Dairy Calf strategy aims to support farmers and wider industry in tackling the elimination of routine calf euthanasia and ensuring every calf is reared with care.
We champion a range of actions and priorities which will ensure greater and ongoing success of rearing of calves from the dairy sector for the beef market. 
Through our wide stakeholder group from across the industry, we appreciate there is a range of businesses purchasing and rearing calves, through a variety of means.
This directory showcases this wide range of options available for farmers to market and sell their calves and also considers opportunities for those herds under TB restriction.
It will also enable you to consider the requirements and actions needed to access these markets and be as successful as possible in these ventures, streamlining the processes for all.
Options for TB restricted herds
Approved Finishing Units
AFUs provide a route for rearing and/or finishing cattle from TB-restricted herds in systems that offer additional and necessary biosecurity but equally high welfare as non-restricted holdings. These farmers are able to purchase and house calves from TB-restricted herds before sending cattle either direct to slaughter or to another AFU.
In addition to ensuring animal welfare and alleviating financial difficulties for TB-restricted farms, AFUs help control the wider incidence of TB. The tight regulations surrounding AFU licensed holding aim to eliminate the likelihood of TB-restricted cattle coming into contact with other herds.
The government hosts a list of Approved Finishing Units online, with locations across England and Wales. Whilst some units may be private or more suitable for finishing rather than rearing, this list acts as a useful starting point for finding somewhere to move calves from TB-restricted herds: Approved finishing units (England and Wales).
The location of AFUs can also be seen on the ibTB website – just make sure that you have zoomed in and the toggle button on the left hand side is switched on. AFUs will appear as a small purple square and clicking on the square will bring up the details of the AFU.
Livestock Auction Markets
Livestock Markets have over 200 years proven experience, selling a quarter of a million calves each year across England and Wales.
The Livestock Market provides a competitive and transparent marketplace, offering a fair price representative of current market trends, working for the producer, rather than the buyer.
Livestock Markets represent all sizes and scales of farm businesses, successfully marketing all breeds, ages, sizes and sexes of calves to a wide-ranging ringside of buyers from across the beef supply chain.
Livestock Markets operate the highest standards of animal welfare and bio-security measures, in accordance with Red Tractor standards, and are at the forefront of the development of livestock traceability systems and animal health status.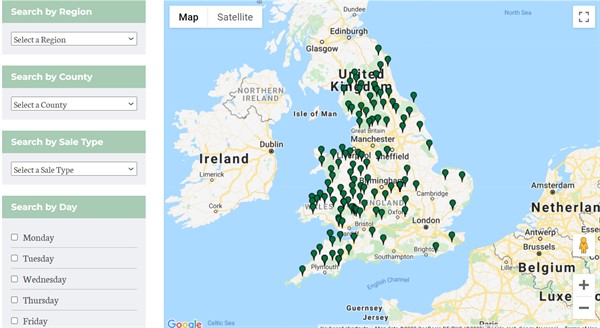 Speak to your local Livestock Market for further information, or find your local Livestock Market by visiting Auction Marts | Livestock Auctioneers' Association Limited.
Using the search tabs on the link above, you can refine the search to all those with calf markets, by region and days on which they are held. The details include names, address, contact details of the relevant markets and days on which calves are sold.