2021
September
GPS theft
The NFU was also quoted in a Times article about British farmers falling victim to a gang stripping out GPS devices from tractors and delaying the harvest. Undercover officers from the German police working with British police infiltrated a Lithuanian crime group and seized 80 of the valuable devices — 23 of which were stolen in Britain. 
August
At the beginning of the month NFU member Andrew Ward appeared on Good Morning Britain (9m 40s) to discuss the effect of rural crime on farmers. 
This was followed later in the month by a Guardian piece that looked at 'How to take the lead in dog walking' when in the countryside and examined dog walking etiquette. The article quoted the NFU on the cost of dog attacks on livestock last year.
July
Livestock worrying
An ITV article mentioned the NFU pressure on the government to give the police greater power to track down the owners of dogs that attack livestock. This came as Sussex MP, Andrew Griffith, told the House of Commons there should be a DNA database for dogs to help track down owners whose dogs kill livestock and deter dog thefts.
Later in the month Anglesey MP Virginia Crosbie proposed a change in law that would give police powers to seize dogs they suspect to be involved in livestock attacks and take DNA samples. NFU chief land management adviser Sam Durham was quoted in a Daily Express article about the news outlining the NFU's support for the proposal.  
Walkers were also urged not to let their barking dogs enter cattle fields, as deaths on farmland rose 50 per cent during the pandemic, according to a Telegraph article which mentioned the NFU.
June
Spike in rural crime
As the weather got hotter and more people ventured out into the countryside reports started to surface of farmers experiencing ant-social behaviour. The Times kicked things of as they reported on the issue amid a staycation boom. The article quoted NFU Deputy President Stuart Roberts, who described the effect some behaviour has on the mental health of farmers, it also included some NFU facts such as the news that crime in rural areas has risen three times faster than the rest of the country in the past decade.
In other articles, such as for the Mail on Sunday, Stuart described the effect of specific issues such as hare coursing as he praised the news of a crackdown on the activity.
GB News have also been focusing on rural crime as NFU chief land management adviser Sam Durham and NFU member Tim Papworth both appeared on the channel to explain how rural crime is impacting farming businesses and what's being done to address the problems, as did NFU Kent chairman William Alexander.
May
NFU Deputy President Stuart Roberts wrote an opinion piece for the Daily Express on rural crime. The piece, which featured in the print paper, discussed the NFU's recent rural crime survey. 
Sky lanterns
An NFU-led coalition of 18 organisations sent a letter to Defra undersecretary Rebecca Pow calling for a national ban on sky lanterns. The Times covered the issue as an exclusive and published a print article, with an opinion piece by Robert Crampton published the following day.
Hare coursing
The Telegraph and the Mirror published articles on the effects, both financial and mental, of hare coursing on rural communities. The Telegraph mentioned the NFU's call for police and crime commissioners to put rural policing at the forefront of their agenda ahead of the May elections.
April
Welsh Senedd elections
The BBC covered the Welsh Senedd elections from a farming perspective outlining the things that matter to the sector. The article includes quotes from NFU Cymru next generation forum member Hefin Jones who described the influential factors on his voting decisions.
Rural Crime Survey
The NFU's Rural Crime Survey garnered a wide variety of coverage across regional outlets, the survey revealed that rural crime had cost the average victim £5,100, with one in 10 respondents putting the bill at £10,000 or more. 
The BBC and ITV included NFU quotes while East Midlands Today interviewed regional communications adviser James Peck about the issue where he stressed that more joined-up action is needed to prevent it.
"We need more rural police officers and we need them distributed about the county better."

Essential read on @BBCNews, where farmers share their experiences of rural crime and why they believe police forces must make tackling it a priority. https://t.co/Riu1Kqy4A5

— National Farmers' Union (@NFUtweets) April 20, 2021
The survey also featured on the front page of the Yorkshire Post. The article covers the NFU and Countryside Alliance's calls for candidates in next month's Police and Crime Commissioner (PCC) elections to put rural crime at the forefront of their campaigns. North East regional director Adam Bedford is quoted in the article.  
March 
BBC Panorama focused on fly-tipping, and the prosecution of it, with a feature, called Rubbish Dump Britain. The production team were briefed by NFU Deputy President Stuart Roberts and Hertfordshire county adviser Ros David, and filmed with NFU member George Williams from the Enville Estate in Staffordshire.
We need police, government and local authorities to work together to stop the British countryside from turning into a dumping-ground 👊 @BBCPanorama pic.twitter.com/YB31qLBe6v

— National Farmers' Union (@NFUtweets) March 7, 2021
2020
December
Brand new cyber security advice
The Daily Mail, and ITV News have reported that the National Cyber Security Centre (NCSC) has worked with the National Farmers' Union (NFU) to create its first online safety guidance for the farming sector, which includes advice on protecting farms against malware and dealing with scam messages and phone calls. The NCSC said the sector needed to take more action around security, as statistics show an increase in reports of cyber attacks against the farming community.
August
NFU Mutual rural crime report
NFU Deputy President Stuart Roberts and NFU Vice President Tom Bradshaw were both interviewed on Sky News to explain the impact of rural crime on farmers' mental wellbeing and finances. 
Great to see both Deputy President @HertsFarmer and Vice President @ProagriLtd on @SkyNews today emphasising the severe impact #RuralCrime has on the mental health of farmers, their families, and rural communities, as well as the financial burden it causes pic.twitter.com/GtiZwjSf5U

— National Farmers' Union (@NFUtweets) August 4, 2020
July
Fly-tipping focus
Sky News focused on fly-tipping in a package featuring NFU member Andrew Ward and Lincolnshire county adviser Rhonda Thompson explaining the dangers of the rubbish to farmers and the general public.
The Guardian reported the rise of fly-tipping cases in recent weeks, with NFU environment forum chairman Phil Jarvis highlighting the serious problems for wildlife and water courses.
May
NFU member Olly Harrison featured on a BBC Countryfile feature on fly-tipping, highlighting the rubbish that has been dumped in the countryside. Watch from around 11 mins 30 secs.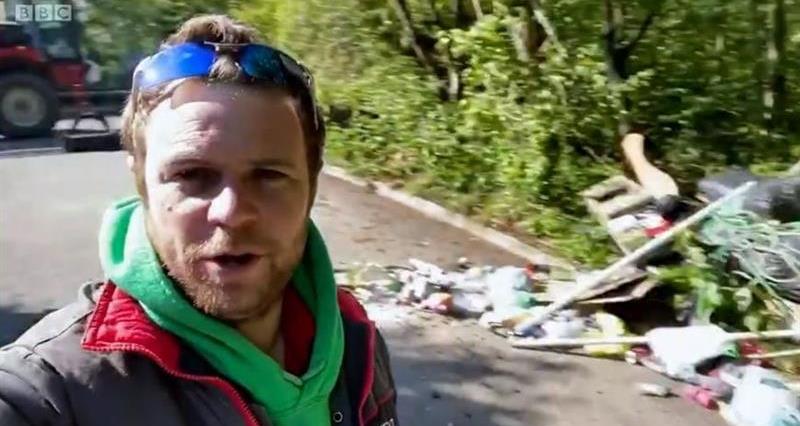 March
NFU Deputy President was interviewed live on BBC's Crimewatch Roadshow, discussing the problem of fly-tipping across the country, the different types of incidents, and the impact on farmers.
NFU DP @HertsFarmer was this morning on @BBCCrimewatch highlighting the realities of fly tipping for British farmers.

Got information on rural crime? The Rural Crime Hotline is anonymous, free and anyone can give information. Call 0800 783 0137 or visit https://t.co/eGvtm5tqwy pic.twitter.com/y2FgB9QcEe

— National Farmers' Union (@NFUtweets) March 16, 2020
February
BBC Breakfast interviewed NFU member Edward Ford on his farm in Essex where he explained that fly-tipping impacts farmers' ability to produce food and care for the environment.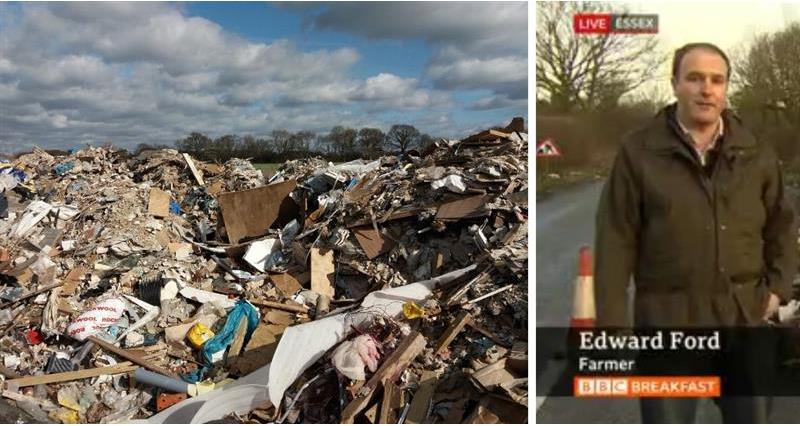 Mr Ford also featured on 5 Live Breakfast where he said clearing up these loads can cost thousands of pounds.
NFU member @Ed_Farmer_Ford tells @bbc5live how the problem of fly-tipping has spiralled out of control due to criminals using increasingly sophisticated measures to dump rubbish. Catch up here from 7 mins – https://t.co/8eLGUggrkI https://t.co/LmnjB44e3o

— National Farmers' Union (@NFUtweets) February 13, 2020
There is also an article on BBC News here which explains that organised criminal gangs are often behind large scale fly-tipping and the NFU is quoted saying the situation is a nightmare for farmers.
Journalist Michael Crick has also investigated the blight of fly-tipping in a video for the Daily Mail+ and speaks to Essex member George Young who said the situation has got worse over recent years. 
The NFU's work for members on fly-tipping
A staggering 1,072,000 fly-tipping incidents took place in England alone in 2019. Nearly two thirds (62%) of fly-tips involve household waste, but, more worryingly, the figures show that incidents involving 'significant, (or) multi-loads' of waste continue to rise.
Not only can fly-tipping be costly and time-consuming to remove, it can be dangerous to human health, wildlife and livestock, bespoil our treasured landscapes and, in some cases, pollute watercourses and contaminate land. When incidents of fly-tipping take place on private land, it's also the landowner's responsibility to remove the illegally dumped waste.
Case study: Edward Ford
Farmer Edward Ford (below) grows combinable crops on 1,600 acres in Brentwood, Essex, just a mile from the M25, where he is witnessing a stark increase in instances of fly-tipping.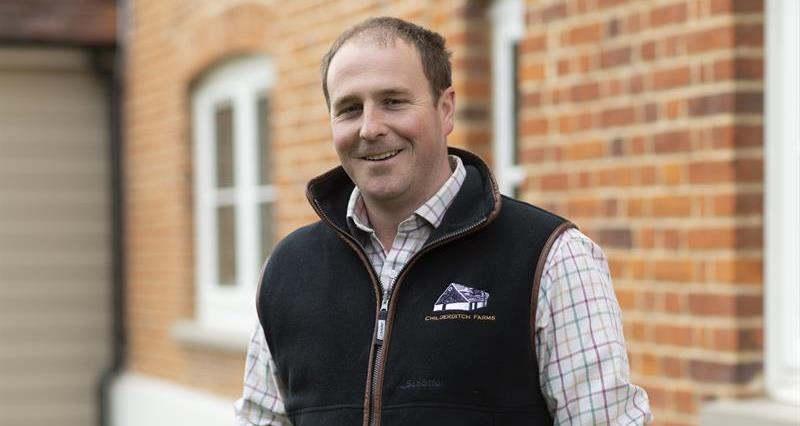 "We've been dealing with fly-tipping for decades, but in the past four or so years it has gotten substantially worse and has become a lot more commercial," he said.
"It used to just be a white van man doing up someone's bathroom dumping his rubbish in a field, but now we're getting articulated lorries with products that can't be recycled.
"They take out all the wood, top soil, concrete – anything that can be used – and just dump tonnes of rubbish consisting of fibres and dust."
As well as the cost of the clean-up, he's also seeing his insurance premium increase, while dealing with these incidents takes up a considerable amount of his time and effort.
He added: "What we need is a joined-up approach to tackling this problem from the police, local councils and Environment Agency, because, at the moment, there is none. When we report an incident, we just get passed from one to the other – no-one wants to take any real responsibility.
"Operation Galileo has been really successful in tackling hare-coursing, and now we really need something similar for fly-tipping."
This is what the NFU is doing on fly-tipping...
The NFU is asking for a single reporting mechanism to be developed so that farmers and landowners only have to report a fly-tipping incident once. Currently, victims may have to report incidents to multiple authorities, which is time-consuming and frustrating. The mechanism would need to ensure that the correct authority is informed, and feedback is available.
We would like government and the waste sector to raise awareness about the 'Householder Duty of Care'. Householders need to be made more aware that responsibility for any of their waste is maintained through to its final disposal point – not when they pass it to a third party. Too much householder waste falls into the hands of third parties who then fly-tip that material.
The NFU wants all parties (local authorities/ police/ landowners/ the Environment Agency) to work together on this issue including prevention, clean-up and prosecution. In some areas this relationship works well, however, we want consistency in approach across the whole country.
The NFU is calling on the Magistrates' Association to ensure its members receive training on offences which affect rural communities, in particular the requirements of the Environmental Offences Definitive Guideline, so that they are able to make full use of of sentencing powers.
See also: