2021
September
August
Harvest
The NFU was quoted in a Press Association piece that was syndicated across media outlets including Yahoo and MSN. The piece discussed recent Met Office weather warnings and the affects the localised downpours had on this year's harvest.
Mock weather report
The Guardian included a mock weather report produced by the NFU North East team in their Animals Farmed round-up. The forecast, set in 2050, was created to illustrate the impact that climate breakdown could have on Britain's farming industry.
July
The Great Yorkshire Show
The main focus for the NFU at the Great Yorkshire show was climate change and the extreme weather conditions it may create.
NFU Deputy President Stuart Roberts appeared live on BBC Breakfast from the Great Yorkshire Show and discussed the return of agricultural shows, public support for farming and the impact labour issues are having across the supply chain.
The NFU also appeared on the front page of the Yorkshire Post ahead of the show. The article quoted NFU President Minette Batters, who is asking for a more joined-up approach to water management in the region.
ITV Tyne and Tees released an article covering an NFU weather forecast projecting almost 30 years into the future that was been mocked up to highlight the impact of climate change on farming. The 'forecast' for July 2050 was released on the first day of the Great Yorkshire, Minette is quoted in the piece.
In other news...
... NFU crops board member Olly Harrison spoke about the issues faced when harvesting in the heatwave on Farming Today.
June
Water pollution
NFU environment forum chair Richard Bramley recorded an interview with Farming Today on water quality and the work farmers are doing to reduce river pollution. Listen from 8:10.
River Ant
Farmers and growers are to be stopped abstracting water from the River Ant on the Norfolk Broads to help protect the habitats of plants, birds, fish and insects. The NFU is quoted in an ITV article describing the move as a huge blow for an industry already struggling with the fallout from Brexit.
April
As April became the frostiest April on record many media outlets covered what the extreme weather meant for farmers. NFU Deputy President Stuart Roberts was quoted on the issue in the Sun and the Independent, meanwhile environment forum chair Richard Bramley was interviewed by ITV and NFU north west crops board chair Olly Harrison appeared on BBC Breakfast.
February
NFU national flood management adviser Mhari Barnes was interviewed on Farming Today reacting to MPs demands for more flood defences and funding for farmers to help with natural flood defences. Listen from 9'20"
January
Weather monitoring
NFU member Andrew Blenkiron, who manages the Euston Estate in Suffolk, has been speaking to the Telegraph about a weather monitoring network set up by farmers. Andrew's farm is one of dozens across the country that have joined the government-funded Cosmos Initiative, whereby they put up weather stations on their land, connect them to the Internet and their rainfall, sunshine and wind speed are recorded to give a more accurate picture.
2020
December
A reflection on a year of extreme weather
BBC Panorama reflected on this year's extreme weather events and how climate change is likely to increase the frequency of drought and flooding in the coming years. The programme, aired in December, interviewed NFU Vice President Tom Bradshaw back in the summer about how extreme weather impacted harvest 2020. Watch from 43 mins.
September
Salmon and Troust Conservation warn of regulatory 'free for all'
The ipaper reported data obtained by the Salmon & Trout Conservation (S&TC) that suggests farmers can expect to receive a visit from an Environment Agency inspector on average once every 263 years.
NFU Deputy President Stuart Roberts is quoted emphasising that there has been a major reduction in the amount of fertiliser applied to farmland and held in the soil, which means far less nutrients are reaching our rivers than in the past.
August
Harvest 2020
On BBC News at Six, BBC Radio 4's PM programme, Times Radio and in national print, NFU crops board chairman Matt Culley explained how the quality of his harvest was looking poor so far and why the impact of a wet autumn/winter and dry spring is clear to see across the country.
The Guardian, The Independent, Daily Mirror BBC Farming Today and Sky News reported yields from this year's harvest so far, citing predictions for the worst harvest since the 1980s. NFU Vice President Tom Bradshaw was quoted explaining that yields could be down by about a third but that we'll be monitoring the situation while NFU crops board member Ed Horton said he had produced a third of what he normally would have (see below).
The Guardian article also covers the impact of coronavirus on the dairy and potato sectors, as well as for diversifcation projects, and how, due to the tariff regime, many farmers will want to sell their barley crop before the end of December.
---
NFU crops board chairman Matt Culley made an appearance on regional BBC stations talking all about #Harvest2020 and the challenges facing arable farmers from Covid-19 to extreme weather conditions.
May
Impact of dry weather
Olly Harrison featured on BBC Breakfast highlighting the concerns dry weather is already having on agriculture and his wheat fields. He explained that farmers already faced poor yields as a result of the wet weather and that we've so far had a third of the rainfall we had back in 2018's dry period.
As this month marked the sunniest May since records began, the Daily Mail, The Guardian and The Times quote NFU Deputy President Stuart Roberts on how the ongoing dry weather is impacting on grass and cereal crops after a wet winter.
NFU Deputy President Stuart Roberts was also quoted in The Telegraph, the Daily Mail, and Metro a few days prior highlighting the impact of dry weather on some cereal crops and reassuring that we will be closely following predictions of further dry weather and what this could mean for water availability, livestock grazing, and bringing in the harvest.
---
See coverage on the flooding earlier in the year...
March
National Water Framework launches
The Daily Telegraph reports the launch of the new National Framework for Water Resources, which warns that the average person needs to reduce their water use from 143 litres to 110 litres per day. NFU Deputy President Stuart Roberts is quoted acknowledging that the Environment Agency has taken on many of our recommendations.
Impact on spring planting
The Daily Telegraph reported that extreme rainfall may pile pressure on farmers' finances as crops are washed out.
NFU flood management and access policy adviser Dr Mhari Barnes is quoted saying we will see a delay to spring planting, which means higher costs.
Bloomberg reported on how recent floods are threatening farmers' spring-planting plans.
The piece featured NFU environment forum member Richard Bramley and NFU member Stephen Watkins who talk about the knock-on effect for seeding spring crops.
---
February
Coverage from NFU Conference
The recent flooding and the need for a better approach to managing water was a big focus at the NFU's conference this year, and for the media in attendance.
NFU President Minette Batters was interviewed for BBC Politics Live where she explained that farmers are struggling to get on to fields to plant their crops.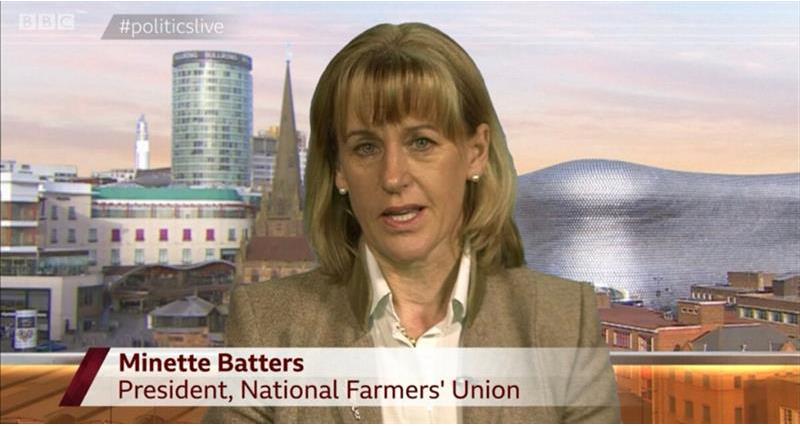 Mrs Batters was also interviewed for BBC Radio 4 Farming Today saying that more investment in flooding prevention is needed to mitigate the damage being done on farmland.
Storm Ciara and Storm Dennis
NFU Vice President Stuart Roberts was interviewed on Sky News explaining how farmers have been impacted by the floods and that they deserve recognition for providing flood solutions.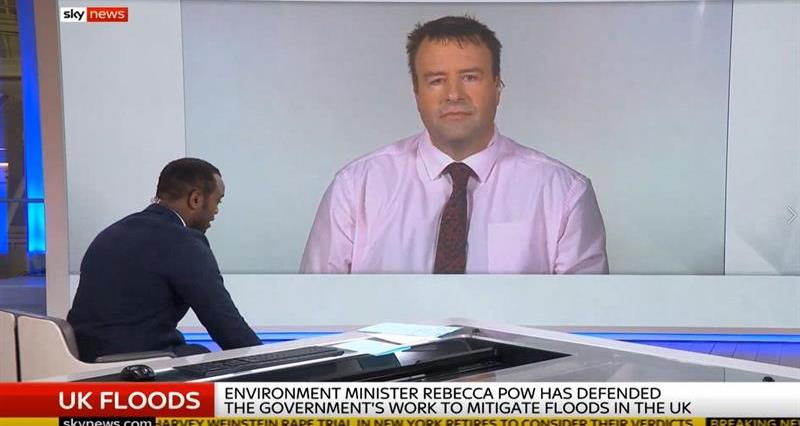 Worcestershire farmer Stephen Watkins discussed the aftermath of Storm Dennis on BBC Radio 4's Today programme, and Herefordshire farmer Ally Hunter-Blair featured on BBC Breakfast talking about the impact on his business.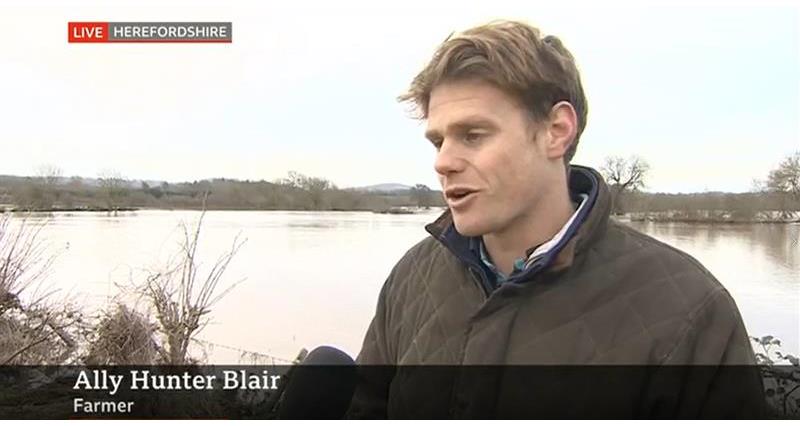 NFU flooding management adviser Mhari Barnes did the rounds on ITV regional news where she called for an expansion of the Farming Recovery Fund to help farmers get back on their feet.
---
2019
December
Flood protection
BBC Countryfile interviewed NFU flood management adviser Mhari Barnes for a feature on the floods where she said more protection is needed for valuable farmland.
NFU member Oliver Shooter also featured in the Countryfile piece where he outlined the long-term impacts of flooding on farming businesses.
---
November
Impact of flooding on farm businesses
NFU combinable crops board chairman Tom Bradshaw was interviewed for BBC Radio 4 Farming Today explaining what the flooding has meant for farmers financially.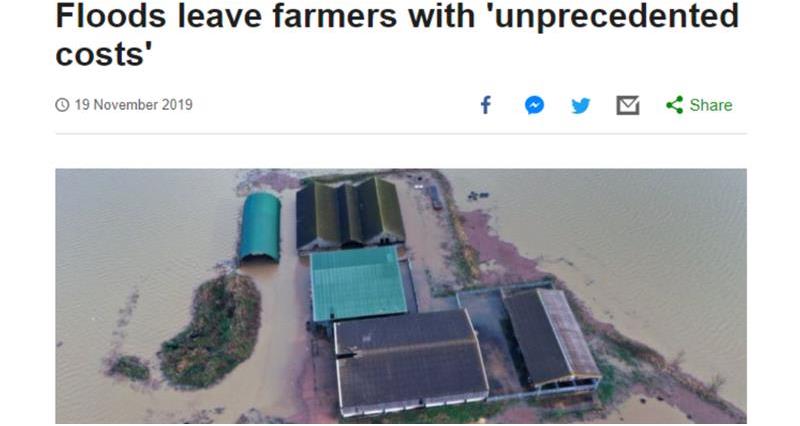 NFU's General Election Manifesto launch
In it's 2019 winter General Election Manifesto, the NFU highlighted the importance of securing farming's access to water and the need for a wider water management strategy.
Channel 4 News interviewed NFU President Minette Batters live where she told viewers about the impact of flooding on farms and called for a complete review of water management in the UK.
Mrs Batters was also interviewed live on BBC News Channel reiterating the need for all political parties to commit to the NFU's asks on water.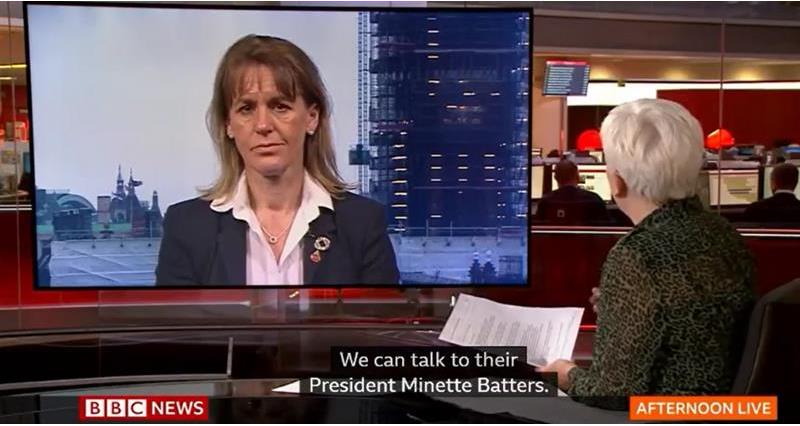 River maintenance
NFU Vice President Stuart Roberts was interviewed by Eamonn Holmes on TalkRadio about the need for rivers to be properly maintained to help prevent flooding.
Kay Burley interviewed NFU member Tom Bayston who's farm is underwater on Sky News. He explained why rivers are under so much pressure and stressed that the government needs to work with rural communities to find a long term solution.