A recent incident in which a supermarket was forced to remove packs of sliced beef and deli products, which had allegedly been mis-labelled as British, has highlighted once again how our trust in food supply chains can sometimes be misplaced.
Frustration with that state of affairs was what prompted Dorset farmer Barbara Cossins to set up Love Local Trust Local (LLTL), a way of promoting food that consumers can trust.
The Cossins family are fifth generation farmers and as well as their farm Barbara and her husband James, a former county chair, own a freehouse pub, the Langton Arms in Tarrant Monkton, and the Rawston Farm Butchery and Farm Shop in the Tarrant Valley, just outside Blandford Forum in Dorset – both establishments are well-known for supplying top-quality local food and drink.
"Is it really what is says it is?"
"As supporters of the LEAF campaign, every third year we host Open Farm Sunday on the family farm," says Barbara.
"We take this opportunity to talk to as many local people as possible about the food they eat. Our visitors love knowing the story of their food, the miles it has travelled and that they are buying and eating genuine local produce.
"But what they often ask is: how do we know that the food we buy elsewhere really is what it says it is?"
"We decided to create our very own 'Love Local Trust Local' label for Dorset food you can trust."

Barbara Cossins
Following several of these conversations at the 2018 Open Farm Sunday event – around the time of some previous food mislabelling scandals and the rise of 'fake farm' marketing on 'own brand' supermarket products – Barbara realised that although people wanted to support British farmers the many scare stories in the media had created doubt in their minds, so decided to do something about it.
Quality, honesty and proximity
"We decided to create our very own 'Love Local Trust Local' label for Dorset food you can trust," says Barbara.
"Cheap imported meats were – and still are – coming into our country labelled with the Union flag because the item has been re-packaged or processed in the UK, not grown or reared here.
"It's all so misleading. We British farmers need to stand up, get ourselves heard and explain the important facts about farming and food production to the general public and the people eating these foods.
"We are always reading articles about suppliers under investigation for fraud in the food industry and it is shocking that imported produce with much lower standards of welfare and production is re-processed or re-wrapped with the union flag to confuse our British shoppers."
The Love Local Trust Local (LLTL) label denotes quality, honesty and proximity and indicates food that has been grown with love and care and to the highest ethical standards, has transparent and full provenance and complete traceability, and has been produced with the main ingredients sourced from within 30 miles of its origin.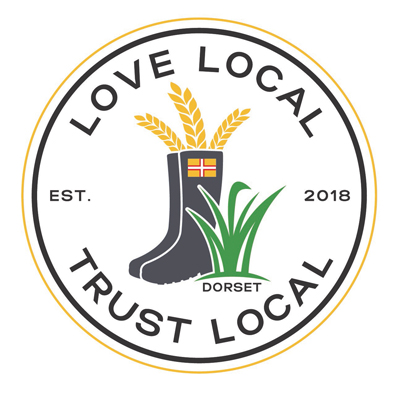 Going from strength to strength
The popularity of the LLTL brand has grown hugely in the five years since it began. Food businesses in the county have been keen to put it on their products and in the summer of 2020, despite the Covid-19 pandemic, the inaugural Love Local Trust Local Awards were launched.
They have since gone from strength to strength with the 2023 winners including businesses like the Book and Bucket Cheese Company, Little Waddon Vineyard and Boil & Broth.
"Everyone involved thoroughly enjoyed the process, which created significant interest in the press and from many Dorset businesses wanting to be involved. No mean feat in the midst of a pandemic," says Barbara.
Later this year a new website and on-line food directory will be launched, which the family hopes will help further promote their passion for Dorset, food and drink, British farming and small, local businesses working together.
"Our intention is for the Love Local Trust Local food label to grow and to be around for many years to come in the support of all that is Dorset, and to expand to other counties with their own county flag on to educate their local communities about what is grown, produced, caught, reared, brewed, crafted and cooked in their local area."
• NFU members can read a longer version of this article in the May 2023 British Farmer & Grower Magazine (South West), out now