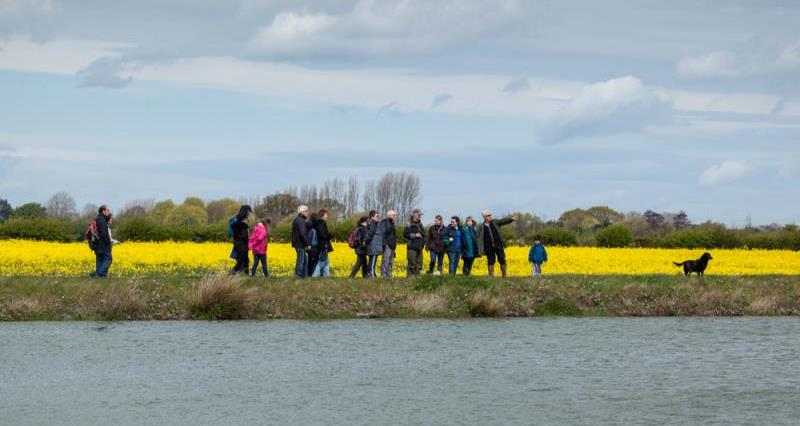 Farmers, nature conservationists and local communities in The Fens are celebrating the culmination of a pioneering three-year landscape partnership project that has brought wildlife-friendly farmers together to establish the new Ouse Washes Nature Friendly Zone.
The Ouse Washes Nature Friendly Zone comprises 12 Fenland farmers, whose combined land covers an impressive 4,000 hectares of the Fens, an area that would cover more than a third of the city of Cambridge, in a part of the country that is particularly rich in nature, and especially farmland birds.
NFU member Patrick Allpress of Allpress Farms, near Chatteris, Cambridgeshire, joined the Ouse Washes Nature Friendly Zone in 2015.
"It's important to have nature in mind when farming, as everything we do can affect the balance of nature," he said.
"As well as cultivating the fields we're responsible for looking after miles of ditches, many trees and hedges, field grass margins, conservation headlands, wild bird mixed covers and over-wintered stubbles, which all can create a habitat and have a positive impact on nature.
"The Fens is a special area with large open spaces and we should be doing everything we can to encourage nature."
As well as being committed to managing areas of their land specifically for wildlife, the Nature Friendly Zone farmers have helped the project engage with more than 2,000 local people in the Fens through a range of community outreach events.
These include wildlife workshops, farm walks and school visits, all with the aim of generating local support for wildlife-friendly farming.
RSPB Community Engagement Officer Gemma Wells has worked closely with the Ouse Washes Nature Friendly Zone farmers to raise awareness of wildlife-friendly farming and why it is needed:
"I'm really proud to have been involved in this project and played a part, however small, in helping generate more understanding in the Fens of what wildlife-friendly farming is and why it's needed," she said.
"Three quarters of our land in the UK – even more in Cambridgeshire – is farmed. Farmland is an important home for wildlife, as well as being the source of the food we eat. Sadly, some of our fastest declining species, such as turtle doves and tree sparrows, make their homes in farmland.
"Farmers like Patrick Allpress and others in the Ouse Washes Nature Friendly Zone are on the front line, and by helping spread wildlife-friendly farming practices and techniques they are giving vulnerable farmland wildlife a lifeline."
The establishment of the Ouse Washes Nature Friendly Zone and the delivery of the project's community outreach work was made possible by the Ouse Washes Landscape Partnership scheme, of which this project is a part.
Funded primarily by the Heritage Lottery Fund, the scheme focuses on the promotion of the area surrounding the Ouse Washes, the heart of the Cambridgeshire and Norfolk Fens, and on encouraging community engagement with the area's diverse heritage.