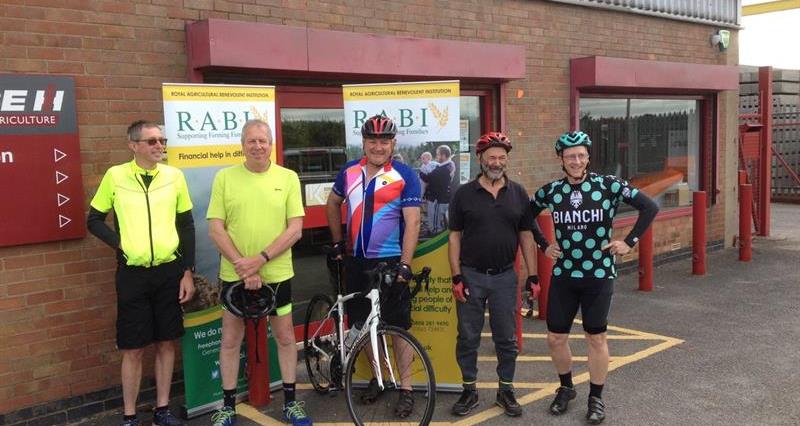 Since 1860 the Royal Agricultural Benevolent Institution has been providing support to farming families when they fall on hard times, writes Andy Guy.
In 2001 the charity paid almost £9m out to more than 8,000 farming families who were impacted by the foot and mouth outbreak and in 2018 they paid out more than £1.5m.
RABI is funded by donations and bequests, mostly from the farming community itself. It feels a little like looking after your own family.
Despite the success of the regular events like the farm walk and the annual carol service, there is always a need to for more funds and, with this in mind, back in December 2018, I proposed an epic cycle ride around the perimeter of Nottinghamshire. At the time I had no idea how far it would be but it seemed like a good idea and the rest of the committee, probably wiser than me, thought I should have a go.
So I recruited three other delusional fools; Vic Hird, Bruce Ashworth and Rob Shaw and we found ourselves outside Farmstar Limited at 8.30 in the morning on 27 June. We had a map, a route and two and a half days to circumnavigate the whole county.
Of the next 60 hours we spent 18 on our bicycles and they turned out to be the hottest days of the year, which wasn't great! Day one saw Richard Wordsworth (BPS adviser from NFU HQ) join us to help us along. We travelled across the Trent and north to Gainsborough where we crossed back and up towards Misson Springs, the most northerly village in the county, before turning south-west and finishing at Arrow Farm Shop, west of Worksop, for a welcome cup of tea.
That was 68 miles and included over 1,000 feet of climbs. We were proud of ourselves and some thought we were going to complete the odyssey with ease but, of course, we had been following the course of the river as it flowed down, towards the coast, for most of that day!
Aching a little but enthused by a delicious bacon sandwiches, we departed from Arrow Farm Shop at 9.45am, confident that we could conquer the route again on day two.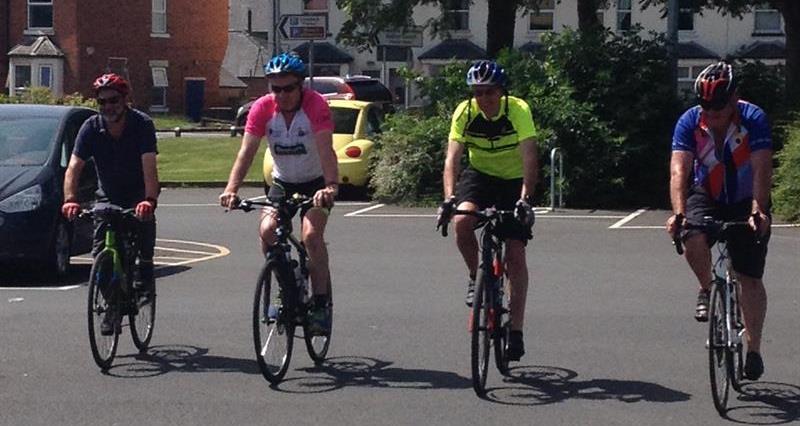 Then we encountered the hills as we pedalled through Creswell (best known for its craggy cliffs, not its level ground), Whaley, Pleasley, Teversal and Tibshelf, passing near Silverhill, mostly famous for being the highest point in the county at 670 feet above sea level. This was hard work and it got progressively more difficult as the mercury rose into the 30s.
By the time we reached our lunch stop we had climbed nearly four times the gradients of the entire first day and we had done it in three hours. We were all suffering from aching muscles, dehydration and sunburn but we were determined as we set off again, heading south into the urban conurbations to the west of Nottingham.
We occasionally lost the route and found ourselves having to carry our bikes over fields and even an impressive Victorian pedestrian bridge over the railway near Long Eaton, but we finally reached our destination at Old Dalby at around 7pm, exhausted!
The final morning was not as hot and we had a fantastic ride, downhill through the Vale of Belvoir and into Newark, where we finished in style at Newark Livestock Market.
The total distance was 163 miles and, by the time we have collected in all of the sponsorship money, we hope to have raised over £2,000. Not bad for four middle-aged farmers but we might not be doing it again too soon! I would like to thank my cycling buddies for their company and determination but also Colin and Geoff Bower who provided back-up on the first two days and Anne Shaw for her support on day three. Farmstar and Newark Livestock Market also played their parts while Arrow Farm Shop and Jane and William Grice at Old Dalby looked after our bikes overnight.