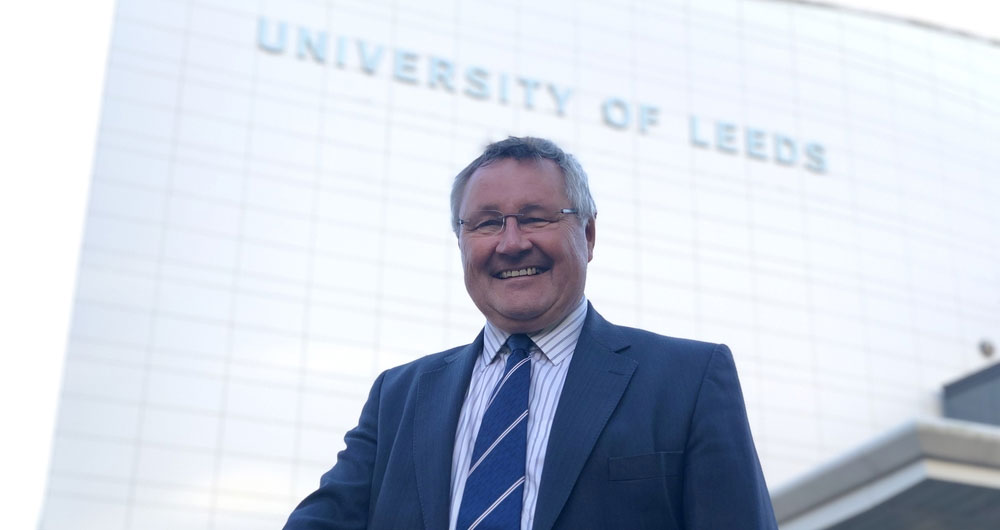 In our latest high profile interview for 2019, we talk to former NFU President, Tim Bennett - who is now the chairman of the York-based Centre for Innovation Excellence in Livestock - about his vision for the future of the sector.
Launched in 2016, with £30m of government funding in its back pocket, the national agritech centre for the livestock sector has come a long way in just three years of frenetic activity.
I met up with Tim Bennett – chairman of the Centre for Innovation Excellence in Livestock (CIEL) – at Leeds University where he'd been discussing final preparations for the launch of a new £8m research centre for pigs at Tadcaster.
This new commercial-scale research hub is the latest of 26 new facilities unveiled by CIEL across the UK - all benefitting from what Tim describes as 'the largest investment in applied research facilities for a generation'.
"The funding we received was all new money from government – not modulated funds – but it was money we had to spend on capital projects," he explained.
"But given the woeful lack of investment in agricultural R&D, going all the way back to the Thatcher government, and the many challenges facing the livestock industry, there was certainly no lack of opportunity to forge a unique alliance between government, industry and academia to drive efficiency, resilience and profitability across the supply chain."
The collaborative approach is the one taken from the start and it has proved very successful, with CIEL now able to boast one of the largest alliances of livestock researchers anywhere in the world. More than 500 scientists are already involved.
"By working in partnership we have been able to achieve a lot with a very small team," said Tim. "We set out to add real value to what was already in place, attract and keep the best minds, deliver world-leading facilities that are open to all, and ensure that research is absolutely relevant to the concerns of the industry."
In terms of priorities, initially the team at CIEL had to try to identify what would be needed in the short and longer term.
Based on this analysis, early priorities centred o precision farming and feeding, animal health and welfare and sustainable farming systems.
"When we set off, this was all going to be about how our industry could become more efficient and sustainable," said Tim.
"Increasingly though, I think some of the work we are doing is about getting the data to demonstrate that the livestock sector is in a better place than it is sometimes credited with and also measure how it has improved and is improving its impact on the planet.
"If you look at the work going on at Rothamstead's North Wyke Farm, for example, it's the most instrumented grazing farm in the world and is giving us the data we need to quantify the real emissions from livestock."
Having access to such sophisticated facilities, world class scientists and indisputable data allows Tim and the CIEL board – led by chief executive Lyndsay Chapman – to land important messages with their government paymasters.
"Given our strong links into government, an important part of our work is getting different departments to recognise the importance of agritech, agrifood and agriculture," said Tim.
"Although we are not lobbying in the say way as the NFU, we are constantly challenging politicians and civil servants to base policy on the reality of livestock production in the UK and recognise that as we become world leaders in reducing antibiotic use or developing sustainable farming systems, this will help us drive our world standing and exploit new trade opportunities."
Asked about the impact of Brexit, Tim is candid: "We are often asked if our work was needed because of Brexit, but in truth it was needed long before anyone had even thought of a referendum. The rest of the world is changing and adapting so fast, there was a danger we would be left behind.
"If anything, Brexit has been a hindrance because it's all people are focusing on, rather than driving solutions to the practical problems we face.
"As elsewhere, it has also brought a lot of uncertainty with potential investments put on hold. There are also well-voiced concerns over the need to maintain access to large scale international research projects.
"We have to be open to the world to attract the best people to provide the solutions needed to remain a world-class industry."
One example of CIEL's international collaboration is its involvement in the European Animal Task Force, which looks at how to reduce the environmental impacts of livestock while capturing the positive benefits – something farmers in the UK are keen to achieve.
"The debate often centres on whether we produce food or look after the environment – clearly a nonsensical debate here in the UK," added Tim.
"We have always been reasonably good at working towards a sustainable future - I believe we have to focus on that and how we tweak our approach rather than being drawn into extremes.
"We will prevail by building up our scientific knowledge and our evidence base to maintain and enhance the industry's credibility."
Overall, Tim says he believes that all aspects of the livestock industry have a good future, citing well-documented evidence for increasing demand for meat around the world.
"We have always had problems, but science and technology has normally solved it – and the current climate change challenges are no different.
"There are hundreds of small interventions that collectively can make a huge difference. The potential impact of animal health and welfare improvements is an example I like to quote.
"Ultimately if animals are healthier and live longer productive lives, then we need fewer of them! Take TB for example – the disease removes 1% of the national cattle herd annually. Eradicating it would mean fewer replacements would be needed.
"Reducing waste in the supply chain, embracing mintil techniques – there are a huge number of things we can do."
As well as working with academics, CIEL also engages with a wide range of industry reps, from SMEs to some of the sector's biggest names like Cranswick, Moy Park and 2 Sisters. Retailers are also involved, with agriculture manager for Morrisons, Sophie Throup, also on the board.
"We try to work with a really diverse range of businesses and be the 'front door' for innovation and research,"says Tim.
"Our proposition is that whether you are a farmer cooperative or a food processor, if you've got a problem to solve then come to us.
"We can't fund the research, but we can connect you with partners with the same challenge, or help identify funding sources or bring people together to share the cost. Partners can be here or elsewhere across the globe."
This involvement is crucial, Tim believes, because it ensures that future research is grounded in practical, real-life problems and also ensures that the findings have a route back into industry.
Although he explains that knowledge transfer on-farm is not part of CIEL's remit, by ensuring industry involvement from the start, the hope is that the incentive to make use of any findings is in-built.
"We need breakthroughs to be used on-farm as quickly as possible and pace is important as the rest of the world is in a race against us. So making sure research is in a form that's transferable is critical,"he said.
"We also need farmers to be open-minded to the possibility of what science has to offer and be thinking all the time what problem they would solve to become more efficient or produce a different product for the market."
As part of their drive to make sure research is industry-friendly, Tim says CIEL also works with university partners to review the course contents for science students.
"We try and help identify gaps in the course content - so for example, we might question if students need to understand the regulatory framework, the wider supply chain or logistics.
"This all contributes to a more practical well-round approach to future research – something that will be so very important."
With three years under his belt, Tim says that in many ways the real work is just beginning: "It has been a rollercoaster ride commissioning all the new facilities, but 99% will will be up and running by the end of the year.
"Of course we already have research going on in new facilities across the country but what comes next will be very exciting, certainly for the team at CIEL, but hopefully for farmers too!"