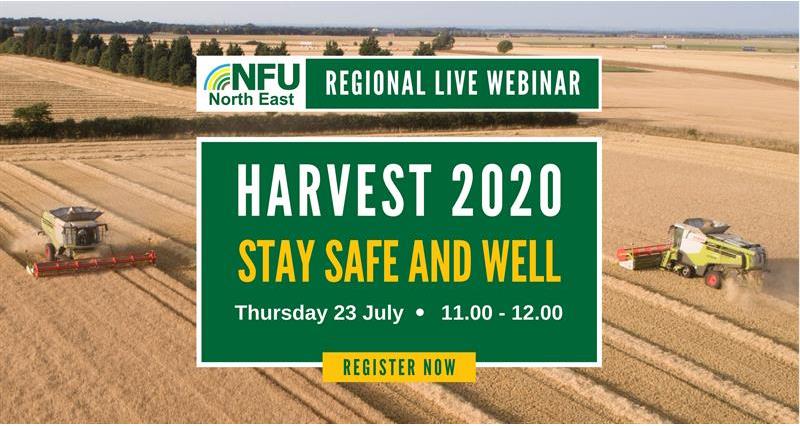 Farmers across North East England, who are getting ready for the start of this year's harvest, are urged to spend an hour reviewing the latest safety and wellbeing advice with the NFU to ensure they are able to deliver a successful harvest, with everyone safe and well.
An hour-long webinar being organised on Thursday 23 July, during national Farm Safety Week, will give farmers access a line-up of expert speakers covering everything from transport regulations and top safety tips to advice on how to recognise and manage stress levels.
With agriculture still accounting for around 20% of all workplace fatalities, according to the latest report from the Health and Safety Executive (HSE), and farmers suffering increasingly from issues such as stress and anxiety, the NFU's regional team is aiming to put the focus firmly on safety and mental wellbeing this year.
"Harvest is one of the most challenging times for farmers, with most working very long hours and under a lot of pressure to get everything safely in," said Laurie Norris, one of the event organisers. "Of course we think about the cereals harvest, but livestock farmers are also harvesting grass and moving fresh supplies of straw to make sure they are ready for winter.
"This year is likely to be particularly stressful, given the difficult weather conditions that have affected all sectors, so we are very keen to help farmers understand how they can also take better care of themselves, their families and their staff."
The event, being staged online, will hear from NFU Deputy President, Stuart Roberts, who says even small changes can make a huge difference to farming's safety record. He acknowledges that there's a lot going on to improve the situation on farms, but is still urging everyone to make at least one change for the better.
Other speakers will include Tom Price, the NFU's farm safety specialist, Geoff Earl from Northern Power Grid, Casey Barker from NFU Mutual Risk Management Services and Dr. Caroline Knott, a clinical psychologist from Tees, Esk and Wear Valleys NHS Foundation Trust.
"This is just an hour of people's time, but could help keep our farmers and farm workers safe and well through the forthcoming harvest marathon," added Laurie Norris.
"We hope our members will get involved with this and other activity during Farm Safety Week as lives may well depend on it. We will also be running a competition across social media asking NFU members to send us their top safety and wellbeing tips. The best ones will win a set of hi-vis t-shirts for the whole farm team."
The webinar takes place at 11.00am and is open to all NFU members. To register visit our Eventbrite page.