Twenty-one year old Ethan Dowson runs the ice cream making venture at Blackburn based Mrs Dowsons Ice Cream. He's a keen supporter and champion of the NFU's newly launched real British dairy ice cream shop finder.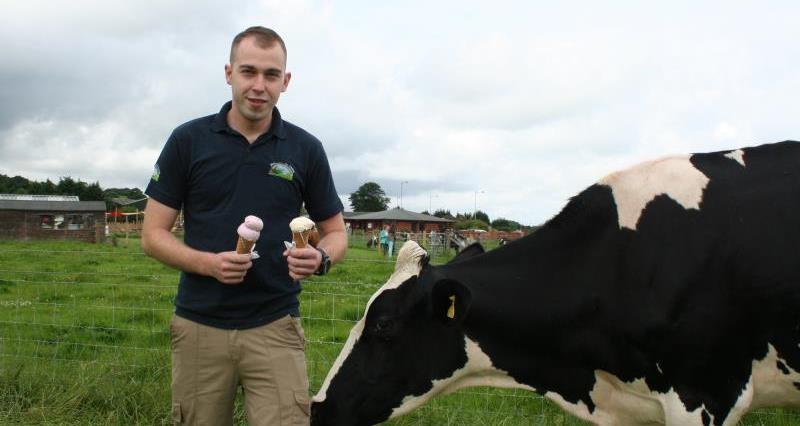 The NFU has launched a brand new interactive map so consumers can find out where real British dairy ice cream shops are across the country, a bit more information on how it's made and the dairy farmers who keep their cows happy and healthy.
Blackburn based Mrs Dowsons Ice Cream fly the flag for Lancashire and appear on the map, The Dowson family have produced their own ice cream at Hawkshaw Fold on Longsight Road in Clayton-le-Dale since 2001 - pasteurising all of the milk themselves.
The ice cream making side of the dairy farming venture is now entirely run by 21 year old Ethan Dowson who was given the job by his NFU North West Dairy Board representative father Eric – and Ethan is clearly passionate about the product.
Ethan said: "Flavour is obviously important and we feel we've got it correct over the years simply by trial and error. As a young family we love ice cream ourselves and wanted to make a really honest product. We extensively taste test every flavour we produce. If we prefer the taste of a branded product to our own, then it's back to the drawing board.
"We are also really creative and listen to ideas from local chefs. We once produced a black pudding ice cream and a Lancashire cheese ice cream which was served to Prince Charles."
Stabiliser and sugar is added to the cream before it goes into tanks where Ethan keeps it as natural as possible before adding real ingredients. The honesty of the product is essential to Ethan so absolutely no artificial colours or flavourings are used. For example, the red of the strawberry flavour is achieved by the use of beetroot.
In 2008 Mrs Dowsons passion for education was realised with the construction of a Visitor Centre located next to the main working farm at Hawkshaw Farm, and naturally they called the Visitor Centre "Mrs Dowsons", it has grown in its short history to be both a home for educating schools and groups about local produce and supporting the Field to Fork approach to food as well as being a fun and exciting place for children (and fun loving adults) to go and meet farm animals in a safe environment. In 2012, Mrs Dowson's hard work in producing and promoting local quality products was commended with a Food Hero Award from Lancashire Life, one of the most sort after and respected awards in the food industry.
So, what is the difference between ice cream and dairy ice cream?
NFU dairy adviser Sophie James explains: "The one major difference between ice cream and dairy ice cream is that dairy ice cream must contain at least 5% dairy fat and exclude any fat or protein other than dairy.
The general term ice cream on the other hand refers to a product that can contain any edible fat, from plants, eggs or dairy. The majority of ice cream that's sold in supermarket shops contains vegetable oils, usually either palm oil or coconut oil. These vegetable oils are not found in dairy ice cream.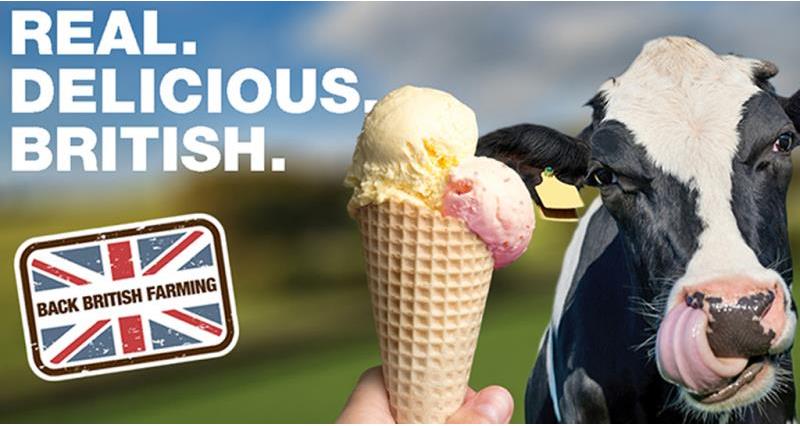 The majority of retailers offer both ice cream and dairy ice cream, without making it clear to shoppers what the difference is between them.
Our suggestion would be for shoppers to look for dairy ice cream, made with British milk, to back British dairy farming."