Meet the NFU Nort West Horticulture Board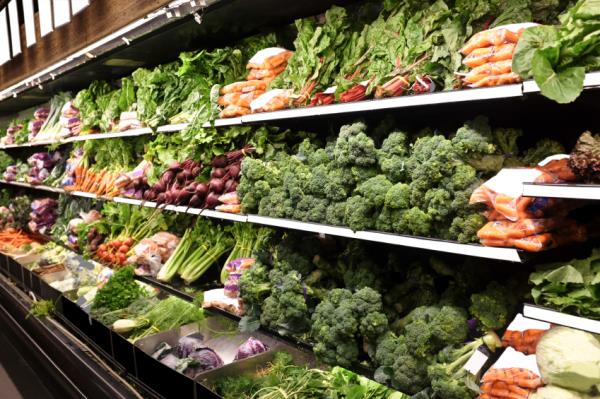 Kathryn Wright of Wright Farm Produce
01772 812 704
S2F0aHJ5bkB3cmlnaHRmYXJtcHJvZHVjZS5jby51aw==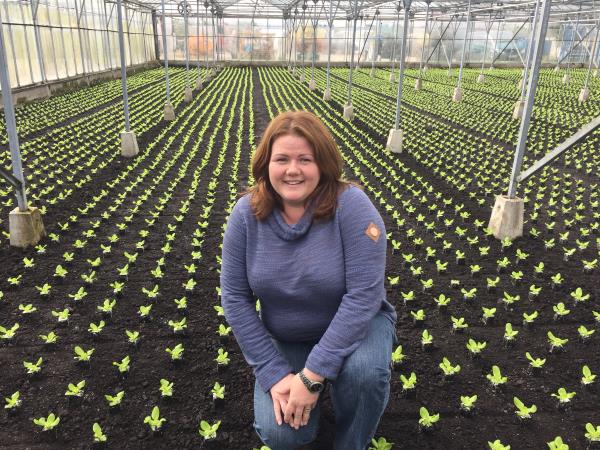 Specialising in growing lettuce, celery and Chinese leaves for most supermarkets, processors and the wholesale market, Kathryn and her husband Chris are concentrating on successfully steering their business through the uncertainty of leaving Europe.
Wright Farm Produce grows 500 acres of salad crops and has a core staff of 20 employees deriving an income from the site at Tarleton near Preston.
In the summer, the number of employees rises to nearer 90 people as seasonal labour is required to undertake the labour intensive hand harvest of the salad crops.
Long term planning for labour is almost impossible for Kathryn who is already thinking about what will be needed for the 2019 season. However, 2019 seems a long way off when today's problems are so large. Employees at Wright Farm Produce have received an annual wage increase, but the Wright's foreign workforce still have less money in their pockets because of the poor exchange rate. Hanging onto these employees is going to be a real struggle.
"Losing chemicals from our toolbox is another real challenge for growing businesses in West Lancashire," explained Kathryn, who is mum to Grace (12) and Thomas (8).
"Even when chemicals get re-registered by the big companies, they only do it for what they deem to be larger crops like wheat but not for crops such as celery which they view as minor. For growers in West Lancashire though, crops such as celery are vitally important but we are losing a lot of active ingredients which help us grow them successfully."
Kathryn has been a member of the NFU Horticulture Board since 2004 and views her role as challenging national NFU policy of behalf of growers in, what is, a pretty unique geographic part of the North West region.
Kathryn, who is also a fully qualified rural practice chartered surveyor, added: "I'm passionate that growers' opinions are heard. A lot of the growers in this area feel at ease telling me about the problems their respective businesses are facing and I'm proud to act as their spokesperson."
Sarah Fairhurst of Arden Lea Nurseries
01772 812951
U2FyYWh2aXplNjZAaG90bWFpbC5jb20=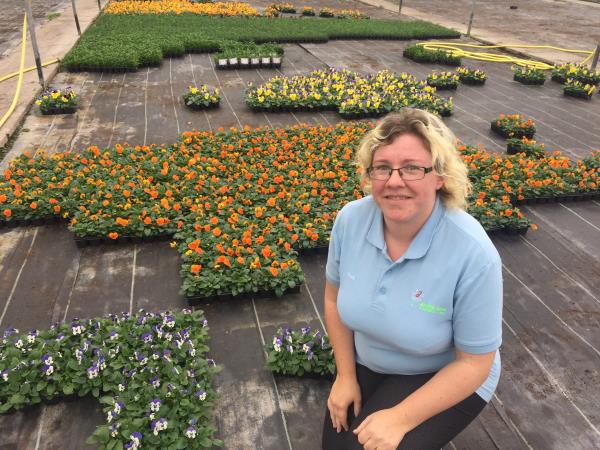 Sarah has been on the NFU North West Horticulture Board since its inception, chairing the group from 2006 until 2012 while an employee of Porters Fuchsias.
A mum of one and now working as office administration for Arden Lea Nurseries in Hesketh Bank near Preston, Sarah continues to be a champion for the ornamentals sector in the North West.
Sarah combines her place on the board with being secretary for the British Protected Ornamentals Association (BPOA) North West group, which is an affiliated specialist branch of the NFU.
"BPOA arranges four meetings a year in the North West which are usually to interesting nurseries or an agricultural college. This year we'll be visiting Myerscough College," Sarah explained.
Her employers, Arden Lea, grow hanging baskets, mixed containers and poinsettias for a variety of supermarkets and multiples.
Like Wright Farm Produce, labour is the business' greatest challenge with 50 permanent staff on the books, rising to nearer 100 at the height of the season.
Sarah said: "Suppliers are increasing prices because they say their costs are rising because of a weak pound. We buy the majority of our seeds from Europe and the cuttings mainly come from Israel. Containers for the plants becoming more expensive, has a big impact on our bottom line."
Colin Bradley of Stanley Villa Farm in Weeton, Preston
07775 842 010
Y29saW5AYnJhZGxleXBvdGF0b2VzLmNvLnVr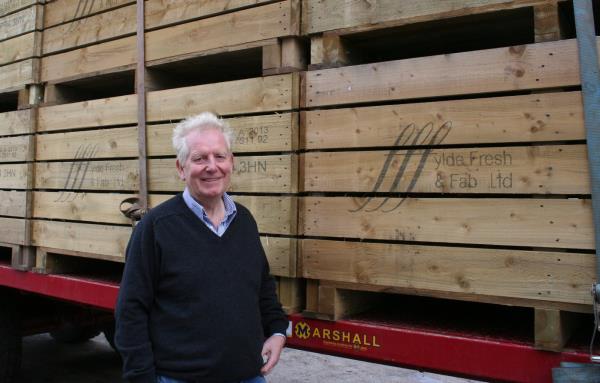 Colin grows potatoes on 900 acres over several sites, selling mainly into Fylde Fresh and Fabulous – ultimately for fish and chip shops and the processed ready meal market.
The main varieties he grows are Ramos, Marquis and Maris Piper. Colin was co-opted onto the NFU North West Horticulture Board when he became Lancashire's NFU county chairman.
Colin said: "Our sector is production led and not consumer led like it should be. Growers should know what their consumers want and deliver that product consistently, working together in supply chains.
"When you have a crop that can vary 30 per cent in yield you have a lot of wastage. Taking that into account, when you put a crop into the ground you have a good idea of what you'd like as a return based on price per hectare. So why, in our industry, are we still trading on price per tonne when the two formulas don't often relate. Perception dictates the market and not reality."
Colin has always sat on boards which specialise in market intelligence and knowledge transfer. He has been on the board of the British Potato Council since 1998.
Colin added: "My points about the market have been debated for a very long time by industry bodies and it sometimes feels like we just go round and round in circles. This cannot continue and we need real change."
Robin Cropper of J Cropper and Sons
07831 412254
cm9iaW5qY3JvcHBlckBob3RtYWlsLmNvLnVr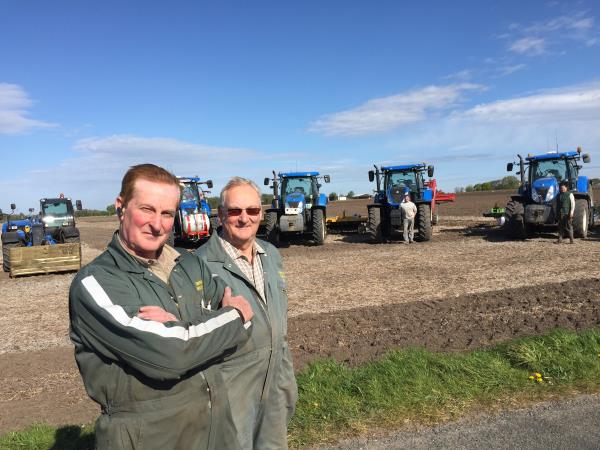 Robin farms with his brother John and as a NFU North West Horticulture Board member and potato forum representative, it's Robin who is the recognisable face of the business. However, J Cropper and Sons is very much a partnership between the two brothers who employ four full time staff. The pair have five farms altogether, farming 1,500 acres in total. They grow 300 acres of potatoes, mainly Maris Piper but also early Accords for chipping as well as Sagitta.
Robin said: "We do sell potatoes to Ireland, into the London market and occasionally Scotland but 75% of what we grow is consumed within a 25 mile radius of the farm. We market potatoes from mid-July through to the following end of June meaning we're selling potatoes for approximately 50 weeks of the year with a couple of weeks set aside for farm maintenance."
Robin has farmed since the age of 15 and is a big advocate for the NFU's potato forum.
Alastair Wilson of T. Wilson and Sons (Farmers) Ltd
07732 671 320
YWxAdHdpbHNvbmFuZHNvbnMuY28udWs=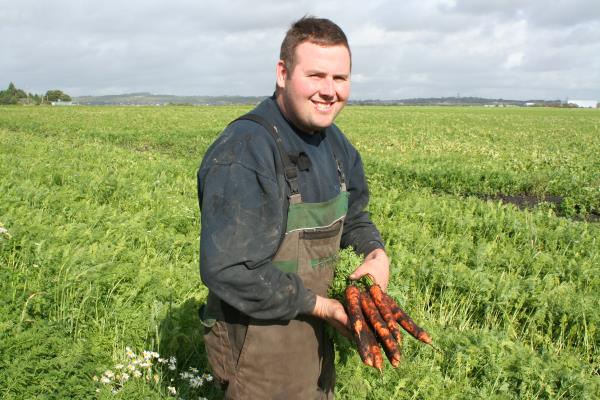 Alastair is part of a family owned commercial vegetable growing business which specialises in carrots, salads, leeks and brassicas predominantly for Aldi and the food service sector.
T. Wilson and Sons grow on 1,700 acres overall, employing more than 100 staff within the farm, pack house and distribution unit. The business is based in Merseyside and Lancashire.
Alastair said: "Staffing is a major issue for us at present because of our location. We are surrounded by warehouses and it appears potential employees think it's more attractive to work in one of them than they do in a field full of leeks."
Working alongside his mum, two brothers and sister, Alastair's responsibilities lie in the growing, harvesting and procurement sides of the business.
At only 30 years of age, he is also part of the NFU's Next Generation Board, giving growers a voice via that forum. He has an interest in mechanics and engineering after spending two years studying mechanical engineering at Bishop Burton College in Yorkshire.
Alastair values his role on the NFU North West Horticulture Board because he says it helps him to really appreciate the amount of work the union does for growers, often behind the scenes.
"NFU constantly fights to retain our access to vital chemicals, it is successful in keeping energy costs down and its lobbying and knowledge transfer functions are second to none," added Alastair.
"With so many different varieties of crops and no two businesses being the same, the NFU does well to represent everyone in the way it does."
Alastair is married to Claire and has a five year old son – William.
Alastair explained: "I have the added benefit of working on the farm and in a pack house. I'm fortunate enough to be able to see the whole food chain in action. Being professionally involved in buying and selling produce would be beneficial for any farmer or grower."
Trudie Webster – Commercial and Technical Director at Dawndew Salad Ltd in Poulton-le-Fylde, Lancashire
01253 895 525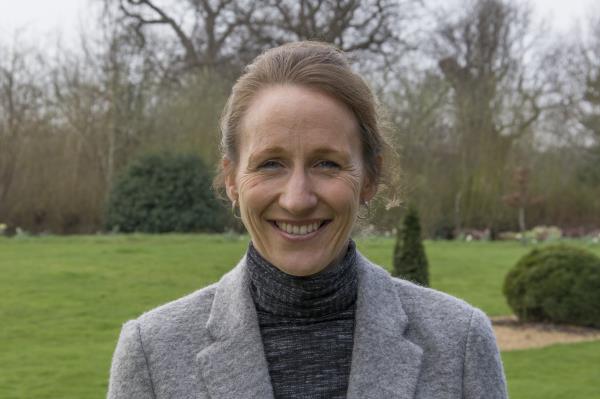 Dawndew Salad Ltd is managed by the fifth generation of the Ingle family, with Trudie taking technical and commercial leadership and her brother James concentrating on the operational aspects of the business, including the growing and development of new product lines.
Trudie joined the business on a full time basis at the age of 21, with the specific goal of developing and establishing the technical protocols of the business, which afforded Dawndew Salad the opportunity to expand into new markets and enabled the company to achieve accreditation to the BRC and other retail and industry standards thereafter.
From the five acre glasshouse complex in Poulton-le-Fylde, Dawndew Salad specialise in growing, cutting and washing traditional salad cress, pea shoots and gourmet micro leaf for all sectors of the food industry throughout the UK and Eire.
Of specific interest to Trudie is the challenge the National Living Wage presents to Dawndew Salad with respect to employing in excess of 40 people and the need to remain competitive within the industry.
"The impact of the National Living Wage has the potential to have a far greater impact on Dawndew Salad than perhaps many other farming businesses. Dawndew Salad is looking to overcome this challenge by continuing its investment in technology, by improving its operational processes, applying new growing techniques, maintaining a focus on new consumer trends, and the ongoing development of our people."