High in the Cumbrian hills on the western edge of the North Pennines Area of Outstanding Natural Beauty, the Maughan family are finding the latest precision agronomy technologies can be as valuable for 100-hectare dairy farms as they are for 1,000-hectare arable units.
Over the past year, Duncan, his father John and mother Anne have had all 85 hectares of their mainly grassland fields at Gateshaw Mill Farm, Cumrew, and their 52 hectares of rented ground conductivity scanned, intensively soil-tested and divided into management zones.
In an effort to improve soil health, produce more milk from forage and make the most effective use of slurry and fertiliser, they have also been employing an innovative satellite system to track grass health and growth across every field.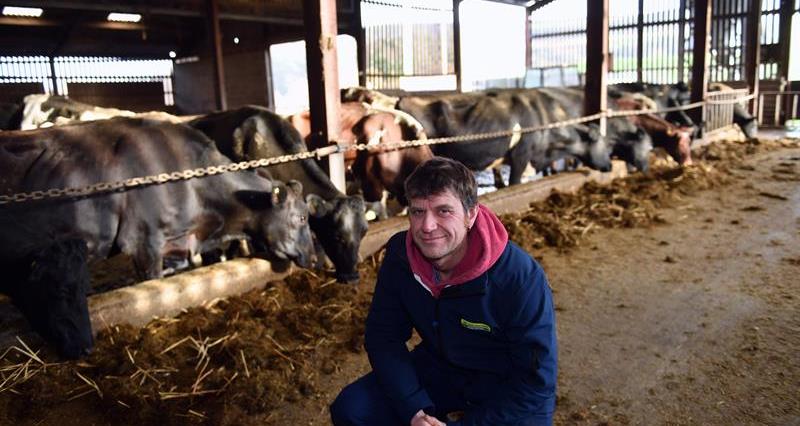 As the country's first dairy iFarm, they are working with Agri soil and nutrition specialist, Robert Bowes, on an ambitious four-year productivity improvement project - ground-breaking work recognised nationally by the First Milk Responsible Farming Award given to the family in 2018.
"As well as rewarding us for milk protein in particular, our specialist First Milk Nestlé supply contract for Dalston encourages us to explore ways of improving soils and the environment as well as herd health and productivity," explained Duncan.
"Our interest in the whole area of soil health, forage quality and animal well-being led us to develop the iFarm project with a range of industry partners from early last year.
"The work has already shown us how closely linked our forage analyses are to soil analyses, and enabled us to identify otherwise invisible variations in grass health and productivity across our fields through the season.
"We're excited about the ability this extra intelligence gives us to vary the amounts of lime, slurry and fertiliser we apply and when we apply them to make the most of our greatest resource. We're also keen to use it to improve both the quantity and quality of the forage we utilise in our grazing and conservation. And most importantly it will help us safeguard herd health as well as productivity."
The priority placed on health at Gateshaw Mill is hardly surprising as the family are only just re-building their dairy business after a complex mycoplasma infection in 2012, which saw them start again from scratch in late 2015, buying a range of cows locally from known sources with the highest health status possible. Since then, what they call their 'liquorice all-sorts of a herd' – a mix of Holsteins, Ayrshires, brown Swiss, shorthorns and Danish reds – has been brought back up to 230 cows averaging a healthy 7,800 litres/cow/year at 4.2 per cent fat, 3.66 per cent protein.
This is produced from grazed grass, and a mixed winter ration of silage, whole-crop barley, draff and sodagrain with a 20 per cent protein concentrate fed to yield twice a day in the parlour through a Fullwood Crystal herd management system. Altogether, around 50 per cent of the herd's production comes from forage.
Under the iFarm project, Duncan is looking to push milk from forage to 60 to 65 per cent while increasing yields. A rotational grazing system is being introduced with the aid of electric fencing to better match grass utilisation to growth. At the same time, conservation has become more opportunistic with a target of up to five little-and-often cuts a year.
"Duncan wants to be able to reliably harvest 20 tonnes of silage fresh matter per hectare per year," said Robert Bowes.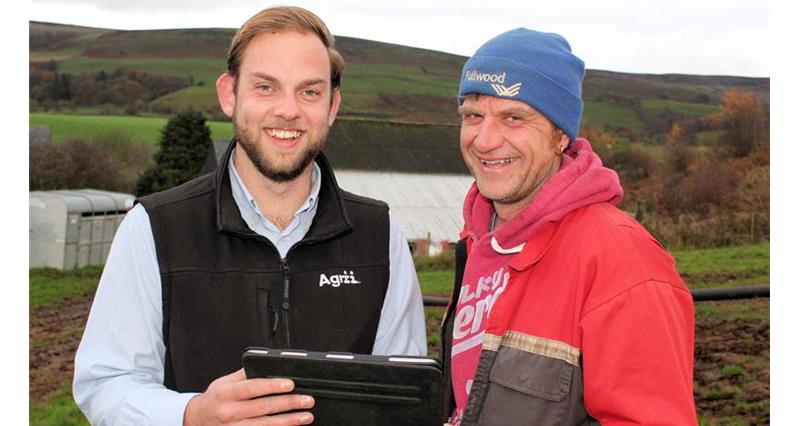 Robert Bowes with Duncan Maughan
"By foraging the 29 different management zones we've established through SoilQuest scanning and broad spectrum soil analyses separately this year we've found production varying by 50 per cent or more between and within fields. So an important aim of our work is identifying which fields and parts of fields are really producing the goods, relating this to soil conditions and varying our agronomy to push the performance of the least productive areas towards those of the most productive.
"Using an advanced combination of cloud-penetrating radar and satellite imagery, our Contour service has been hugely revealing here too. Ahead of early September silage-making, for instance, it revealed a marked contrast between chlorophyll levels in the main Gateshaw Mill fields and those on the family's rented ground - a difference confirmed by fresh yields of over 12 tonnes per hectare and under five tonnes per hectare respectively.
"What's more, expert inspection failed to identify any visual differences between the two areas in sward health or species composition, strongly suggesting underlying soil issues as the key factor."
This is supported by the in-depth analyses of third-cut forage samples from all the management zones undertaken by Agri-King in the USA using a state-of-the-art simulated rumen. Plotting the results for a broad range of forage nutrients alongside soil analyses across the zones revealed a close correlation between the two.
Robert added: "The Contour imagery is also proving valuable in helping us identify areas of compaction and other performance limitations we can address through targeted improvements in soil management and fertilisation.
"Alongside this, our development team is working to combine a grassland growth model with the satellite data to provide yield predictions from as early as possible in the growing cycle and indications of the best time to cut or graze for the highest overall performance. The potential these technologies offer for improving herd health and productivity is immense."
Duncan is equally enthusiastic about applying the latest developments in precision agronomy – until now mainly confined to much larger arable businesses – to his grassland management. Variable rate liming, and nitrogen, phosphorous and potassium fertilisation are immediate priorities. He is also exploring variable rate slurry application and is ultimately looking to forage harvester-mounted near-infrared analysis to produce quality as well as yield maps that can be related to his field management zones.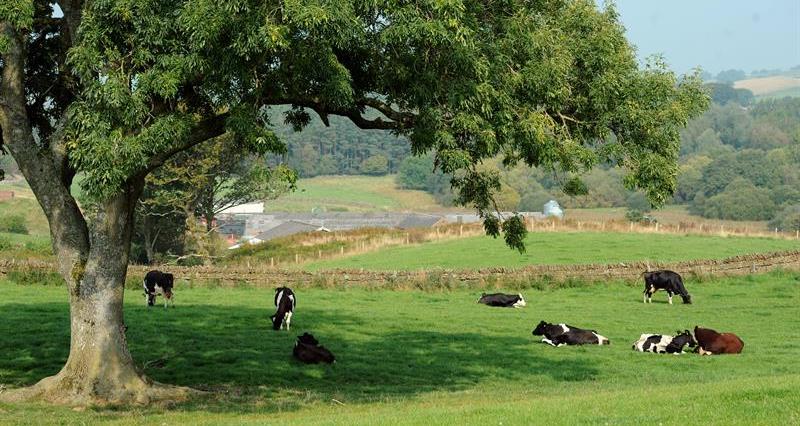 "SoilQuest scanning and Contour imaging are confirming many of the things we know about our fields from their history," he noted. "They're also telling us much more about them, allowing us to see things that are completely invisible to the naked eye - and see them early enough in the growing cycle to adjust our management to make a difference.
"The digital technologies available to us today are a real eye-opener and we're only just beginning to appreciate all they can do. Working with the iFarm team, we've been gathering data to characterise our soils, their potential and variations, and identify the most important forage factors limiting herd performance. From this we're planning programmes to address them and setting up controlled trials to measure how successful we are.
"It's amazing being able to view the health and growth of our grass at the touch of a button whenever we want to. As well as informing the trial work, the satellite images will allow us to pinpoint areas for investigation and action before they become problematic.
"I can see them being valuable in fine-tuning our grassland fertilisation to variations in the season and balancing it far more effectively with our slurry applications. They should be really useful too in helping us plan and manage our grazing and conservation to changes in grass growth, not to mention our re-seeding programme."