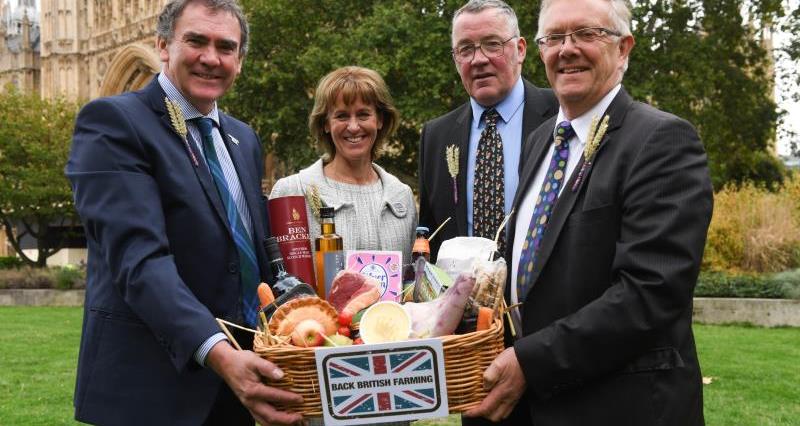 NFU President Minette Batters pictured outside Parliament with Deputy President for NFU Cymru Aled Jones (left), President of NFU Scotland Andrew McCornick (second from right) and Ulster Farmers' Union President Ivor Ferguson (right)
Politicians demonstrated their support for Back British Farming Day as the Agriculture Bill was introduced into Parliament.
The NFU held an early morning reception at Westminster, inviting MPs to pledge their support and collect a Back British Farming pin badge made from British wheat and wool to wear during Prime Minister's Questions.
See also: 140 MPs show support for farming on Back British Farming Day
Labour leader Jeremy Corbyn and Shadow Food and Environment Secretary Sue Hayman were among the first to show their support, along with other members of the cabinet and shadow cabinet.
Mr Corbyn name-checked the NFU in his question to Prime Minister Theresa May during a heated exchange on Universal Credit. The NFU came first in a long list of member organisations that Mrs May said "give excellent service, promote the areas of interest that they represent and are bodies with which this government interacts and listens."
Trudy Harrison, MP for Copeland in Cumbria, brought Back British Farming Day to the attention of the Prime Minster with her question. Representing many Lake District farmers in her constituency, she implored Mrs May to commit to ensuring farmers' 'world-class' meat could still be exported after the UK leaves the EU.
In response to this, Mrs May said: "When we leave the European Union, we are looking to ensure we have trade deals that enable our farmers to continue to export their very important product. But we are able, by leaving the European Union, to do something else, which is to come out of the Common Agricultural Policy and actually develop a policy in this country which is right for our farmers and not for others."
Earlier in the day, NFU President Minette Batters hosted the latest in a series of NFU Brexit roundtable meetings. Discussing issues such as the Agriculture Bill, the agricultural drought and Back British Farming Day, Mrs Batters was also keen to focus on collaboration between the four UK farming unions.
Mrs Batters said: "Back British Farming Day is a great opportunity to celebrate the unique role farmers play in feeding the nation and caring for the countryside.
"By wearing the wheat-pin badge, politicians are not only showing their support for British food and farming but acknowledging that they have a part to play in shaping the future of domestic agriculture and food production.
"Decisions made in Parliament must reflect the strategic importance of the food and farming sector to the nation. With over 9,000 meals from the Back British Farming menu being served across the week to MPs, researchers, decision makers and visitors, food and farming will be at the very centre of Westminster activity.
"Farming is the backbone of life in Britain and it's only right that it is put at the forefront of future policy so farmers can continue to produce safe, traceable and affordable food for the country."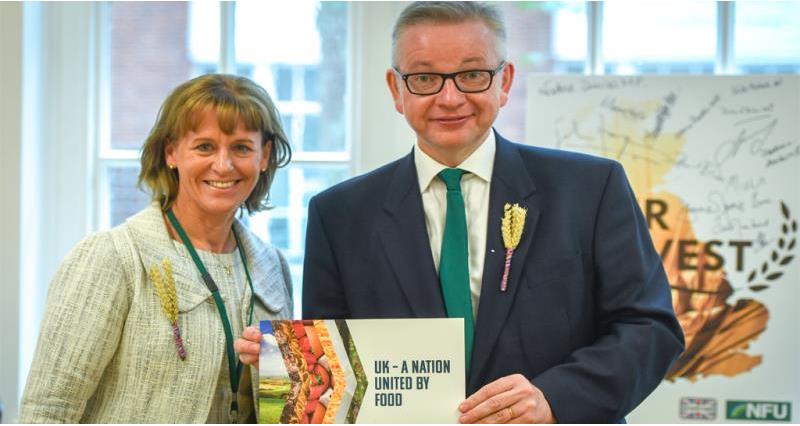 Above: NFU President Minette Batters and Defra Secretary of State Michael Gove
Coinciding with the Agriculture Bill, the NFU launched its new food report - UK: A Nation United by Food - in order to highlight the key areas for debate with regards to future food policy.
And all this week, cafeterias in the Palace of Westminster have been served 'Back British Farming' menus to celebrate the food produced by British farmers.
#BackBritishFarming trended at number 5 in the UK on Twitter:
How you can help the NFU highlight the importance of British farming:
Buy British produce! Use our sourcing guides to find out where you can buy what's delicious and British. Look out for the Red Tractor logo with a union flag to know you are buying quality British food.
Think seasonal. Not sure what's in season now? Check out our seasonality chart to find out when British fruit and veg are at their best.
Spread the word! Tell friends and family why it's so important to back British farming. Ask them to follow us on Facebook, Twitter and Instagram and sign up to our monthly e-newsletter.
Click on the gallery below for more pictures: