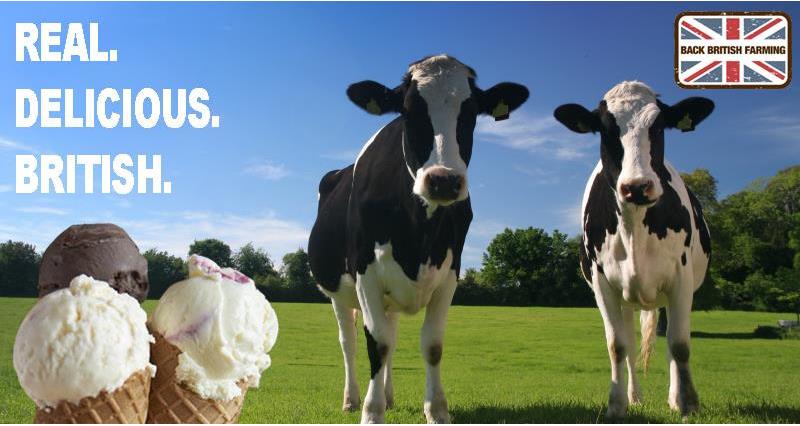 When you picture the perfect British summer, what comes to mind? Seaside, picnicking, BBQs and don't forget ice cream!

From tucking into your favourite flavour whilst exploring your much-loved holiday hotspot, to the times waiting for the ice cream van chimes after a tough day in school, all year round, whatever the weather, us Brits and those visiting our beautiful country manage to get through loads of this delicious, creamy treat.

But have you ever wondered...
Explore our interactive map and find out where real British dairy ice cream shops are across the country, a bit more information on how it's made and the dairy farmers who keep their cows happy and healthy. Be sure to check back soon as the map grows to include more proud ice cream producers.
Meet the Makers - discover unique British ice cream producer and dairy farmer stories.
What makes British dairy ice cream so special?
Did you know, farming underpins the UK's largest manufacturing sector? The food and drink industry is worth £108 billion to the economy and employs £3.9 million people. And it's our British farmers who work to world-leading animal health and welfare standards, ensuring their cows are cared for day and night.

What's in your ice cream?
NFU dairy adviser Sophie James explains what makes British dairy ice cream special.
She writes:"You may be surprised to learn that there is no regulation to specify what ingredients can go into your ice cream or dairy ice cream, only a voluntary code. Ice cream compositional requirements were removed from the Food Information Regulations in 2014. Instead, the European Ice Cream Association has a standing and widely respected voluntary agreement called the 'Code for Edible', which is used across the European ice cream industry. This was seen as a way to allow more flexibility for product innovation."

So, what is the difference between ice cream and dairy ice cream?
"The one major difference between ice cream and dairy ice cream is that dairy ice cream must contain at least 5% dairy fat and exclude any fat or protein other than dairy. The general term ice cream on the other hand refers to a product that can contain any edible fat, from plants, eggs or dairy. The majority of ice cream that's sold in supermarket shops contains vegetable oils, usually either palm oil or coconut oil. These vegetable oils are not found in dairy ice cream.
"The majority of retailers offer both ice cream and dairy ice cream, without making it clear to shoppers what the difference is between them. Our suggestion would be for shoppers to look for dairy ice cream, made with British milk, to back British dairy farming."
How can you help British dairy farmers?
Unfortunately, British dairy farmers have been struggling to make ends meet because of low farmgate prices for milk. The best ways you can show your support is by choosing British dairy products such as cheese, butter, yoghurt as well as ice cream, all year round.
So this summer, be sure to back British farming with a sweet, cool treat and take pride in Britain's farmers and British dairy ice cream!

Here are three ways to support British dairy farmers:
Look out for the Red Tractor logo with the Union flag on dairy product labels in the supermarket.
Check out our Shopping Guide to buying British dairy.
Explore our interactive ice cream map and find out exactly where British dairy ice cream comes from and be sure to check in at the farmshop or farm attraction where available.