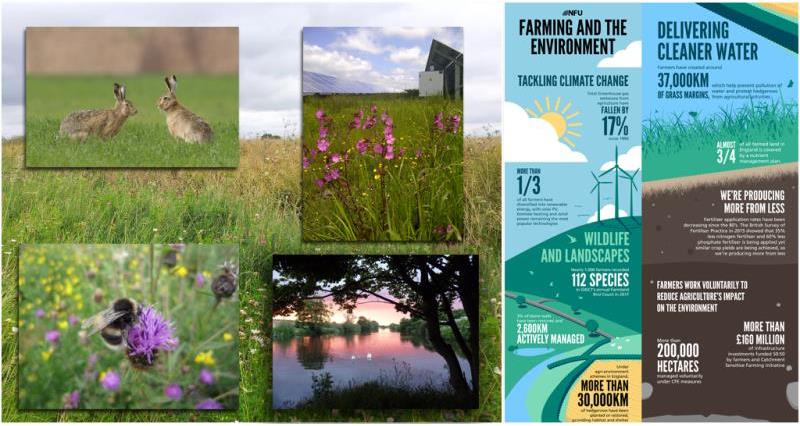 The biggest ever celebration of our connection with nature takes place on Monday 5 June with the 2017 World Environment Day.

Across Britain, and from China to Chile and from Sweden to South Africa, governments, schools, businesses and the public have organised thousands of fun events that will help us appreciate our dependence on the natural world and the need to protect it.
Launched in 1972, the day has developed into a global platform for raising awareness and taking action on urgent environmental such as global warming.
This year's theme is 'Connecting People to Nature' designed to encourage more of us to get outdoors and appreciate nature's beauty and its importance and to get up close to wildlife.
British farmers are passionate about providing a huge variety of quality British food for us all to enjoy.
But farming is about much more than growing great food. Our farmers are working hard every day to protect the environment and the countryside.
They take their roles as custodians of the countryside very seriously.
Farmer Mark Pope is chairman of the NFU's Environment Forum. He farms 700 acres of arable land in the Blackdown AONB, Somerset. Mark said: "My simple philosophy is that any intervention to help make environmental improvements on my farm must work alongside my primary aim to produce high quality food.
"Over the years, efficiency gains, better use of resources, participation in agri-environment schemes, my own voluntary activities through the Campaign for the Farmed Environment (CFE) and involvement in natural flood management schemes have resulted in a great deal of environmental benefit, alongside my commercial farming activities.
"Our farm visits that we organise are invaluable at reconnecting children with farming, food and our vibrant environment. This can only be good for the farming sector and for the education of our children but also their health and wellbeing."