What would happen to farming if future greenhouse gas emissions targets here in the UK led to an increase in the price of energy and other inputs like fertilisers and feed? Would this run the risk of making UK agriculture uncompetitive? Could any price rises be passed on through the supply chain?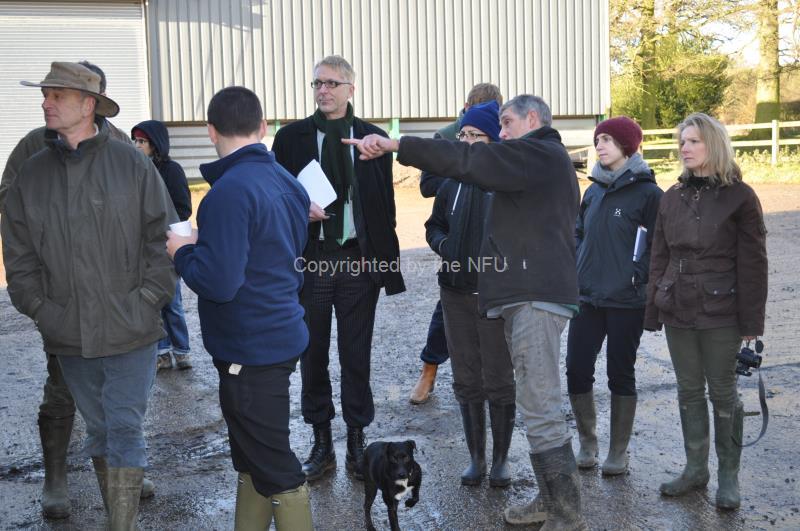 These are questions that analysts from the independent Committee on Climate Change posed to NFU members in East Anglia in December as the Committee prepares its advice to government on carbon leakage and competitiveness.
At his Hertfordshire farm national combinable crops board chairman Andrew Watts pressed the need for UK agriculture to be able to compete on the global market. Andrew showed how a progressive arable operation requires the freedom to produce affordable food without being tied up in red tape. Questions were posed over a modern business' need for fertilisers, tillage, energy use for grain drying and storage as well as investment in renewable energy. His new grain store has a solar PV roof which creates enough energy to power the store.
Nearby, the Wornham's poultry unit provided a perfect site to discuss the importance of manufactured compound feed in supplying a high performance commercial hybrid bird with a balanced diet. With poultry feed making up approximately 60% of total production costs for poultry producers, the Committee's analysts heard how producers are unable to pass on their higher costs on to consumers. Rising costs have largely been absorbed by producers, processors and packers often with significant financial loss. The Wornham's have also made significant investments into reducing the energy costs of their operation by insulating farm buildings and installing PV.
Discussions moved on to the opportunities offered by the Renewable Energy Directive to the arable and livestock sectors by
Making vegetable protein available to UK livestock that would otherwise be exported and replaced by imports from the Americas
Creating a market for agriculture that also that helps to help decarbonise UK transport
Creating a means of supporting financial resilience of farm businesses with a market that is not always connected to price troughs
At his dairy unit in Bedfordshire, Tim Burton and his head herdsman Phil impressed with the skills and energy they put into the breeding, health and nutrition of the 310 cow pedigree herd. The Committee's analysts were encouraged to inspect the different types of conserved forages on-farm and heard how these were regularly analysed to ensure that health and output were maintained. Tim and Phil's knowledge of cow performance has been transformed by electronically monitoring milk yields allowing any problems to be immediately flagged.
The Committee will publish its report in March 2013.