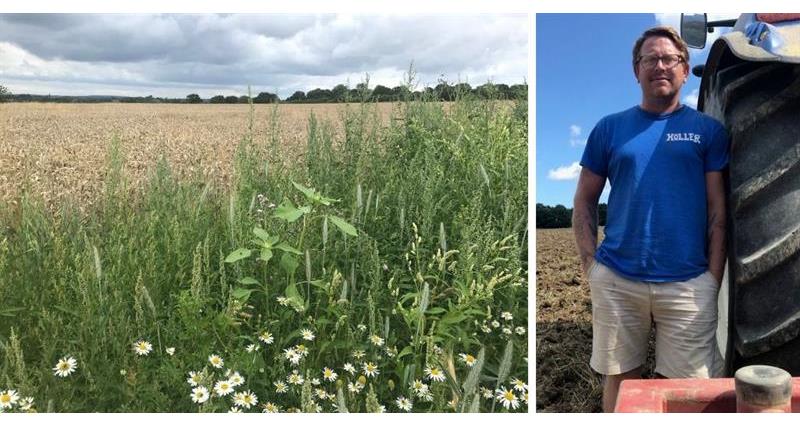 Anthony Becvar runs a 200 acre mixed farm in East Sussex.
The third generation on the farm, his grandfather bought Little Goldsmiths in 1938. It was run as a dairy farm until 1999 when the herd was sold and half the acreage was moved to arable. Now just under 100ac of the farm is low input grassland used for hay and sheep grazing. The other 100ac of arable cropping is currently being harvested as milling wheat and seed oats, and will then be drilled to milling wheat and spring beans.
Environmental strips of summer pollinator and winter bird seed mix are permanently placed in most of the arable fields and act as the farm's third crop under BPS greening crop diversification rules introduced for 2015. In 1997 the farm went into Environmental Stewardship and left ELS in 2017. Anthony also works full time as a tree officer for the County Council.
Environmental schemes
"The biggest management decisions we have had to make was adapting the business to be BPS and ELS compliant. Greening would have been easily covered by ELS options, but we then would have been penalised due to double funding issues. Now that we're out of ELS we use our 4-6m wide buffer strips for greening Ecological Focus Area (EFA) fallow. This is easy to manage from a BPS point of view, but we still manage them as conservation headlands, in that we top the closest 3m of the margins around the crops between June and harvest to make life easier for the combine and take out any blackgrass. We can then hedge cut on the margins when conditions allow. We can also use parts of the wider buffer strips for turning on, and this reduces soil compaction on some of our our headlands.
"The change in BPS to the three crops rule also forced us to change our arable rotation. When the rules came in we had just built a new grain store, designed to store one crop grown across the entire 100ac area. A couple of months after it was built the possible new greening rules went public and were later agreed. We have since had to invest in bringing another farm building up to spec to act as a smaller grain storage area.
For simplicity, and to fit the farm's grain storage options, the main crop was originally grown to the BPS limits of 75 acres, with 20 acres made up of the second and 5 acres of the third. The third crop is made up of permanent plots of wild bird mixture on arable land. This has several different species in it, including red and white millet, linseed, fodder radish, sunflowers and barley. We plough these strips because we don't use any pesticides on them. These strips also make use of the worst parts of the fields, and therefore mean that we do not have to work the least productive areas. I have noticed an increase in insect life, as well as the support these mixes will give to birds through the winter.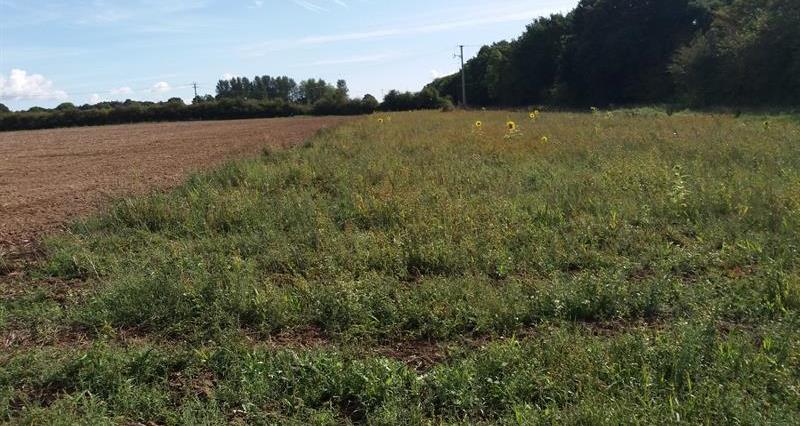 Soil health
"Soil health is a major concern, particularly as we farm mostly on Weald clay, but with some greensand too. I am expanding our crop rotation and making best use of our machinery to help protect our soils. We have blackgrass on the farm, but not nearly as bad as some. Stale seed beds, chemical control and hand roguing play a part in trying to keep it at bay. This year on the autumn cropping land we will aim to sub soil, disc, power harrow and roll all after harvest. Last year we bought a Vaderstad Rapid with disc coulters, so the hope will be to leave drilling as late as possible with as little soil disturbance as possible, having sprayed it off once. The spring cropping ground will be sown with a low rate of winter cover to allow blackgrass to germinate and be sprayed off in the spring.
Late sowing does help weed control, especially blackgrass, however, on our soil we cannot take the risk of leaving it too late. Working late into October can end up creating a poor seedbed, which doesn't help crop establishment and hampers spring weed control.
Working on clay soils during the spring has, in the past, been a struggle, but by choosing beans and having the right drill, we at least have a chance to get a crop in without having to work the soil too much. We work to improve our soil health by liming and chopping straw on an annual rotation to improve the organic matter content and the nitrogen to carbon ratio. We have been min till for about 15 years. All of these measures which focus on soil health have noticeably improved our crop health and yield, and we no longer consider ourselves to be farming on marginal land.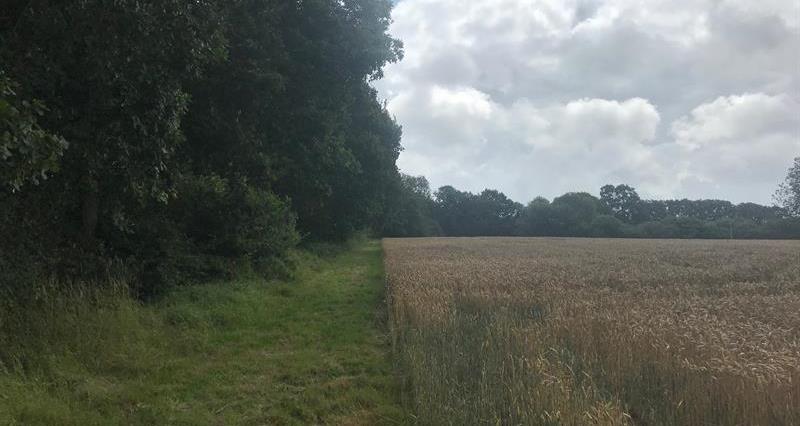 Hedges
"We joined the old Countryside Stewardship Scheme in 1997 for ten years, then joined ELS for another 10 years. We have kept all of the original CSS measures we put in. Since 1997 we have planted around 600m of hedgerow, using a mix that includes hawthorn, blackthorn, hazel and field maple, which are managed on a 3-5 year rotation. We have planted over 200 trees, we are continually coppicing and restoring about 3 acres of woodland, shaws, gylls and have also restored and manage 1 acre of historic orchard.
The hedges are 5-6m high, which provides a large amount of habitat: we participated in a RSPB and Farmer Alliance survey which showed an increase in birdlife, particularly yellowhammer, on the farm. When I am able to, I enjoy taking part in such initiatives. My background as a FWAG adviser and environmental consultant support this, and we are an RSPB case study farm.
'Keep it simple'
"Our mantra on the farm is to keep it simple. By widening the rotation and focusing on the best cultivation systems for our soil is also helping us become more sustainable. My farm is small enough that I can micromanage it: each field is farmed individually, focusing on detail and ensuring we don't cut corners or do anything unnecessarily.
I am worried that future schemes may become too restrictive to be viable for many. Everything we do now evolved from being in an environmental scheme, and so we are already doing what future schemes are hopefully likely to ask of us, and there is little more we could do without having greater impacts on crop production.
In the future, I would like to see schemes which demonstrate more clearly the relationship between farmers, the government and the public. Farmers have to follow government policy and assurance standards, and I feel the public don't understand this clearly enough. We therefore need greater communication and more discussion around food production. We also need to do a greater job of demonstrating how farming has changed for the better with regard to the environment and everyone's responsibility in maintaining and protecting it.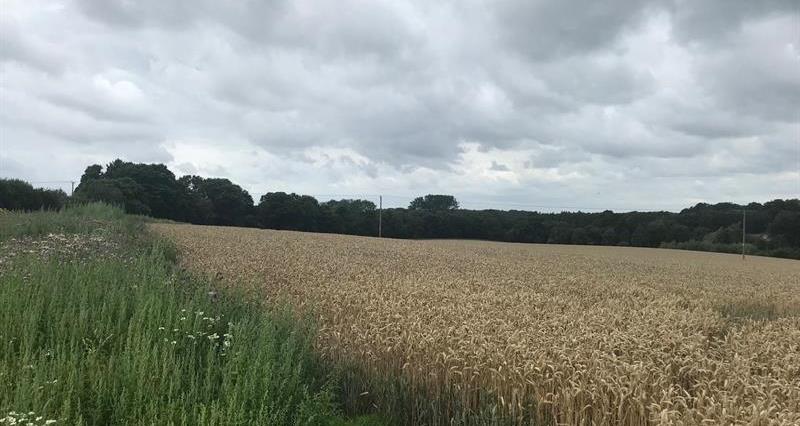 The public are our end customers so it is up to us to have more direct contact with them. With more and more debates being raised by the public around chemical use, residues in food, animal welfare and alternative diets, we, as an industry and the Government and associated NGO's, as the creators of our production standards, need to have a far better system of communication with the public. And not via industry publications, we must have a more focused presence on social media and TV.
We will keep looking after the land and ensuring we can produce food. I will be here for the rest of my life. I need to look after the land so that it will look after me and my family.
The increased biodiversity adds to my enjoyment of living and working here, and I want to keep it that way."