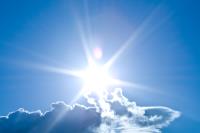 June has been warm and dry for many with temperatures more than 1 degree above average so far and rainfall just 33% of the whole month's average total.
Some of the driest counties in southern areas of the UK include Essex - only 1.4 mm of rainfall, 3% of the month's average, Dorset - 1.2mm of rain, 2% of the month's average, and Bucks - 2.1mm of rain, 4% of the month's average.
While temperatures have been above average there have been some regional differences, for example Lincolnshire and Kent are so far just 0.4 °C above the average maximum. However, the west side of the UK has seen higher temperatures with Cornwall and Cardiganshire 2 °C above the average maximum.
For the first time this year, temperatures very locally topped 30.0 °C, with 30.1 °C on 25th. The focus for the highest temperatures is expected to shift towards the west of the UK into the middle of the week, and then northwest, before temperatures potentially begin to hot up again in the south over the weekend. By the weekend, especially on Sunday, there is some indication that thundery weather could move in from the Continent to some southern areas.
This comes after a warm and sunny May. Provisionally it was the equal second warmest May in a series from 1910. Rainfall was 69% of average, and most places had a dry month but was generally close to normal across central and southern England. Sunshine was 132% of average except in south and west Cornwall and parts of north Wales.