Farmers across the country are working to reduce farm accidents and with a specific focus this summer to keep children safe on farm.
Over the next few months, farmers are joining with the Farm Safety Partnership (FSP) to implement and share practical measures that help keep their children safe on farm, as well as members of the public who pass through.
NFU Vice President and chairman of the FSP Stuart Roberts said: "Children are an integral part of family run farm businesses. But we must remember that farms are first and foremost a working environment and, like any job, we should try to separate our work from our home life.
"Farms are not playgrounds. All children need is somewhere secure to play that is away from the work place, and if they do need to enter your place of work adult supervision is essential. Such boundaries become even more important during the summer holidays when children are at home."
"The FSP is today (2 July 2019) sharing guidance and information on the law regarding child safety. I urge all farmers to get involved and help spread the word about how we can keep our children safe and happy on farm."
Children on farm - the law
The law does not strictly prohibit children over the age of 13 years from driving some agriculture machines. Some family businesses allow young people to do work activities on farm but there shouldn't be an automatic assumption that just because they are over 13 they can. People between 13 and 16 years are still children. They must be protected. They cannot carry out the whole range of work activities performed by adults.
The law
There is a legal responsibility to assess all risks to the health and safety of children on farm and protect them from harm at all times
By law, any work must be light work and must not be inherently dangerous – this is the rule for children helping out on the family farm and children employed and paid for their work
Children employed on farm must have a permit from the local authority
Risk
No two children are the same in their physical and mental maturity and capabilities. This means that what a child is allowed to do or not do must be assessed on an individual basis. The law says that children should not be allowed to perform work beyond their physical or psychological capabilities, or which is inherently dangerous. Many farm activities fall into the inherently dangerous category.
Risk assessments for the whole of the work place that take into account an individual child's characteristics must be completed. A one size fits all approach is not acceptable. The work children are allowed to carry out must be individually assessed and will differ from child to child according to individual capabilities.
Guidance on what a child between the ages of 13 and 16 years may be able to do and most importantly cannot do on farm is available on the HSE website.
Responsibility
Everyone in a farm workplace has a responsibility to protect children who are vulnerable because of their age and physical and mental immaturity. Every employer is required by law to manage any risks.
Children must be kept away from significant risk and where risks exist they must be very carefully managed and controlled. Normally this means children (under 16) are not in the workplace. If they are taken in to the workplace they must be fully supervised and if given tasks these must be simple and appropriate for their maturity and capability.
As well as a legal requirement to protect young people, there is also a moral responsibility to protect and nurture children.
The NFU's key health and safety messages
Think carefully before letting children in the farm workplace. These can be dangerous and hazardous places. Supervision by an adult is essential to stop child fatalities and life changing injuries.
Children under 13 are specifically prohibited from driving or riding on any agricultural machine.
Know the hazards - advice from NFU Mutual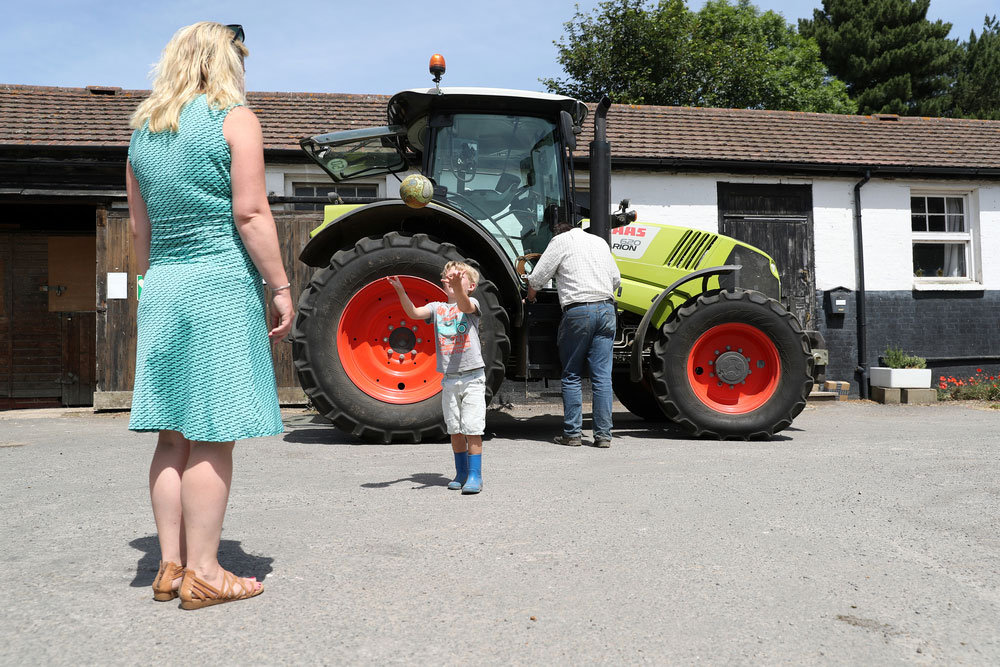 Farms can be wonderful places for children to grow up, where independence and responsibility are fostered and family relationships are strengthened.
They are also a fantastic source of learning, where organised visits can inform and inspire children from all backgrounds to learn about where their food comes from and how the industry is vital to everyday life.
However, children are sometimes put at great risk when playing, visiting or helping out around the farm.
The sad fact is that every year children are killed during agricultural work activities.
Keeping children safe and sound on farms is a top priority for the Farm Safety Foundation, which NFU Mutual set up as an independent charity in 2014. Through initiatives such as Farm Safety Week (15-19 July), the Foundation aims to preserve and protect the physical and mental wellbeing of the next generation of farmers and their families, and equip them with the knowledge, skills and resilience to live well and farm well.
The threat from farm machinery
We all need to keep up as the world of agriculture changes. In particular, farm machines have become bigger and more powerful and are a source of fascination for children.
As we know, children are naturally curious and can be hard to see, putting them in great danger of being run over by moving machines – especially at busy times, such as during silage making, grain harvesting and slurry spreading.
In 2017 and 2018 two three-year-old boys in Scotland and Wales sadly lost their lives as a result of coming into contact with farm transport.
Hazards all around
Farm machinery isn't the only cause of children being killed on farms: electrocution and being crushed are among other main causes.
So, as we approach the summer break, we will support the Farm Safety Partnership focus on child safety on farms and highlight the steps that farmers can take to better manage risks to themselves, their workers and, importantly, to their families. Yellowwellies.org has detailed advice on child safety on farms but, crucially, please remember:
Children should not be allowed in the farm workplace.
If young children live on, play on, or visit a working farmyard, a secure area, enclosed by upright fencing, must be set aside to allow them to play safely. This area should be close to home or the farmhouse so they can be easily supervised.
Any access to the work area by children under 16, for example for education, or knowledge experience, should be planned and fully supervised by an adult not engaged in any work activity.
Children under the age of 13 years are specifically prohibited from driving or riding on any type of agricultural machine.
Farms are busy working areas, full of serious hazards – so if you can't supervise children properly, then keep them away.
More on farm safety: