In an unexpected Easter gift to the solar industry (and a modest NFU policy win), a proposed hike in VAT on solar panels has been dropped. A cross-party amendment to the Finance Bill on the 2016 Budget, exempting 'installation of energy saving materials' from an increase in VAT from 5% to 20%, was passed without a vote on 22nd March. This appears to be in line with European Commission proposals to allow Member States more powers to set their own VAT rates on various kinds of products and services. The final decision by Her Majesty's Revenue and Customs (HMRC) to maintain the reduced rate of VAT is now expected when the summary of consultation responses is published.
A change to VAT on solar panels for household electricity and heat, as well as any domestic wind and water turbines, had been proposed from 1st August. According to HMRC, the planned increase in VAT from 5% to 20% was due to a European Commission ruling which had been upheld by the EU Court of Justice.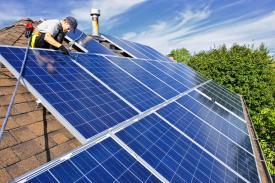 The NFU disagrees with the Government's assessment that the proposed changes are not expected to have any significant economic impact, and we anticipated that tens of thousands of NFU members' farmhouse solar installations could ultimately be impacted. We do not think domestic solar thermal (water heating) panels should have been included, and we consider these proposals are counter to the wider EU objective of encouraging the uptake of energy efficiency and renewable energy measures.
We call upon Government to re-visit the recent reductions in domestic Feed-In Tariffs, and to look again at the domestic RHI tariff for solar water heating.
This consultation closed on Wednesday 3rd February. Read the HMRC consultation document here (opens in a new window). NFU members can download and read our consultation response here.