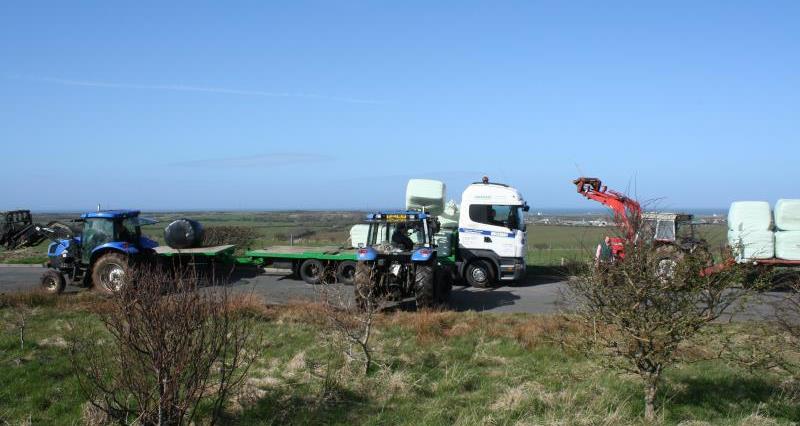 Picture: Donated fodder being dropped off at a lay-by near Bootle
Members, please be mindful of restrictions which could apply to the transport of fodder.
Operator License Rules
The purpose of operator license rules are to:
Ensure the safe and proper use of goods vehicles on UK roads;
Protect the environment around operating centres.
The general rule is that an operator's license is required if goods vehicles over 3.5 tonnes are used for hire and reward and in connection with a trade or business.
There are however a number of exemptions to the general rule.
Agricultural tractors
Tractors licensed as Agricultural Tractors for Vehicle Excise Duty purposes are exempt from the rules when:
Used by the occupier or contractor employed to do agricultural work by the farm occupier to haul inputs such as fertiliser, seed and feed into a farm. This means that no distance restrictions apply under operator license rules to a farmer who is using a tractor to collect inputs he has purchased for use on his farm.
Hauling agricultural produce (including fodder) from a farm within 15 miles of land occupied by the keeper of the vehicle. This means that a farmer who has sold produce can travel no more than 15 miles to deliver produce to his customer.
Dual purpose vehicles
Dual purpose vehicles are vehicles (defined under Regulation 3 of the Construction and Use Regulations 1986 as vehicles constructed or adapted for the carriage of both goods and passengers with unladen weights less than 2040kg, and with four-wheel drive or prescribed seating and window arrangements).
Vehicles meeting the above definition (e.g. a Land Rover Defender) and their trailers are exempt from operator license rules.
A vehicle under 3.5t maximum authorised mass which is towing a small trailer with an unladen weight of 1020kg provided that the goods transported are on "Own account". This means that an operator license is not required to transport your own goods if the vehicle and trailer meet this definition.
Further information on operator license rules is available via these links:
Tachograph
As a general rule drivers of most goods vehicles over 3.5 tonnes are in scope of EU drivers' hours rules and are required to have a tachograph device fitted to record driver hours.
There are however some exemptions to the general rule which are applicable to farming. These exemptions are:
Vehicles used or hired, without a driver, by agricultural, horticultural, forestry, farming or forestry undertakings for carrying goods as part of their own entrepreneurial activity within a radius of 100km (60 miles) from the base of the undertaking.
Agricultural tractors used for agricultural activities within a radius of 100km (60 miles) from the base of the undertaking which owns, hires or leases the vehicle
Please note that the distance restrictions under operator license and tachograph rules are not the same. A tractor used to transport produce by a farmer who has grown the crop may not be in scope of tachograph rules as the vehicle is travelling within the 100km limit. The same tractor may however be in scope of scope of operator licences if it is being used to transport produce more than 15 miles (approx. 24 km) from the farm where it was grown.
Further advice on drivers' hours rules and tachographs is available via these links:
:: Members can also contact NFU CallFirst on 0370 845 8458 for further advice and information.