The miscanthus market is growing at a rapid rate and one Lincolnshire producer has planted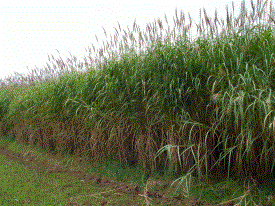 1000 hectares of the crop to service a handful of lucrative markets.
The Wilson family, now dedicated miscanthus growers, are inviting anyone interested in planting the crop to take a look at their set up and hear about their hugely successful business model, at a Terravesta and NFU hosted event, taking place on the 30th June 2016.
The miscanthus is split between two farms, one in Bonby and one in Market Drayton. Gary says that they harvest between 10 – 18 tonnes per hectare and last year Terravesta came on board taking 1,500 tonnes of harvested crop destined for power stations as biomass. "This year we're supplying them with 5,500 tonnes – the company is expert in miscanthus supply chain management, with the ability to negotiate the best price for growers."
"There's a sustainable future in miscanthus – it does very well on marginal land, on difficult to establish, heavier soils and areas that are hard to travel on. As the crop matures the rhizome actually increases the ground's stability, making it easier to travel over, come harvest time.
The farm walk is free to attend and takes place on June 30th at Hall Farm, Bonby, Lincolnshire DN20 0NR.
And guest-speaking on the day is Rob Wood, director of biomass at eco2 renewable energy plant, based in Brigg, who will be presenting on why miscanthus is fundamental to the future of the business.
The day starts with coffee at 10.30 am and will kick off with a presentation covering an overview of the miscanthus market in the UK from Terravesta and a talk from Rob Wood.
There will be an opportunity to walk a number of fields of mature crop and speak to existing growers and the day will conclude with a Q and A session over a light lunch at 14:00.