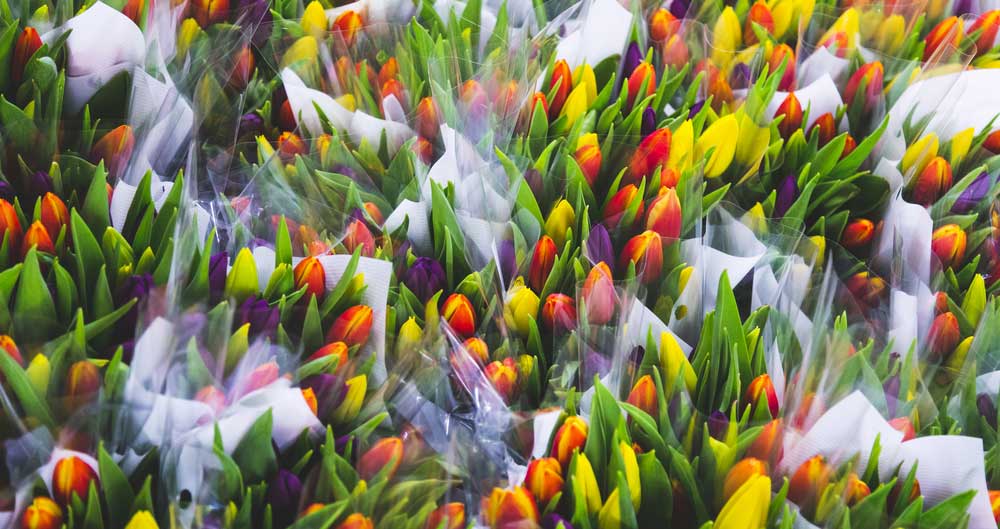 The impacts of the Coronavirus crisis are being felt across all of society, but one sector being particularly significantly hit is the ornamental sector.
Updated 24 April 2020:
Horticulture and potatoes adviser Emily Roads explains how the NFU is working with industry to support the sector through this difficult period:
Normally at this time of year most of us would be enjoying some Spring planting, our mothers would have all just received a bouquet of beautiful cut flowers, and the ornamental sector would be booming (or blooming). Yet the UK wide shutdown of all non-essential retail in a bid to stop the spread of the coronavirus has also put a stop to the peak trading period for the sector as garden centres and florists close their doors and amenity planting and landscape work grinds to a halt.
While it is critical that we prevent the transmission of the coronavirus, there are severe impacts on the ornamental sector from this shutdown. Plants which growers have already invested a huge amount of money and time in producing now has very limited routes to market and many are looking at the inevitable disposal of this highly perishable stock.
The NFU is speaking on a daily basis to growers, industry colleagues and government as we seek to understand the detail behind these issues and seek solutions. The whole industry is working together to fight for this sector, and you can be assured that there is a huge amount of work going on here at virtual NFU HQ for the ornamental sector, and the situation is a top priority for the NFU.
NFU key asks to support the ornamental sector
The Government should provide financial grant support to businesses which have had to dispose of stock.
The Government should enable growers to access existing government support, including the CBILS scheme and extending the repayment period.
The Government should ensure that garden centres are among the first businesses allowed to reopen under a phased exit of the lockdown.
Financial grant support
The NFU has been meeting regularly with banks and Government to highlight the unique situation that faces the ornamentals sector, where retail outlets have closed down yet most the stock is perishable and cannot simply be stored. The NFU has been working very closely with the Horticultural Trades Association (HTA), as well as AHDB, to gather data to create a robust case for the need for grant support for ornamental businesses in order to get through and recover from this incredibly challenging time. Work is ongoing in this area, and I thank my HTA and AHDB colleagues for their collaboration and work on this issue.
Greater access to CBILS
While the Government's support package is very welcome, unfortunately many growers continue to struggle to access the support, either due to the programme design, state aid restrictions, or because they simply are not eligible for the grant support enjoyed by the retail, hospitality and leisure sectors. We are raising these issues with government and the financial sector, and we secured confirmation that the ornamental sector would be eligible for CBILS under the same rules as agriculture. The six year payback period and loan value cap under state aid rules, however, mean that in many cases CBILS loans are either unsuitable or unviable for many ornamental production businesses.
Reopening garden centres

and retailer engagement
We recognise that while online sales may be strong, for many businesses, particularly in the bedding plant and hardy nursery stock sectors, they will not be able to accommodate the scale of sales that would normally be expected at this time of year. Indeed, even with the strong sales we are seeing, they still only accommodate c. 10% of normal business. We are therefore hearing many calls from members and the wider horticultural sector, for garden centres to re-open, under the appropriate social distancing and public health measures.
Many garden centres are well placed to reopen with these measures in place due to the size of the shop floor and access to large outdoor areas. We are looking at how this has been achieved in Europe and other retail environments (eg supermarkets) to demonstrate how this could be carried out safely. The NFU is therefore calling for them to be prioritised as the first businesses to be allowed to reopen under a phased exit of the lockdown.
The NFU has also written to UK supermarkets calling for them to support the sector by rebuilding their stocks of British flowers and plants in stores, and we welcome the positive engagement we have had from several retailers on this. Read more here.
MP engagement
The NFU is working hard to raise these issues with MPs and garner their support for the sector. We have created two Write to Your MP tools, one for growers and one for supporters, which allow you to send a prewritten, but fully editable, letter to your MP explaining their issues faced by the sector and calling for their support.
Access the grower MP letter

here
Access the public MP letter

here
The NFU has also hosted a briefing session for MPs to explain the issues being faced by the sector and call for their support. The session was chaired by NFU President Minette Batters and had around 20 MPs in attendance. There was positive engagement and we look forward to working with MPs further. If you wish to engage further with your MP then speak to your County Adviser.
The Ornamental Horticulture Roundtable Group (which includes the NFU, HTA, RHS, BALI, AHDB, Arboricultural Association, Landex and the Landscape Show) has written to Secretary of State George Eustice highlighting the critical situation being faced by the ornamental sector and seeking urgent action to support the sector. Read the letter here.
Other activity
The NFU has made it clear to government that, should we see a tightening of the lockdown, that ornamental workers must be able to continue to work in order to maintain existing stock and infrastructure, as well as carry ot essential taks to prepare future stock. To be clear, at this time workers who cannot carry out their work at home (such as nursery staff) are still able to go to work, and nurseries have not been told to close, although should follow guidance in terms of hygiene and social distancing in order to protect their staff.
In addition to this, we would like to see flexibility in the furlough scheme for ornamental workers to either work on reduced hours, or be brought back to work early if needed, without losing their furloughed status for the period that they were not working.
There has also been a lot of work from the NFU to make it easier for ornamental businesses to legally share their workers with edible businesses if they have capacity to do so, and we called for a simplification of the GLAA licensing procedures in order to support this.
On 1 April, the GLAA announced it has introduced a temporary licensing scheme to support the food production sector in accessing the labour it needs during this difficult time. The licences will last for three months and will be granted to businesses operating within the wider labour supply industry and who wish to support labour providers who currently hold GLAA licences. In line with NFU asks to reduce the costs and timescales of applications, this process will be free and the GLAA aims to make decisions on applications within five days. Find out more at the GLAA website here.
The NFU wrote to the Defra Plant Health Team, calling for them to continue their pragmatic approach to plant passporting in order to allow businesses to operate distance selling during this challenging time. We are pleased that they have confirmed that they will continue this approach.
This means that if businesses demonstrate that they are taking the steps to be compliant (eg progressing registration as far as possible online) in order to operate distance sales then APHA will aim to support them reaching full compliance, rather than penalising non-compliance.
Final words
This is an incredibly difficult and worrying time, not only from a business perspective, but also as we all adjust to life through this crisis. Rest assured that the NFU, as well as our industry colleagues, are absolutely standing by your side and fighting your corner, to ensure that we will still have a strong ornamental sector once we come out the other side of this crisis.
This news hub on NFUonline will be updated regularly to keep you up to date with what you need to know and how to deal with the various issues raised by coronavirus. Visit the hub.