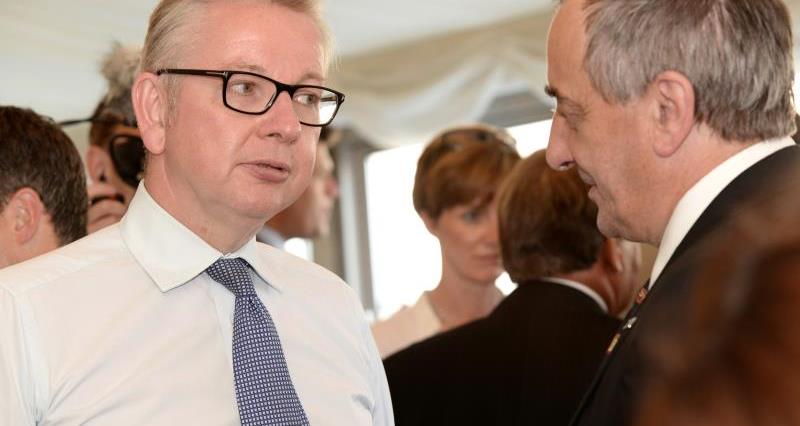 Mr Gove pictured with NFU President Meurig Raymond at an NFU reception in Westminster
The NFU has welcomed a commitment to a national food policy and recognition from the Secretary of State that food production is 'at the heart of all farming businesses', announced at Oxford Farming Conference today (4 January).
The NFU has also welcomed a pledge for Defra to champion high-quality British food at home and abroad.
NFU President Meurig Raymond said that Michael Gove's speech was a positive signal for the farming industry.
Mr Raymond said: "I was pleased to hear the Secretary of State talking about the need to invest in technology, skills and rural resilience - all of which he says are public goods.
"Michael Gove also spoke about the importance of delivering benefits for the environment, something that farmers already advocate and perform highly on. Mr Gove was absolutely right to recognise the vital contribution that uplands farmers have in maintaining their iconic landscape.
"Without the productive, resilient and profitable farm businesses across the country, we will not have the people to look after the natural environment.
Mr Raymond continued: "A transition period that allows time to prepare properly for the introduction of a new agricultural policy is also welcome, during which an assessment can be made of the impact of Brexit on UK farming – on trade in the raw ingredients farmers produce, on farm businesses' access to a competent and reliable workforce, and on the regulatory environment in which they operate.
"The NFU is up for the challenge of working in partnership with government in reframing agricultural policy for the post-Brexit world. With adequate time to prepare, we can ensure that the introduction of an ambitious new policy framework, one that is suited to the needs of the farming industry and the expectations of the UK public, is managed properly and delivered successfully."