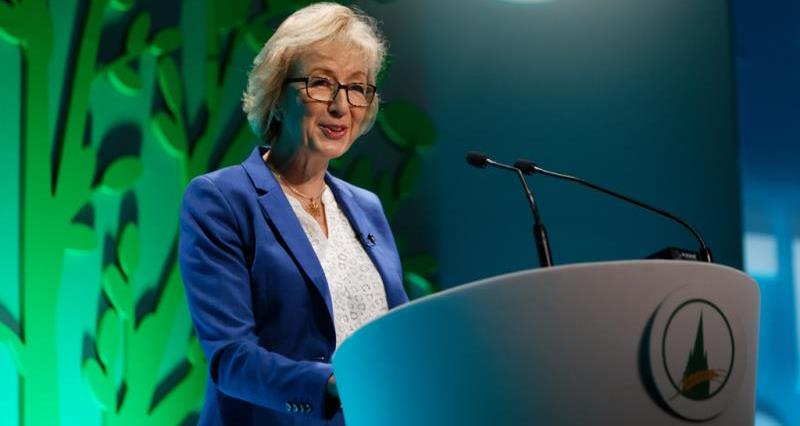 In her speech at the Oxford Farming Conference, the Defra Secretary of State Andrea Leadsom refused to be drawn into the details of how the various streams of future farming policy will be delivered post-Brexit.
She did, however, highlight the opportunities the government had when Article 50 is activated at the end of March such as severing the shackles of EU bureaucracy like the three crop rule.
"By cutting the red tape that comes out of Brussels, we will free our farmers to grow more, sell more and export more great British food whilst upholding our high standards for plant and animal health and welfare," she said.
Opening OFC17, Ms Leadsom described 2016's Brexit vote as 'an extraordinary opportunity to thrive'.

"It's your farms, produce and exports which will help us to survive. Food, farming and our environment will be central to our success of the negotiations. It's our chance to design a domestic successor to CAP," she said. "Farming is at the heart of all our lives, it builds communities, supports the environment and most vitally, feeds us. Nothing should be more important than the continued success of this great industry. Our ambition should be to grow and prosper."
The main themes of Ms Leadsom's speech were:
To increase food production at the same time as enhancing our natural environment
To export more Great British food and drink
To take innovation to the next level
To equip the workforce with the right skills
To scrap the red tape to help farmers get on and grow great British food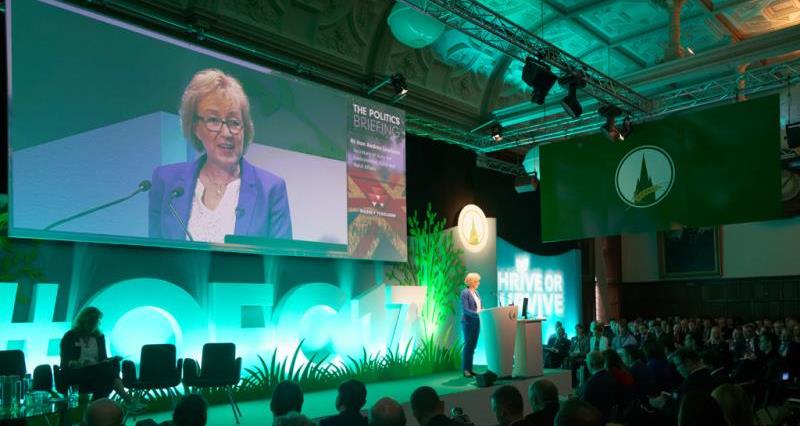 "We are world leaders in animal welfare, food safety and traceability. I am committed to supporting British farming in the short and long term. And I'm committed to securing the best possible deal for British farmers."
Ms Leadsom also outlined two green papers which will be open to consultation among farmers: One on food and farming and one for the environment, describing these as a 'once in a generation opportunity to look at new ideas'.
"I want us to be the first generation to leave the environment in a better state than when we found it," she said.
She explained that the Rural Development Programme was ready to fund £120m for rural growth which will create more jobs and allow access to export markets.
On BPS payments:
"I'm pleased that the RPA hit its 90% target by the end of the December, but I'm very clear that we must get all payments out of the door. Like you, I won't be satisfied until every outstanding payment has been resolved and 100% of eligible farmers have been paid."
On access to labour:
Ms Leadsom paid tribute to the many workers from Europe who contribute to the rural economy and food and farming businesses. "It's important that as part of the negotiations we secure the right workforce for the food and farming sector," she said. "A strong-skilled workforce will allow you to concentrate on how technology can transform your business."
On the opportunities export markets affords UK farmers:
"Food exports up 8% this year - the great British brands begin life your farms - there's big market out there for the provenance of British food."
Speaking at a later press conference, Ms Leadsom said there were nine priority markets for exports.
For example, China were desperate for access to UK dairy, especially skimmed milk and value added dairy products.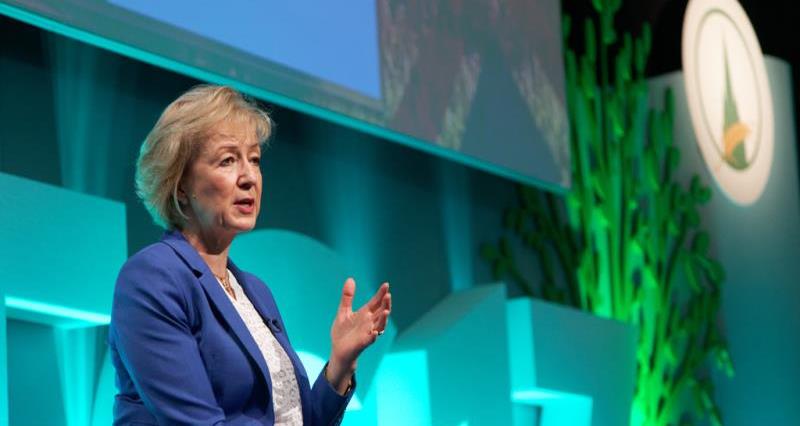 Summing up, she said: "I have no doubt that our best days as a food and farming nation lie ahead of us. Leaving the EU is a once in a generation opportunity to thrive. We can design, from first principles, an agricultural system which works for us.
"I am committed to securing the best possible deal for British farmers."