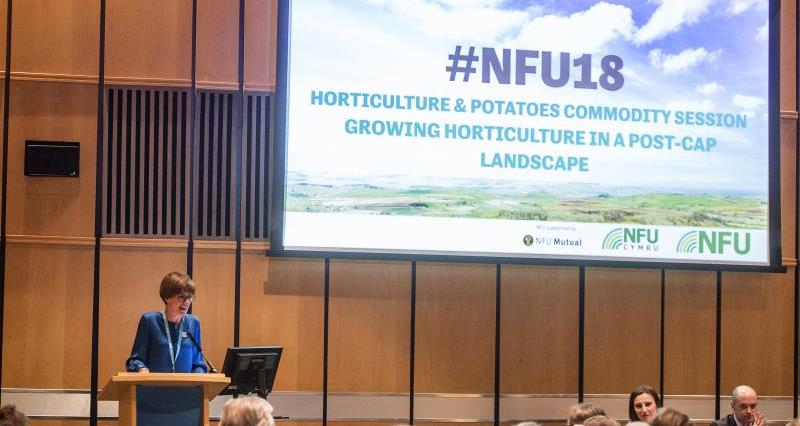 Ensuring that farmers and growers are ready to adapt in the face of change is vital, particularly for the horticulture and potatoes industry.
That was the message from board chairman Ali Capper during a breakout session at NFU conference. And although Brexit and the uncertainty surrounding it is dominating the industry at the moment, she was keen to focus on the immediate future, with calls on the Government to resolve the labour issue before summer 2018.
"If the Prime Minister is listening, please can we have some decisions on Brexit, some clarity on trade and best of all, a new, non-EU SAWS scheme and a clear future immigration policy before the summer of 2018, that allows people from all over the world access to come and work in our sector, producing healthy nutritious food and health-giving plants and flowers," she said.
Labour supply is a priority for many in the horticulture and potatoes sector. The NFU's survey of growers revealed that the 282 growers who responded employed a total of 15,208 seasonal workers last year. Of these, 60% were unable to recruit enough seasonal workers and 30% couldn't harvest all their crops as a direct result of labour shortages. This lost them a total of £2.3m of produce.

One possible solution is a move towards more automation and robotics, but although there is a great deal of innovation in this field, it is a longer-term option that needs further research and investment.
"Of course, we will automate, we will use robots, we will adopt artificial intelligence, but while they are being developed (over the next 5-10 years), here and now we will still need access to the people required to run our businesses; to plant, grow, harvest and pack our crops," said Mrs Capper.
Chief strategy officer for AHDB Tom Hind also spoke to delegates, and was keen to stress that the industry needed to work together to resolve the issue of labour. "We need to look at what we can do not only to ensure we attract and maintain labour but also how do we get the best out of it."
See also: NFU Report - Access to a Competent and Flexible Workforce
He agreed with Mrs Capper that automation was growing in importance. "Robotics and automation will be an important part of our work in the future. Something like 85 per cent of growers are already looking at some form of automation."
Mrs Capper wanted to send a clear message to government on the issue. "For decades we have relied on non-EU nationals from all over the world to work with us in our businesses, as do all our competitors across Europe today. The NFU has made a clear case to government – with 60% of growers short of workers in 2017, it can't be much clearer - we need government policies now that enable us to access the people we need for today and for tomorrow."
She added that beyond Brexit, the sector needed consistency to allow businesses to invest and plan without fear of continual changes in regulation.
"We need a future policy framework that not only enables, but actively encourages more British production and consumption of fruit and veg, plants and flowers – businesses need to be able to invest with confidence. We need policies that are long term, not able to be changed on the whim of a politician, allowing growers to make 5 and 10 year plans with confidence."