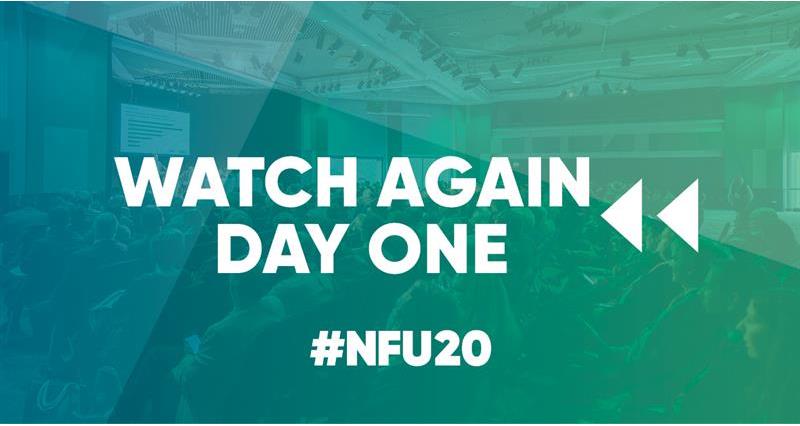 Watch the main coverage from Hall 1 at day one of #NFU20.
Watch again schedule for Tuesday 25 February:
Opening Address: Minette Batters, President, NFU
Watch again from 00:00
Where next for British business?
Watch again from 30:50
Dame Carolyn Fairbairn DBE, Director General, CBI
Minette Batters, President, NFU
Chaired by: Penny Haslam, Broadcaster and Author
NFU Education: How we are inspiring our nation's schoolchildren
Watch again from 1:27:06
Sally Spicer, Senior Teaching Fellow, University of Warwick
Joshua Payne, Chief Education Manager, NFU
Jennie Devine, Education Manager, NFU
Abby Brady, Head Teacher, Ronald Ross Primary School
Brinder Bains, Deputy Head Teacher, Ronald Ross Primary School
Charlotte Hudson, Arable Manager, Hugh Lowe Farms
Alice Montgomerie, Student, Quest Professional
Safeguarding Standards
Watch again from 3:35:59
David Henig, Director UK Trade Policy Project
Professor Chris Elliott OBE, Director, Institute for Global Food Security
Shaun Spiers, Executive Director, The Green Alliance Trust
Chaired by: Stuart Roberts, Vice President, NFU
Find out more about our speakers here.
In case you missed it, here are some easy ways to catch up with the highlights from both days at the ICC, Birmingham: