Avian Influenza media coverage round-up
The NFU understands how important it is to ensure every member, farmer and keeper of poultry remains informed of current developments during this period of developing Avian Influenza cases. With restrictions and new advice from Defra the NFU strives to make sure our messages reach the right audience.

Our poultry board chairman Duncan Priestner appears on BBC 5live (1hr 36 mins) to discuss the impact new Avian Influenza restrictions the most important thing in poultry farms is the welfare of the birds and good stockmanship.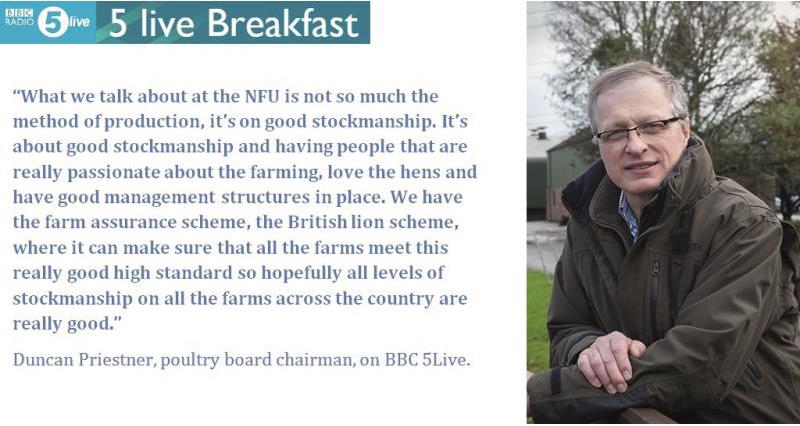 BBC Breakfast (48 mins) was on location in Penrith to interview NFU member David Brass from The Lakes Free Range Egg Company on the end of the free-range derogation. David emphasised that these restrictions are all about animal welfare and their customers understand that.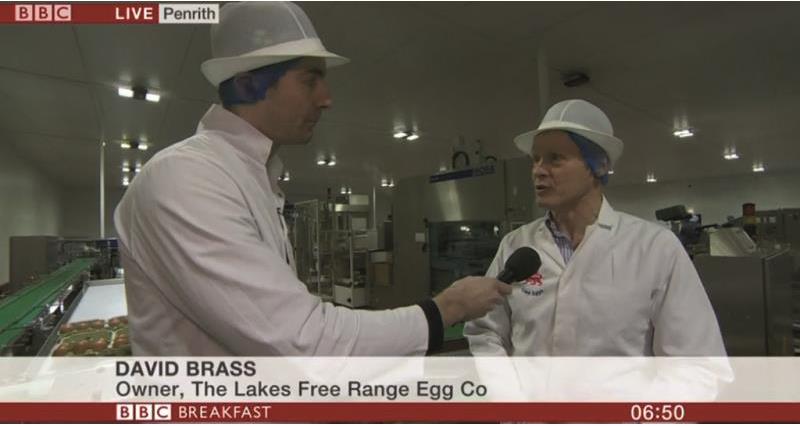 President Meurig Raymond is quoted in The Times and The Daily Mail responding to Defra's announcement of new 'Higher Risk Areas' to protect birds from Avian Influenza. Mr Raymond said the restrictions could post threat to free-range producers and that he had concerns regarding the complexities of the system.


Chief poultry adviser Gary Ford is interviewed on BBC Radio 4 Farming Today to discuss the effects Avian Influenza can have on a farm. He says that while it bears a cost financially to the farm, we must not forget that there is an emotional impact on the farmer and his family.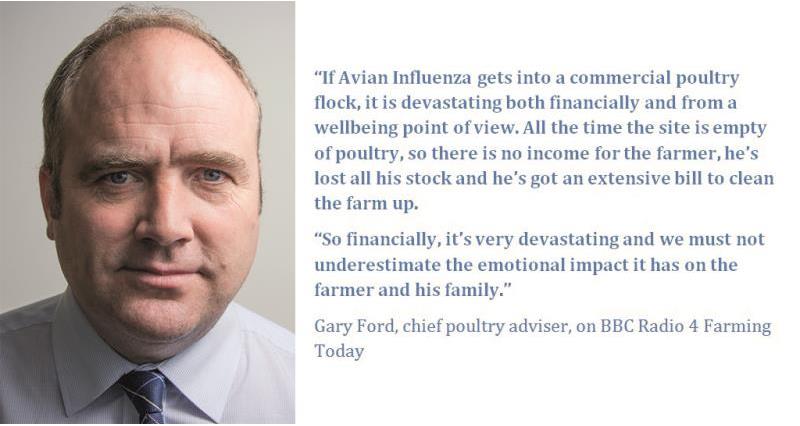 The four UK farming unions called on EU officials and MEPs to extend the free-range derogation past their 12 week allowance. They also warned that the loss of free-range status could put some producers out of business. Both the Daily Mail and the Daily Telegraph report on the story.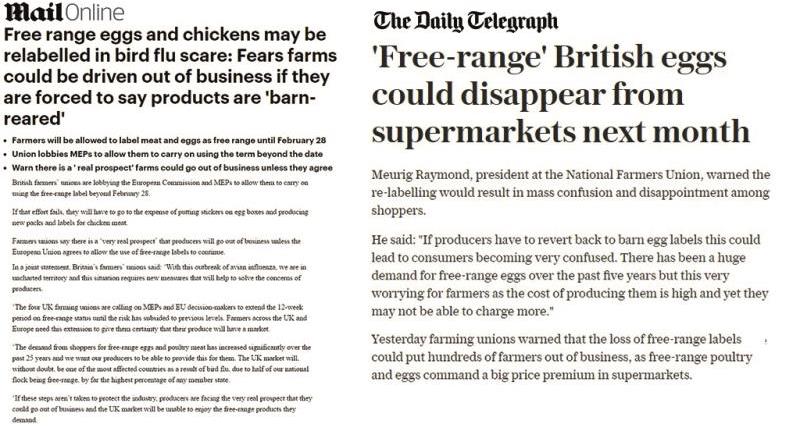 Our poultry adviser Aimee Mahony appeared on BBC 5 Live (1hr 42mins) discusses the threat to free-range status if Defra's housing restrictions run past the 28 February. She explained that these were unprecedented times and that Europe has never experienced this situation before. Aimee emphasised that the NFU are working closely with Defra during this.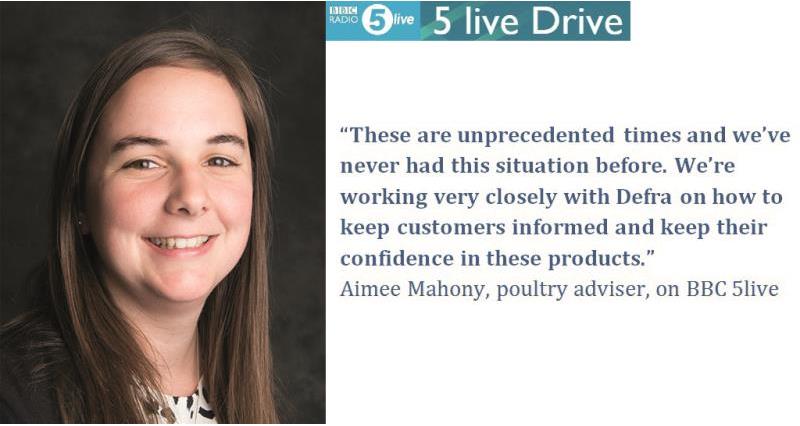 Our chief food chain adviser Ruth Mason appeared on Radio 4's consumer affairs programme You and Yours to discuss the prospect that the industry could lose it's free range status, should Defra's housing order be extended. She emphasised that Government and retailers need to continue supporting farmers during this time. The NFU are working closely with industry to represent the issues of our members at the very highest level.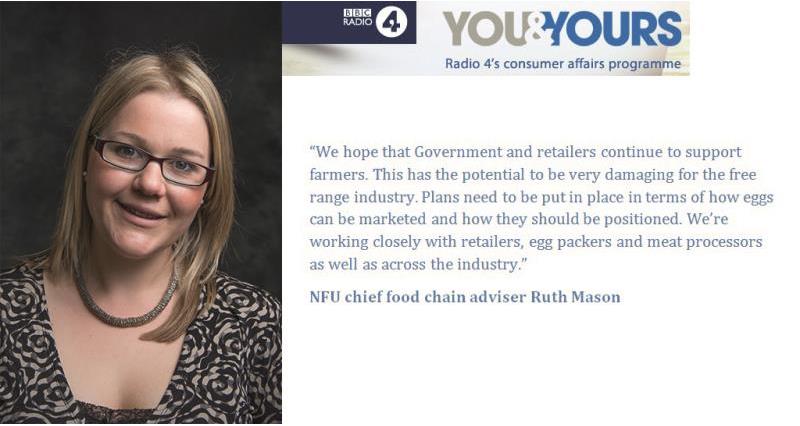 Both our staff and our farmer members have been extremely vocal in telling the public that there is no danger to public health and to our produce during this time. It was particularly important to stress that there would be no danger to the treasured Christmas dinner. These messages were reported by the national press including the Mail Online, The Guardian, the I newspaper, The Daily Express and The Yorkshire Post and seen by a total of 16 million people.

Chief poultry adviser Gary Ford, county adviser James Mill and poultry board member Mark Gorton were quoted across the national press.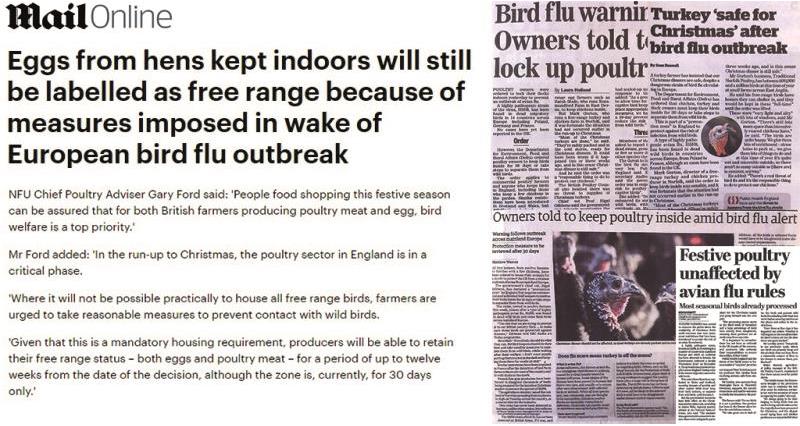 The NFU's vast network of elected farmer members have been incredibly valuable and supportive during this time and they have featured across the country to the wide audience of BBC and ITV News. Poultry board members Duncan Priestner, Phil Crawley and Charles Bourns have all put the farmers face to the story - educating the public on what it can mean for their businesses. NFU county advisers, such as Andy Guy in Nottinghamshire, have also contributed.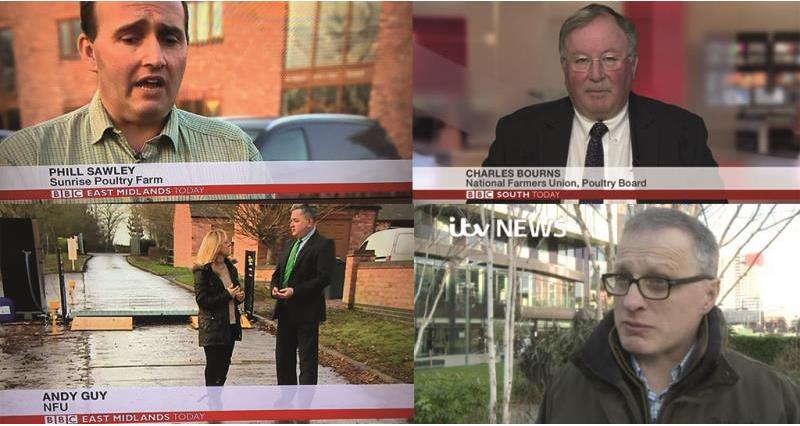 The NFU has ensured the all keepers of poultry, from commercial farm units to a backyard keeper of a few hens, have heard how they should be keeping their birds safe and abiding by Defra's restrictions during the current period of Avian Influenza outbreak. Our biosecurity poster secured coverage in trade publications Farmers Guardian and Farmers Weekly. To reach the smallholder and backyard farmer, coverage was achieved in country lifestyle magazines such as Country Living.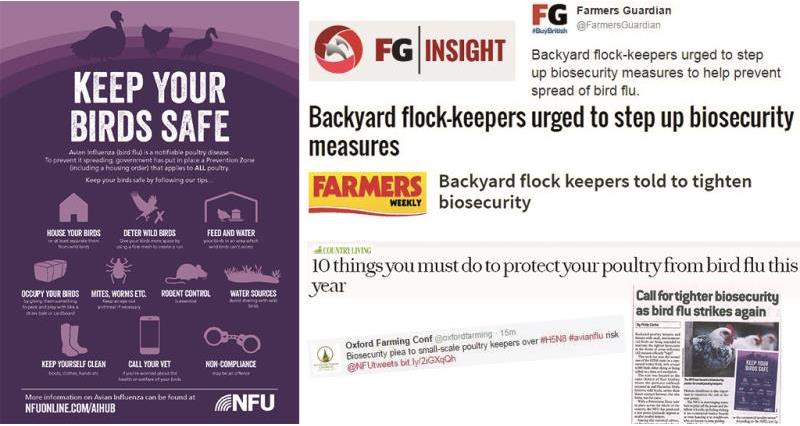 Our Facebook page has made sure that the any keepers of poultry and the public are aware of what restrictions are in place, how they can keep their birds safe and what the NFU has been doing on their behalf. Our Twitter page has been keeping our 44,000 followers up-to-date with all the latest news.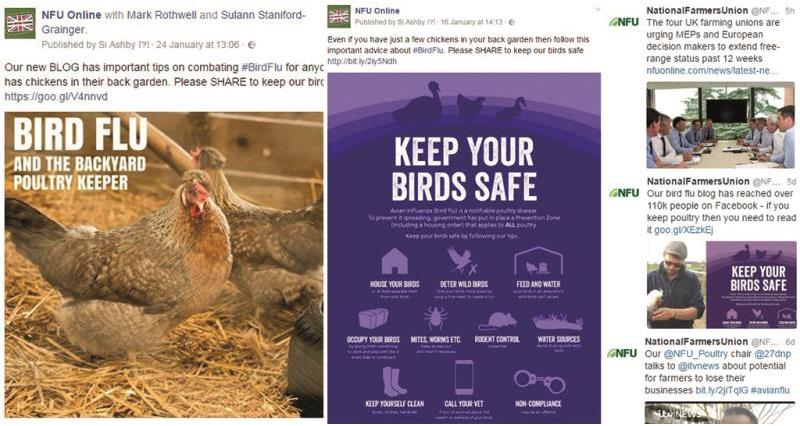 Our sister magazine NFU Countryside has been valuable in communicating to their readers what the NFU has been doing and how backyard poultry keepers can keep their birds safe. Their regular poultry blogger Andy Cawthray has written a blog on how to mitigate the risk of bird flu to your flock - which has been viewed a massive 100,000 times.