Minette Batters, NFU President, visited the prize-winning stand on Tuesday to see the combination of edible and ornamental horticultural produce and chat with the builders of the display which was led by Mike Prest. The object of raising the profile of new plant introductions from BPOA members was discussed as well as the new Scabious varieties under trial and the recently introduced 'Imara' Impatiens which are showing improved resilience to Downy Mildew and robust garden performance.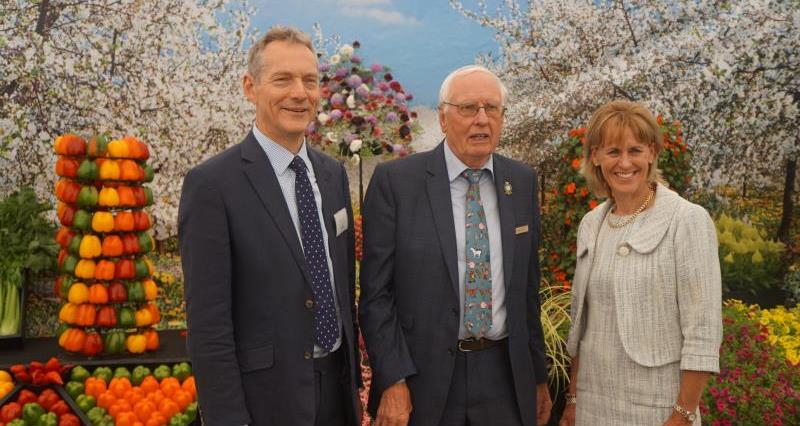 [l-r, Andrew Clark, Director of Policy NFU; Mike Prest, leader NFU Yorkshire Growers group; Minette Batters, president NFU]
The display this year was a combination of edible produce from many growers mainly in the Yorkshire area and 8 growers of ornamental plants in the North and some from the south coast. You can read something about their nurseries in the article Yorkshire Show celebrates 160 years! https://www.homegrownplants.org.uk/yorkshire-show-celebrates-160-years/
Prize- winning display.
The team building the stand pride themselves on their reputation for the quality of the produce they present and the design of the element within the overall stand. Taking their lead from the Yorkshire NFU campaign ' Pride & Provenance' they displayed the banners for the campaign featuring the great food production within the area and Home grown featured its own banner with emphasis on the Home Grown scheme focusing on the local origin of the ornamental plants all around the country. This was supported by a leaflet detailing the growers of the plants; there was also an opportunity to enter a simple draw on the Home Grown Flowers and Plants Facebook page.
This year a Silver Gilt Medal was won and the judges commented that the standard had been very good but they wanted to reward the excellent amateur vegetable growers stand this year with the champions cup.
Each one of the nurseries selected have a new and interesting product to offer and some, such as the 'Imara' Impatiens, with improved garden performance and disease resistance. Plants from the Farplants group in Sussex also feature some of the products from a UK breeding programme in ornamental plants at Tristram Plants and are produced commercially by Binsted Nursery.
Thanks
Our grateful thanks are due to the construction team led by Mike Prest on behalf of the Yorkshire Growers Group: John, Judith, Sarah, Maureen, Tony and Lyndon.