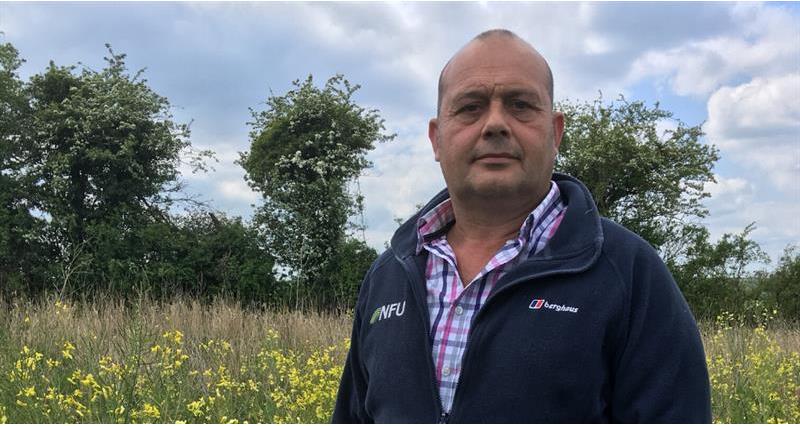 NFU crops board chairman Matt Culley reflects on this year's Cereals event, the opportunities around new specialist crop markets, and how a cross-sector collaborative approach can benefit growers:
As I write, I'm relieved to say that the much-needed rain has finally arrived, hopefully in time to save most crops from complete disaster, although I understand that for some regions the downpours are too late. Yet again the rains seemed to coincide with the Cereals event – perhaps it should be brought forward a month or so in the hope that spring droughts may be interrupted by a week of more grower-friendly weather.
I hope you all managed to attend some of the Cereals 2020 webinars and found them a useful replacement for the normal two day jaunt to the Eastern part of the country. I was pleased to chair the session on 'new specialist crop markets' as I firmly believe that new markets for the arable sector will be key for profitability in the future. As policy, or lack of it, develops we will need every market opportunity available to widen rotations and spread risk.
My own recent experience of this has come through growing forage crops for a local AD plant. So far we've grown maize and forage rye with some success and it's certainly focused my mind on different way of working and the advantages that can bring. I've found that both forage maize and rye can bring reductions in fertilizer and chemical use while maintaining output. The ability of returning digestate to the soil is a key factor, as is a spring break of maize, as it allows better control of grassweeds with the different chemistry that is available.
We have also been able to spread workloads more evenly so that we're not chasing machinery and labour capacity. In fact, we have been able to pick up work in the quieter months by helping the AD plant with their peak times. A collaborative approach to working and investments in machinery is also helping us spread risk and ease cash flows, and developing a more circular economy between ourselves and the AD plant is working for all concerned.
I would like to think that these sort of collaborative relationships could become more widespread, not just with AD but with the livestock and dairy sectors too. Yes it takes planning, commitment and often a change of mind set, but I believe it will help growers become more resilient and increase productivity.
As our sector will no doubt be impacted by changes in trade and agricultural policy, we will need these circular economies to develop; growing profitable crops is one thing, but keeping those profits within our industry is just as important.
We also shouldn't confine this circular way of thinking to just AD and livestock as there are benefits of reaching more widely into the feeds sector too, for instance poultry. The UK typically imports two million tonnes of soya meal annually while we produce approximately 600,000 tonnes of beans. The opportunities for home-grown products to replace imported proteins are obvious, and a policy to support open flowering crops would help kick start the pulse industry. I will certainly be challenging Defra and Treasury to look at this under the new ELMs consultation.
But I would like to see our government and our industry go even further. For example, the development of productivity grants for on-farm infrastructure to help meet storage and processing requirements would allow more collaborative working between our sectors. At the NFU, our work cannot just be focused on Defra and Treasury, we must also look to more cross sector involvement.
If arable growers are to see the benefits from the above, we will need to have a better understanding of the requirements of the parts of the industry we seek to supply. I know this is not easy, but farming never is and the need for this work has never been greater.