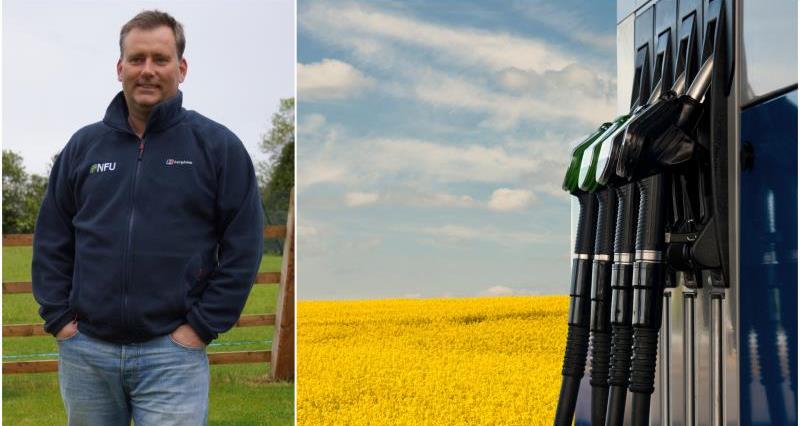 The NFU has met with ministers to urge the Department for Transport to keep biofuel markets as open as possible for UK farmers to remain competitive with their European neighbours.
NFU North East combinable crops board chair Brett Askew met with Department for Transport minister John Hayes MP in Westminster to discuss the department's consultation on the future of biofuel policy in the UK.
The NFU urged the department to set the 'crop-cap' at the EU maximum of 7%. The cap is designed to limit the amount of crop-based biofuels able to be used on UK roads. The department also suggests 0% and 2% as options.
Mr Askew said: "The biofuel industry represents a golden opportunity for UK farmers and we are urging Government to set the crop cap at 7%, anything less would constrict the UK market and would place us at a competitive disadvantage with our European neighbours.
"At a time where farmers are facing great uncertainty, not least because of Brexit, we need security in our markets. This area provides stability for farmers and it's vital it remains open and incentivised.
"Farmers need to make a return from the marketplace and I would strongly encourage the Government to reconsider their plans, especially if our European counterparts have a higher ceiling.
"At a time of high stocks, the biofuel outlet provides a clear uplift to the market and has given arable farmers confidence and security that there's a destination for their product.
"The animal feed as a result of biofuel production is essential for our livestock and dairy farmers who are facing rising feed costs proving that it's vital and beneficial for all farmers that the crop cap is set at 7%."
When running at full capacity, the domestic biofuel market can use 2,2m tonnes of wheat and circa 40% of oilseed rape for biofuel processing is sent to EU member states.