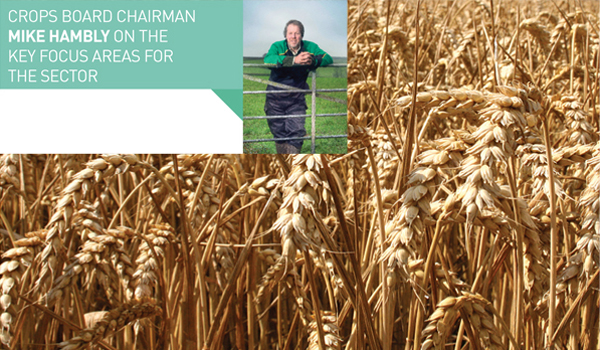 For many cereal farmers 2015 will be remembered as a bittersweet year.
Harvest produced some very encouraging yields, despite some nationwide weather aggravation in August. It was the year when the UK broke the world wheat record twice, and also took the record yield
for oilseed rape. The NFU Harvest Survey showed a 6% rise in wheat yields year-on-year to 9.1t/ha, with an estimated total UK wheat production of 16.68million tonnes.
Barley and oilseed rape crops saw similar increases.
But with other parts of the world also enjoying a good harvest, projected world stocks weighed heavily on the market, and market prices around the world took a tumble. Members have seen prices fall by over 30% in the past two years and the impact for the cereals sector has been as dramatic, which has similarly been seen across other farming sectors. With input prices remaining stubbornly high, growers have faced the fact that market prices will fail to cover cost of production. Forward prices have been equally challenged and many crops have been planted where costs will likely exceed the market returns currently on offer.
Through 2015 the crops board has worked hard in trying to impact on all areas of the business that deliver benefits to members including inputs, overhead costs, regulation and strategic issues. Our action on pesticides, initiated by the Healthy Harvest campaign, is central to our work. In 2015 we developed our approach to neonicotinoids and applied for an emergency use authorisation for the use of Modesto and Cruiser OSR on oilseed rape.
2015 around the sectors...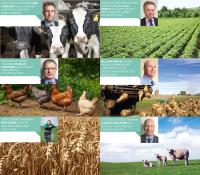 Read the thoughts of our board chairmen across the following farming sectors:
Our efforts were rewarded with a limited authorisation of 30,000ha over four counties. This was not as much as we had hoped for, but it demonstrates that the process of application could work.
The NFU has since worked hard to support the authorisation against legal challenges made against the government and has prevailed twice in the High Court. We continue to promote responsible use and stewardship of agrochemicals. It is essential that we maintain the current options available to us to control threats to crops. As products and options are withdrawn, the risk of resistance increases. Our work on Healthy Harvest continues together with our support for the development of IPM strategies – this will be essential as products we rely on come into the spotlight.
In 2015 we explained the use and need for glyphosate to processors and retailers, helping to avoid over reaction to anti-pesticide campaigning groups' wild claims.
With markets tumbling, the importance of price risk management tools became self evident in 2015. The NFU has worked tirelessly on the Markets in Financial Instruments Directive (MiFID) that could have seriously impacted on our ability to access futures markets. Much progress has been made by the NFU and it is now likely that forward trading will remain legal without farm businesses becoming regulated by the FCA. Therefore, access to futures markets could become even more important for the industry. For some they are seen as part of the solution to the dairy crisis and if they can be made available for products such as fertiliser, all sectors stand to gain.
With fertiliser the largest single input for cereals, the NFU has been looking at a means to develop transparency and improve competition in the market, and our President has taken the matter up with EU Commissioner Phil Hogan.
Market access is also vital to the grain producers. The NFU gave support to the AHDB BCE initiative that secured market access for the export of barley to China. This success has proved timely as the UK exportable surplus of barley has increased, and further increases in spring barley plantings are expected for 2016.
Work by AHDB will allow the Department for Transport to update greenhouse gas emissions data for arable crops, which in turn will keep open valuable biofuel markets that NFU has previously won access to.
The board will remain focused on helping members meet the challenges we face and will work to contest regulations that may put us at a competitive disadvantage.
Much of this work will be ongoing for 2016 as we continue to engage with the public and politicians in the support of members' needs.
This is already showing success in harnessing goodwill for farmers and by trying to overcome negative messaging and unsubstantiated claims about agriculture.
The board is looking forward to using the year ahead to change circumstances for the better, and engaging with as many of you as possible in the months ahead. The board will remain focused on helping members meet the challenges it faces in 2016 and will work to contest regulations that may put us at a competitive disadvantage to our competitors in the new year and beyond.