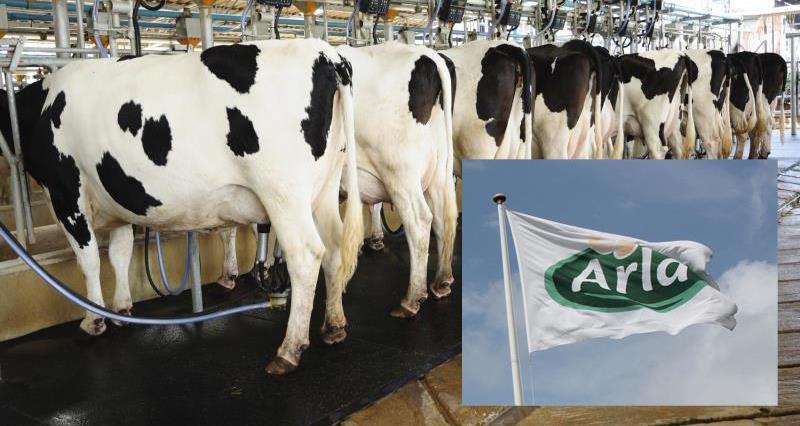 The NFU is welcoming a move by Arla to pay out the entire 2018 net profit due to the positive development of the company balance sheet – a move that would benefit around 2,400 British dairy farmers who supply the co-operative.
The company's board of directors has also recognised that many of its 11,200 farmer suppliers across Europe are facing a tough financial situation due to this summer's sustained agricultural drought.
Arla's supreme governing body, the Board of Representatives, will now discuss the proposal when they meet in October and it's understood the proposal will be brought forward for a final decision at a meeting in February 2019 when the annual results are approved.
The amount of the payout remains subject to there being no material changes to the profit level or financial outlook at the end of the year. If approved, the extraordinary payment will follow the regular timing of the supplementary payment in Arla, with money being paid out in March 2019.
Also included in the BoD's proposal is the pre-requisite of a clear commitment to return to the company's existing retainment policy for the remainder of the current strategic period, affecting the financial years of 2019 and 2020.
For 2018, Arla expects net profit to be within the target range of 2.8 - 3.2 per cent of Group revenue.
The proposal from the Board of Directors:
- All earnings (net profit) in 2018 to be paid as supplementary payment (expected to be in the range of 285 – 310 mEUR or equivalent to 2.3 – 2.5 EURc pr. kg. milk)
- The extraordinary payment follows the regular timing of supplementary payment (i.e. March 2019)
- The extraordinary measure is linked to a commitment to be compliant with the retainment policy in 2019 and 2020.
NFU dairy board chairman Michael Oakes said: "This is a welcome move from Arla and it will be a relief to many suppliers who have seen a significant rise in input costs following a late spring and one of the driest summer's on record. We are pleased to see that Arla has recognised the pressure farmers will continue to face in the coming months as a result of recent weather volatility.
"It's positive that Arla, as the UK's largest milk processor, has recorded strong profits for this financial year and are working within their farmer-owned structure to mitigate the challenging conditions.
"The NFU will continue to work with processors and retailers to raise awareness of the issues caused by the recent drought both now and moving into the autumn and winter period."