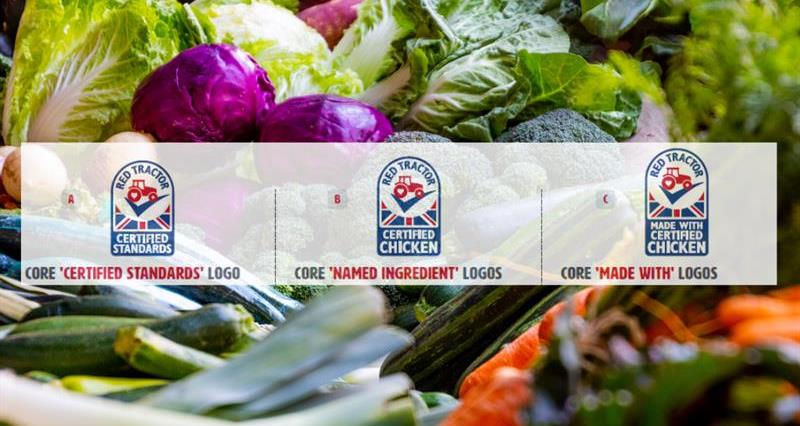 Red Tractor has launched a new logo will seek to provide clarity for consumers about Red Tractors world-leading standards.
The launch of the new logo is expected to take around 18 months and will be supported by a £2m 'Tractor Test' campaign that will increase customer understanding of Red Tractor by getting the nation to think about where their food comes from. It will run for 12 months and kick off with the Red Tractor ad running on prime-time TV channels over Easter.
The new logo will consist of three designs. Firstly, a 'certified standards' logo for products where the certified ingredient makes up at least 95% of the finished product e.g. milk, fresh produce and meat. Secondly, a 'named ingredient' logo for products where the certified ingredient is between 65% and 94% of the finished product e.g. the chicken in a chicken kiev. And finally a 'made with' logo for products where the certified ingredient is below 65% of the product e.g. multi-ingredient products such as ready melas, sandwiches and pies.
Red Tractor is an independent food assurance company established in 2000 to transform and rebuild consumer trust in British farming and food quality. Membership offers a route to major supermarkets and some of the UK's largest customers, resulting in over £14bn of British food and drink carrying the logo.
Today, they are the UK's largest food standards scheme with 75% of UK food and drink production holding Red Tractor certification. Red Tractor sets standards across most primary agriculture sectors (excluding fish and eggs) and for most UK farming systems such as indoor and free-range production. Standards are placed on all steps in the food production chain including transport, livestock markets, food processing and packing. The unique assurance scheme covers animal welfare, food safety, traceability and environmental protection from farm to pack.