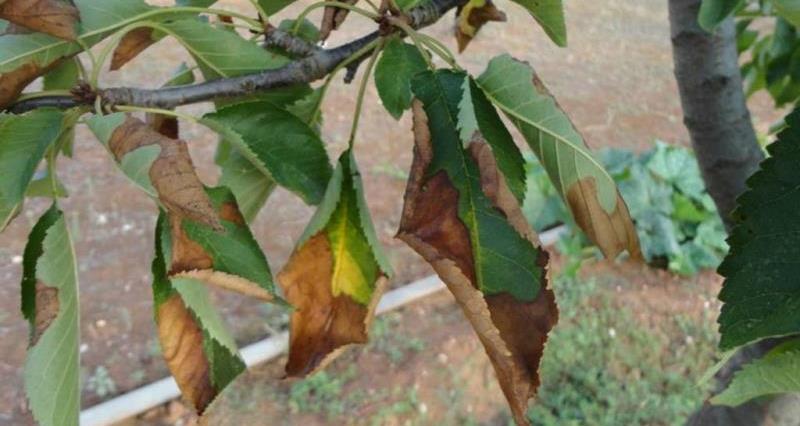 Xylella has the potential to be a big threat and to ornamental plant production in the UK if it reaches our shores. As part of our commitment to help keep members are aware of the situation and what they can do to protect the UK from this disease, please familiarise yourself with the following information.
The NFU attended a stakeholder meeting with the Animal and Plant Health Agency last week for the latest update on Xylella. The NFU is in regular contact with officials at APHA (Animal and Plant Health Agency) regarding this issue and is in discussions with the European Nurserystock Association (ENA) to ensure a joined-up vision of plant health issues across the EU.
Background:
Xylella Fastidiosa is a bacterial disease transmitted from plant to plant by xylem-boring insects (such as leaf-hoppers). The bacteria multiply within the xylem and obstruct the flow of water around the plant. In some cases, this causes the leaves to die-off (this is a tell-tale symptom). However, the symptoms are easily confused with under-watering or autumnal leaf-drop so it is a particularly difficult disease to spot. Proper diagnostics are required to determine whether the symptoms are caused by Xylella.
So far, we have had no recorded cases of Xylella in the UK. However, X.fastidiosa has been identified in Italy, southern France (including Corsica), Germany and now Spain (Majorca).
There are three subspecies of the disease.
The first was found in the initial outbreak in Italy in 2013: X.fastidiosa (subspecies pauca) and has caused devastation to olive plantations in affected regions.
The second is X.fastidiosa (subspecies multiplex) which was found in a number of host species in France and Corsica in 2015. It is feared that this strain would be more devastating if it entered the UK given its climatic tolerance in cooler temperate regions and the extent of the host list already recorded in North America.
The third is X.fastidiosa (subspecies fastidiosa) which was found on a Nerium oleander plant in a glasshouse in Germany and then in October 2016 on three cherry trees on the Spanish island of Mallorca.
The EU website details its Emergency Control Measures (scroll down to Xylella) http://ec.europa.eu/food/plant/plant_health_biosecurity/legislation/emergency_measures/index_en.htm which includes a regularly updated list of host plants identified in the EU (this list continues to grow) and a List of Demarcated Areas which includes maps at the end of the document. These can help importers determine whether the plants they are importing are coming from a zone known to be free of the disease. It also includes details of measures Member States should be taking to protect their country from this disease and a list of Third Countries outside the EU that have a "pest-free" status.
Within the UK, the responsibilities and control strategies are outlined in the following APHA publication: https://www.gov.uk/government/uploads/system/uploads/attachment_data/file/520051/xyella-fastidiosa-impl-trade.pdf. An outbreak in the UK would have a huge impact on the industry. The host list is large (and growing) and includes trees, shrubs and herbaceous plants, including some iconic species such as oak, rose, lavender etc.
What must I do?
Anyone importing plants (landscapers, designers, retailers, etc) have now become subject to the same stringent measures as growers and suppliers with regards to plant passporting. As a result, all "Professional operators" are now obliged to ensure that all "host plants" (listed on the EU website – see above) from across the EU are accompanied by a plant passport confirming that they have been sourced from a disease free area/site. This is a vital step as, currently, prevention is our key strategy. It is important to do everything in our power to keep this disease out of the UK. Prevention is better than a cure: the key theme at the meeting last week.
Importers have a responsibility (and are in a powerful position) to prevent entry of this disease. If someone imports a diseased plant, an "outbreak" could lead to the destruction of host plants within 100m and a 10km movement ban for host plants for 5 years. Surrounding nurseries will therefore be affected and, as with ash dieback a few years ago, there will be no compensation for this measure, so importers really do need to be responsible in their business practices.
What more can I do to help prevent Xylella?
It is recommended (good practice) that imported plants (that are potential hosts of Xylella) are kept in a 'quarantine' area, ideally a good distance away from other host plants (and if possible placed under physical protection). This is because there are 2 ways the disease will be dealt with depending on whether it is an "interception" or an "outbreak".
An "interception" means that the disease is caught in time to have prevented a wider spread. In this instance, infected plants will be destroyed and potential host plants in close proximity will also be destroyed (the extent of which will depend on key factors such as time of year, or whether they have been kept under protection). However, the full eradication procedure (host plants within 100m of infected plants destroyed and 10km movement ban of host plants etc) will only take place if an "outbreak" is identified: ie when the disease is found and it has spread. This is why quarantine measures and vigilance for symptoms is essential.
The full details can be found in the APHA link, but there are some "good practice" measures that our members should be taking to try and minimise the risk.
Good practice measures to help prevent the spread of Xylella