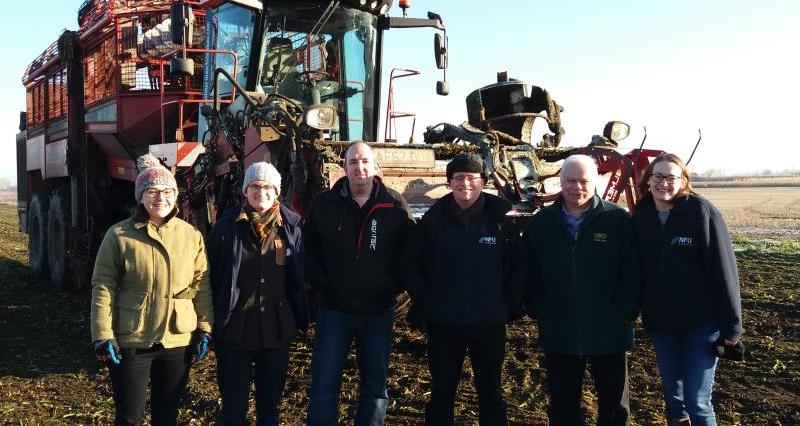 The NFU Sugar Team on farm with board Vice-Chairman Simon Smith. L-R Bethan Williams, Arthur Marshall, Simon Smith, James Northen, Donald Hume and Diane Armitage
Dr James Northen
Head of Sugar
James joined took over the leadership of the NFU Sugar team in early 2017. He is a former director at the Institute of Grocery Distribution and adviser to Arla Foods and the Food Ethics Council. He works closely with the NFU Sugar board to shape the organisation's policy and plays a cruicial role in price negotiations.
Donald Hume
Beet Intake Manager
Donald graduated with a first class honours degree in Mechanical Engineering. He has worked in Quality related posts for most of his career in a variety of engineering industries, mainly in bearings both in the UK and in China. He has also been employed in the electronic and rubber industries.
He joined NFU Sugar in 2001 and has responsibility for reception and beet intake. He also recruits and manages the seasonal staff who work in the factories and central tarehouse.
He and his team are responsible for ensuring that growers deliveries of beet are handled as per the contract and assessed/paid for in accordance with agreed procedure laid down between NFU Sugar and British Sugar.

Diane Armitage
Sugar Adviser
Diane obtained a degree and MSc in Applied Ecology in her native Ireland where she grew up on a beef and sheep farm. Since her graduation, she has worked in a number of roles in conservation and farming including a number of years working for seed specialists Oakbank on agri-environmental schemes across the East of England.
She joined the NFU in 2013 and spent over two years working as County Adviser for the farmers in Beds & Hunts and Hertfordshire. She joined NFU Sugar in July 2015 as Sugar Adviser. She is responsible for running the Sugar Industry Programme, public affairs work, board governance and is a member of the working group responsible for overseeing the UK Seed Account.
Arthur Marshall
Commerical Analyst
Arthur leads on the analysis of markets, associated regulations, policies and agreements and provides and communicates financial and market analysis to support commercial negotiations. The role is a key part of the NFU Sugar negotiating team, ensuring they have the evidence and confidence to support their positions. The Commercial Analyst also provides the NFU Sugar team, board and growers with analysis of market conditions, and leads on the effective application of and development of policies and regulations, including those related to the commercial relationship between NFU Sugar and the sole UK processor of sugar beet British Sugar.
Bethan Williams
Grower Engagement Co-ordinator
Bethan started as an graduate trainee at the NFU in 2013 after finishing her MSc in Sustainable Agriculture from Harper Adams University and following on from her Geography degree at the University of Hull. Since 2013, she has spent 18 months as a Graduate Trainee, working on a variety of European, National and local policy issues for NFU members through placements in NFU HQ, NFU North East Regional Office and in the British Agricultural Bureau in Brussels. Following the graduate scheme she was appointed as the National Project Officer for the Campaign for the Farmed Environment, a position which she held for 18 months before moving to NFU Sugar as the Sugar Adviser (Maternity Cover) for a year.
Following a year as the Sugar Adviser and in October, She has now taken up a 12 month role with NFU Sugar as the Grower Engagement Project Coordinator. She is looking forward to spending the next year meeting as many growers as possible.