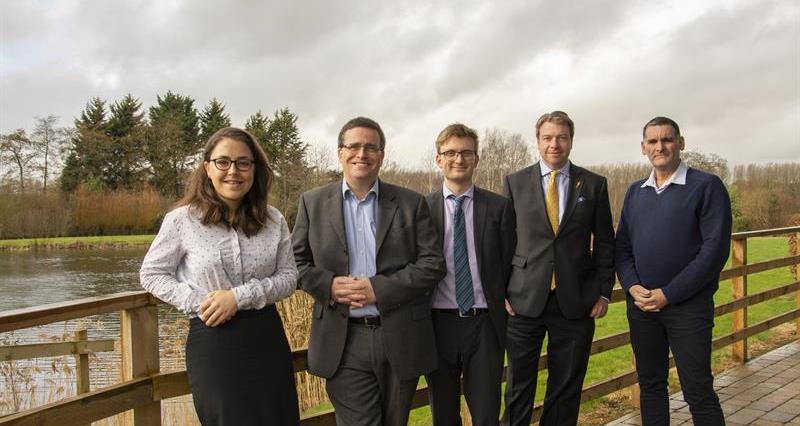 The NFU Sugar Team: L-R Bethan Williams, James Northen, Arthur Marshall, Anthony Hopkins and Greg Brighouse
Dr James Northen
Head of Sugar
James joined took over the leadership of the NFU Sugar team in early 2017. He is a former director at the Institute of Grocery Distribution and adviser to Arla Foods and the Food Ethics Council. He works closely with the NFU Sugar board to shape the organisation's policy and plays a cruicial role in price negotiations.
Greg Brighouse
Beet Intake Manager
Greg started with the NFU in January . Originally from a farming family in Cheshire, Greg is bringing with him over 30 years' experience from the food manufacturing industry covering quality, technical and operational roles in a number of countries worldwide. Greg now has taken on the responsibility for reception and beet intake. This also includes recruiting and managing the seasonal staff who look after the growers interests in the four factories and central Tarehouse. Greg and his team are responsible for ensuring that grower's deliveries of beet are handled in accordance with the approved procedures agreed between the NFU Sugar team and British Sugar.
Dr Anthony Hopkins
Sugar Adviser
My role is to work with the wider Sugar team on a range of regulatory policy areas, Brexit and public affairs, to represent and champion the interests of the 3000 sugar growers in the UK.
Prior to joining the NFU I worked in the Politics department at the University of Birmingham, focusing on UK party politics and policy, and before that I completed a PhD, also at Birmingham, on UK party electoral strategies.
I've always been involved with farming to some extent. My parents used to have sheep and a few cattle- but only a few sheep now. I also worked on a mixed farm in Worcestershire for many years, and I still get roped in to help occasionally.
Arthur Marshall
Commerical Analyst
Arthur leads on the analysis of markets, associated regulations, policies and agreements and provides and communicates financial and market analysis to support commercial negotiations. The role is a key part of the NFU Sugar negotiating team, ensuring they have the evidence and confidence to support their positions. The Commercial Analyst also provides the NFU Sugar team, board and growers with analysis of market conditions, and leads on the effective application of and development of policies and regulations, including those related to the commercial relationship between NFU Sugar and the sole UK processor of sugar beet British Sugar.
Bethan Williams
Grower Engagement Co-ordinator
Bethan started as an graduate trainee at the NFU in 2013 after finishing her MSc in Sustainable Agriculture from Harper Adams University and following on from her Geography degree at the University of Hull. Since 2013, she has spent 18 months as a Graduate Trainee, working on a variety of European, National and local policy issues for NFU members through placements in NFU HQ, NFU North East Regional Office and in the British Agricultural Bureau in Brussels. Following the graduate scheme she was appointed as the National Project Officer for the Campaign for the Farmed Environment, a position which she held for 18 months before moving to NFU Sugar as the Sugar Adviser (Maternity Cover) for a year.
Bethan has taken up a new role with NFU Sugar as the Grower Engagement Project Coordinator. She is looking forward to meeting as many growers as possible.